Muscled out!
Brigg Town 3 Mossley 1


UniBond League Division One

Wednesday 29th September 2004 - 7.45 pm

@ The Hawthorns, Brigg

Referee J. Smith

Attendance 241





11°C - wind SE 5mph
Brigg Town
1. Steer
2. Baxter
3. Waltham
4. Cochrane
5. Hope
6. Betts
7. Stones
8. Thompson
9. Roach
10. Chatterton
11. Ainsley
12. Thorne
14. Ward
15. Drayton

Mossley
1. Lee Bracey (8)
2. Tony Coyne (7)
3. Matty Taylor (9*)
4. Steve Sheil (6)
5. Paul Taylor (6)
6. Carl Rezai (4)
7. Josh Howard (cptn) (8)
8. Shaun Dootson (8)
9. Rhodri Giggs (8)
10. Chris Downey (8)
11. Jordan Goodeve (8)
12. Mario Daniel (7) (for Rezai (60 mins)
14. Adam Morning (7) (for Giggs 71 mins)
15. -

Mossley were out-muscled and out fought by a big physical and direct Brigg Town side at the Hawthorns to crash to their first away defeat of the season.
The game started well enough for Mossley as Howard and Goodeve sought to stretch the home defence on the flanks but it was Brigg who broke the deadlock in the 7th minute when Simon Roach netted after Mossley failed to clear Brigg's first corner of the match.
Four minutes later and further disaster struck when Mossley gave away a free kick on the edge of the area. The defence again failed to clear and Jamie Waltham volleyed home from close range.
Brigg then chose to sit on their lead throughout the remainder of the game and to stifle Mossley's attacking flow with heavy long clearances and some blatant time-wasting by outstanding goalkeeper Damien Steer who took forever with every goal-kick in front of an unconcerned referee.
Mossley finally got into gear and created a succession of chances in a ten minute spell that had Brigg totally on the back foot. Unfortunately for Mossley when Steer, who had just made marvelous saves to deny Goodeve and Giggs, was beaten Downey's effort was cleared off the line by a defender.
Seven minutes after the interval and Brigg just about settled the result when Paul Chatterton's skyward 30 yard volley somehow dipped viciously beyond Bracey's desperate leap and into the net for what was later described alternately as a either a 'wonder goal' or a 'total fluke'.
Mossley, now with nothing to lose finally took the initiative, particularly after Mario Daniel had replaced the ineffective Carl Rezai in the 60th minute and Mossley made a couple of positional changes. Steer was to become Brigg's hero with a string of fine saves while Matty Taylor went close within a couple of minutes as Steer tipped one effort over the bar and another struck the woodwork with Steer well beaten.
Mossley finally found a foothold when Josh Howard went on a mazy run up the centre and set up Chris Downey, who turned inside his marker before blasting home left footed from 15 yards. Mossley continued to press forward but again Steer was to be the main stumbling block as he again performed heroics to deny Downey and Howard while on the rare Brigg breakaways Bracey was equal to everything the home side could muster.
Brigg were a big physical side who played a very direct and effective style. Not even slightly pretty to watch but too difficult for a Mossley side who were dwarfed all over the pitch by their giant Lincolnshire hosts!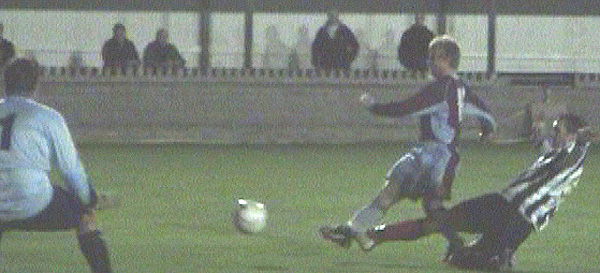 Chris Downey scores Mossley's goal
pics courtesy of www.mossleymania.co.uk
Mossleyweb Man of the Match: Matty Taylor...outstanding work rate from Mossley's flying wing back!
Mossleyweb Verdict: Mossley again struggled against a bigger route one side!