New Manor Ground
Awsworth Road,
Ilkeston,
Derbyshire
DE7 8JF

Website: IlkestonTown
E-mail: info@ilkestontown
Founded: 1945

Nick-name: The Robins

Ground capacity:

County affiliation: Derbyshire County FA

Manager: Nigel Jemson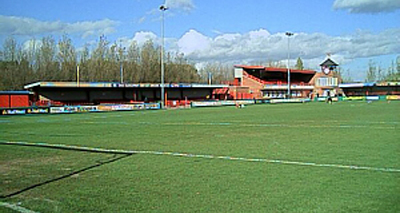 Honours:
UniBond League Division One Runners up: 2004/05
Midland League Champions: 1967/68 Southern League (Mid Division) Runners Up: 1994/95, 1997/98 West Midlands League (Premier League) Champions: 1993/94 West Midlands League (Division One) Champions: 1991/92 Central Alliance Champions: 1951/52, 1952/53, 1953/54, 1954/55 Derbyshire Senior Cup Winners: 1948/49, 1952/53, 1955/56, 1957/58 1962/63, 1982/83, 1992/93, 1998/99 1999/2000 West Midlands League (Premier) Cup Winners 1993/94 West Midlands League (Division One) Cup Winners 1991/92 Central Alliance League Cup Winners 1957/58 Central Midland League Cup Winners 1986/87 FA Cup 2nd Round 1997/98, 1999/2000 FA Cup 1st Round 1951/52, 1956/57, 2000/01 FA Trophy - Last 16 1982/83, 1994/95


After being formed in 1945, the club spent its early years in the Notts & Derby Senior League. The club actually won the Derbyshire Divisional Cup in only its second year of existence, and they went on to win the trophy again in 1951 and 1952.
The club joined the Central Alliance League in 1947, were they stayed until 1961. During their time in the Central Alliance League, the club successfully won the championship on four consecutive occasions, winning it in 52, 53, 54 and 55.
In 1961 the Robin's (as they were known), joined the then Midlands League, but they had to wait seven years to taste success when they won the championship. Ilkeston then joined the Central Midlands League in 1986. Shortly after, the club were hit with financial problems and were then taken over by businessman Paul Millership who in turn formed a new board.
In 1990, the club then moved to the West Midlands Regional League, but were demoted within a few seasons due to a lack of floodlighting. This was quickly rectified and the club were promoted back to the West Midlands Regional the very next season as champions of Division One. In the 93/94 season, the club were crowned West Midlands Regional Division Champions.
The club then re-joined the Southern League (Midland Division), and in the same season were crowned champions and were promoted to the Premier Division. The season after Ilkeston were relegated back to the Midland Division finishing 2nd from bottom. In the 1997/98 season the club had its best season, fishing second in the league and gaining promotion back to the Southern Premier Division and also reaching the 2nd round of the FA Cup proper, only to loose 2-1 at home to Scunthorpe United in the replay after drawing 1-1 at Scunthorpe. In the same season, Francis Green was sold to Peterborough United to become the 1st to sign for a football league club.
In the 1999/2000 season, the club took its 1st league scalp, beating Carlisle United 2-1 at the New Manor Ground. During the next few seasons the club have changed managers five times, including ex Notts Forest player John McGovern, ex Bolton player John McGinley to the present Manager and ex player of Ilkeston, Charlie Bishop. Unfortunately, Bishop could not stop the slide in the 2002/03 season and the club were relegated into the Dr Martens Western Division.