Don Wilson
1930-2003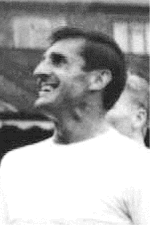 It is with great sadness that I record the death of Mossley's longest serving manager, 1962-1972, Don Wilson who sadly passed away after a long illness last weekend. I make no apologies for repeating the article published in the 'Seel Park Heroes' section in Tuesday night's programme which featured Don, written when I was blissfully unaware of his passing.
On a personal note—Don was Mossley manager when I first started watching the Lilywhites in the 1960's. He was the man who signed Lennie Dickenson, Mike Batty, Keith Mason et al, gave the Birtwistle twins their chance, led Mossley to runners up in the Cheshire League in 1970 the best position for 50 years and the first round proper of the FA Cup where we drew at Stockport County and narrowly lost the replay, and led Mossley into the Northern Premier League in 1972. Even after leaving Mossley and managing Radcliffe Borough he was the man who recommended legendary striker Dave Moore to Bob Murphy in 1974. This after bringing a Radcliffe side containing seven of his former Mossley players to Seel Park for a Manchester Senior Cup tie at the end of the 1972-73 season and they beat his successor George Sievwright's team 3-2.
Thanks for the great memories Don. You were a true gentleman and a great player and manager!
A minute's silence will be observed prior to Tuesday night's match against Fleetwood Town.
"Donald Wilson was born in Heywood, Bury on 4th June 1930 and signed professional for his home town club in May 1951. A clever yet tough wing half Wilson went on to make 63 first team appearances between 1952 and 1959. He joined Mossley under Eddie Quigley in August 1962. Quigley resigned in November 1962 and Wilson was put in charge of the team but not team selection through to the end of the season. In August 1962 he was appointed player-manager of Mossley and became the Lilywhites longest serving manager remaining until November 1972.
He rebuilt Quigley's ageing team with the 1966 signing of inside forward Lennie Dickenson being his master-stroke. Wilson's occupation as a Heywood schoolteacher gave him a methodical approach to his team and after a couple of hit and miss seasons Mossley started to become a force in the Cheshire County League.
Wilson had all but retired from playing by the 1967 and then followed Mossley's best spell for many years. From 1967 to 1970 the team got better and better and in the 1969-70 season Mossley finished as League runners up, their best position since 1920, reached the 1st round proper of the FA Cup for the first time since 1949 taking Stockport County to a replay, and reached the quarter final stage of the inaugural FA Challenge Trophy competition. It was an exhilarating spell of the club's history with Wilson pulling the strings off the field and Dickenson on it. Twin brother strikers Bruce and Gordon Birtwistle were an absolute menace to defences whilst the half back line up of Kevin Burke, Mike Batty and Jimmy Dowthwaite was as good as any in non-league football at that time.
The successes of the late 60's weren't repeated in the early seventies but Wilson remained as manager as the Lilywhites stepped up into the Northern Premier League in August 1972. In November of the same year he tendered his resignation stating that he had led the team as far as he could.
Wilson then had spells in charge at Radcliffe Borough and Stalybridge Celtic before retiring from football management to concentrate on his teaching career."