Daylight Robbery!
Mossley 0 Gresley Rovers 1


UniBond League Division One

Saturday 25th September 2004 - 3.00 pm

@ Seel Park, Mossley

Referee R Holdsworth

Attendance 290





12°C - wind W 12mph
Mossley
1. Lee Bracey (8)
2. Carl Rezai (7)
3. Matty Taylor (7)
4. Steve Sheil (7) Y
5. Paul Taylor (7)
6. Tony Coyne (7)
7. Josh Howard (8) Y
8. Shaun Dootson (8)
9. Chris Downey (6)
10. Rhodri Giggs (7)
11. Jordan Goodeve (8)
12. Billy McCartney (not used)
14. Mario Daniel (for Coyne 85 mins)
15. Adam Morning (6) (for M.Taylor 74 mins)

Gresley Rovers
1. Belford
2. M.K.Smith
3. White
4. M.C.Smith
5. Hood R
6. Dodds
7. Simpson
8. Barrett
9. Eijofor
10. O'Connor
11. Brown
12. Slater
14. Rowe
15. Hebbard
Gresley Rovers made their first ever appearance at Seel Park this afternoon and performed daylight robbery on a Mossley side that dominated for around 85% of the game but couldn't find the killer touch and when they did they were thwarted by an absolute howler of a mistake by hapless referee Holdsworth.
Mossley got off to their usual slow start and were thankful to Lee Bracey who made two superb early saves to thwart O'Connor and Brown. Mossley got into gear and Jordan Goodeve brought a fine save from Belford as his 25 yard screamer was bound for the top corner. Goodeve was later denied by the crossbar as another great shot looked headed for the net. Mossley dominated most of the half but fell behind in the 32nd minute as the defence momentarily dozed allowing Eijefor to get in his cross from the right and Aaron O'Connor was unmarked to finish with a miss-hit shot from eight yards.
The second half saw Mossley launch the alamo as it was practically one way traffic. Wave after wave of Mossley attack piled forward and chance after chance went begging. Gresley were reduced to ten men in the 67th minute when Dootson won a good challenge with Gresley central defender Hood only for the Gresley player to blatantly stamp on Dootson as he got to his feet. The impetus remained with Mossley as more attacks came to naught as Gresley's defence became more and more desperate. The referee then made his howler as Josh Howard squeezed his pass through to Rhodri Giggs who finished calmly in the bottom corner only to be pulled back as the referee had blown instantly for a foul on the Mossley captain. Strangely the only time he failed to play the advantage rule all afternoon! Mossley's pressure was relentless but on a rare Gresley breakaway Bracey made another superb save to deny the lively O'Connor. In the last minute substitute Mario Daniel broke free of his marker and crossed for Chris Downey who looked a certain scorer until he decided to attempt an acrobatic volley instead of a simple header and the ball and Mossley's hopes flew over the bar.
The referee was extreme in his apologies to anyone who would listen to him in the bar after the game but it was no consolation on a day when Mossley know that they should have won by a big score against a side who were expected to be strong, but, on this showing looked far from promotion hopefuls. However, with luck like they enjoyed today you wouldn't bet against them!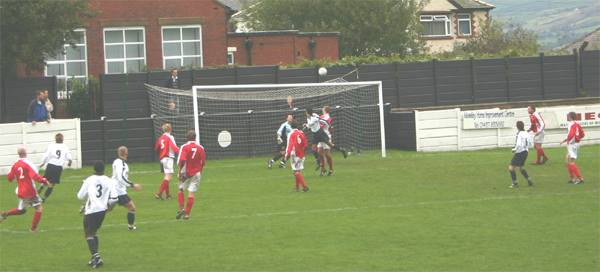 Rhodri Giggs goes close with a first half header



Gresley defender Hood somehow scrambles the ball off the line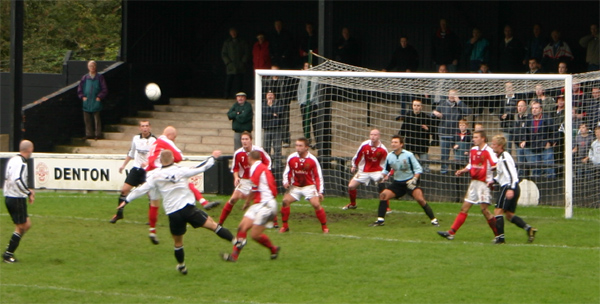 Mossley pile on the pressure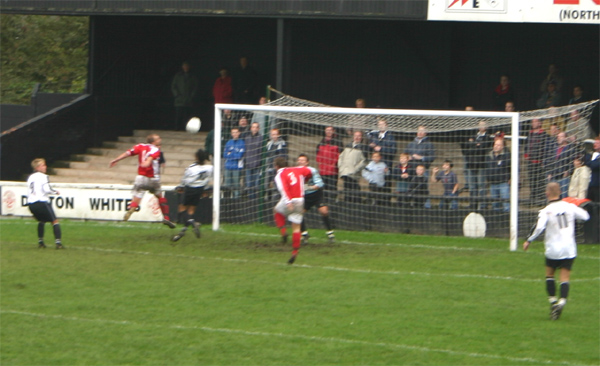 Rhodri Giggs heads narrowly wide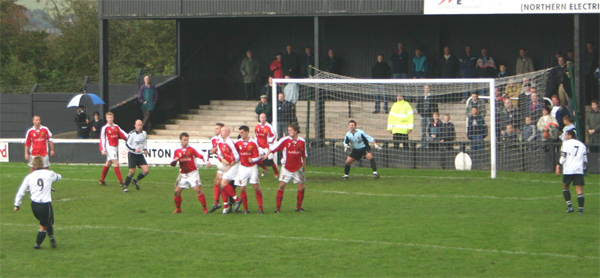 Chris Downey strikes a free kick that causes Gresley's Simpson some discomfort

Mossley's players can't believe they have failed to score yet again
pics by Goggsy
Mossleyweb Man of the Match: Shaun Dootson...another hard working performance!
Mossleyweb Verdict: Referee was man of the match...nuff said!!!