SEEL PARK

through the years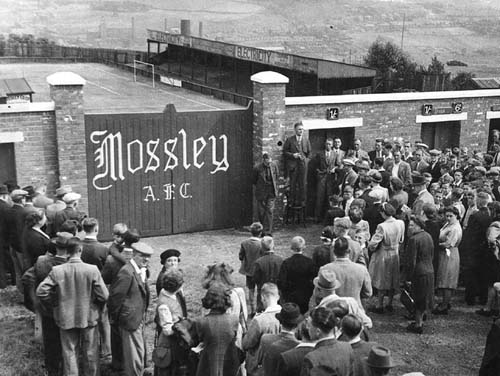 Mossley Chairman George Clayton welcomes supporters to the opening of the new Seel Park turnstiles in August 1952.
Picture courtesy of Graham Halliwell (Australia)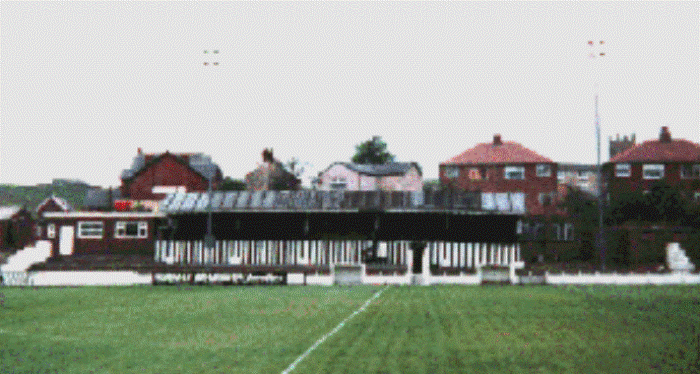 The old Main Stand around 1973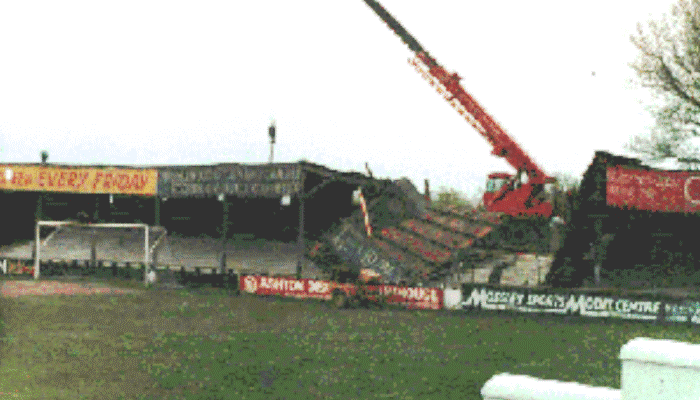 The old Park end stand under demolition 1979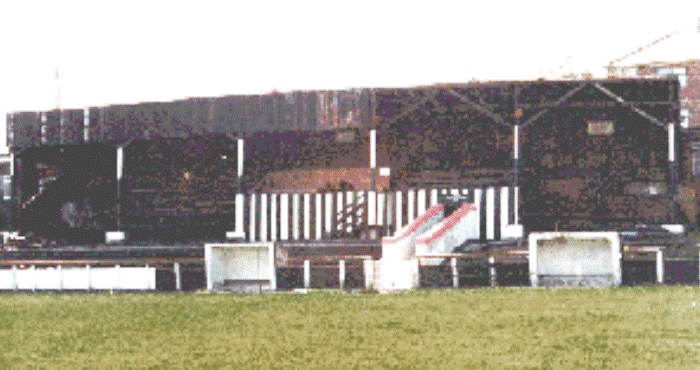 The old main stand just before demolition 1985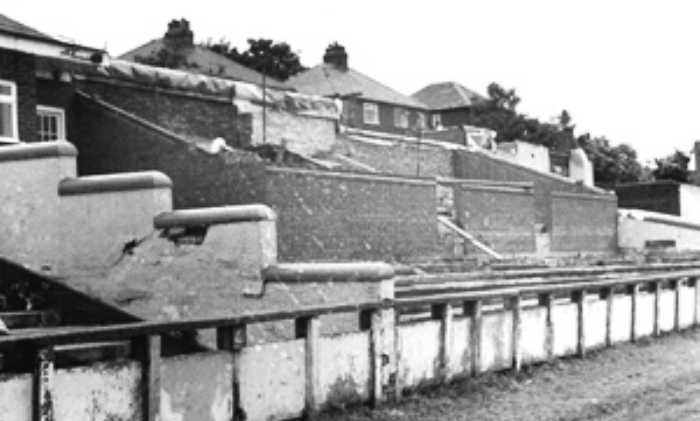 Foundations for the new main stand 1986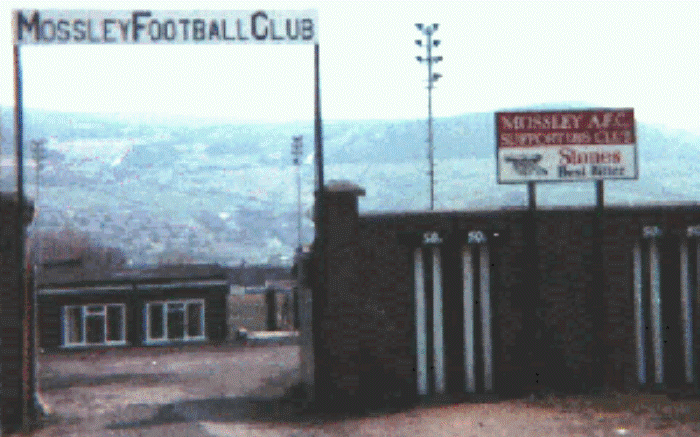 Entrance to the ground 1978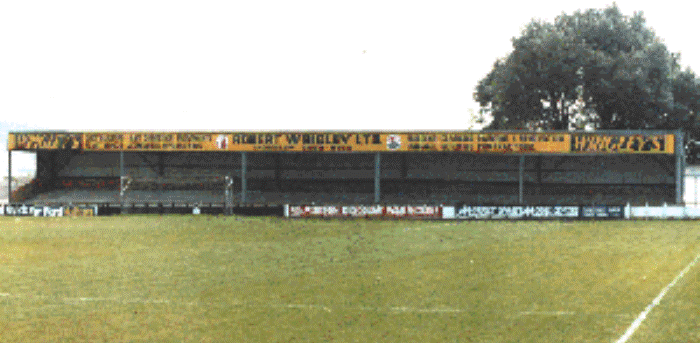 The new Park End stand 1980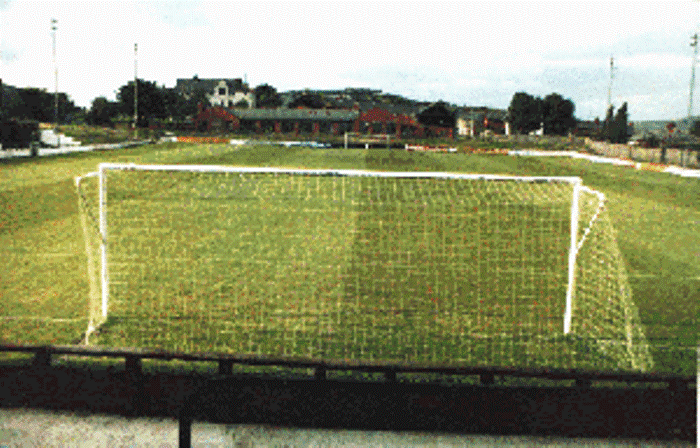 The School End 1975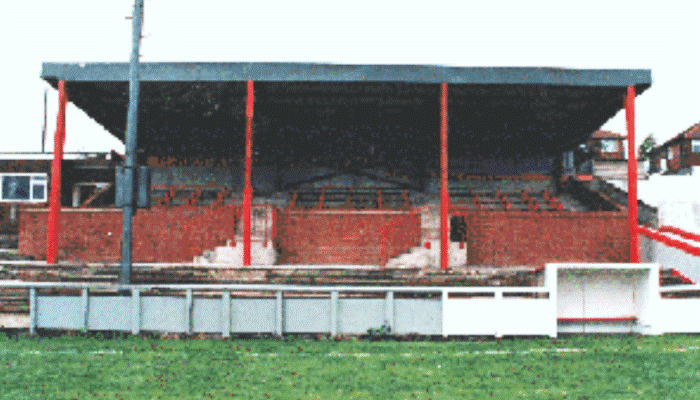 The new Main Stand 1986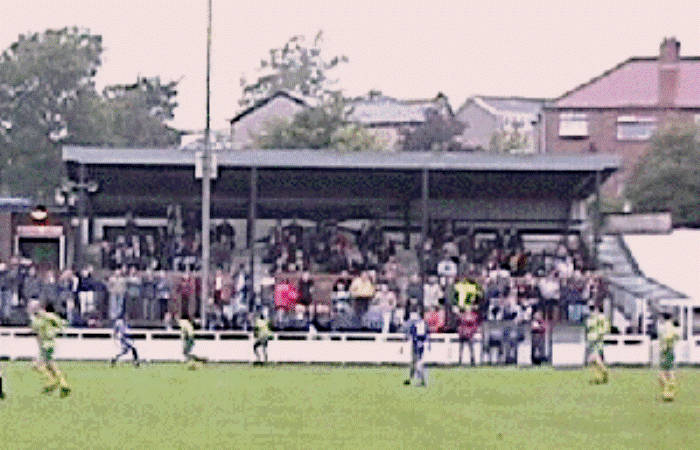 The Main Stand 1999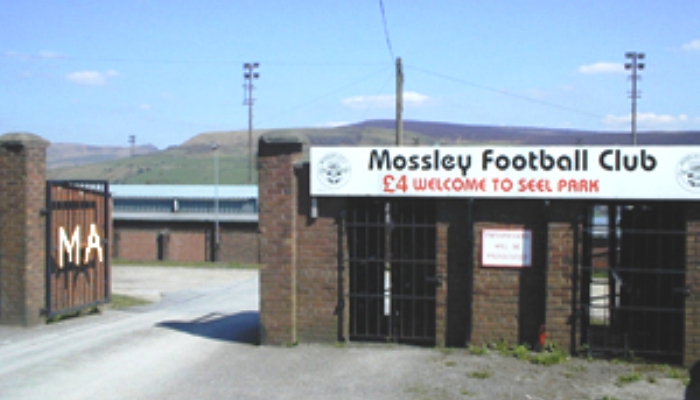 The Entrance May 2001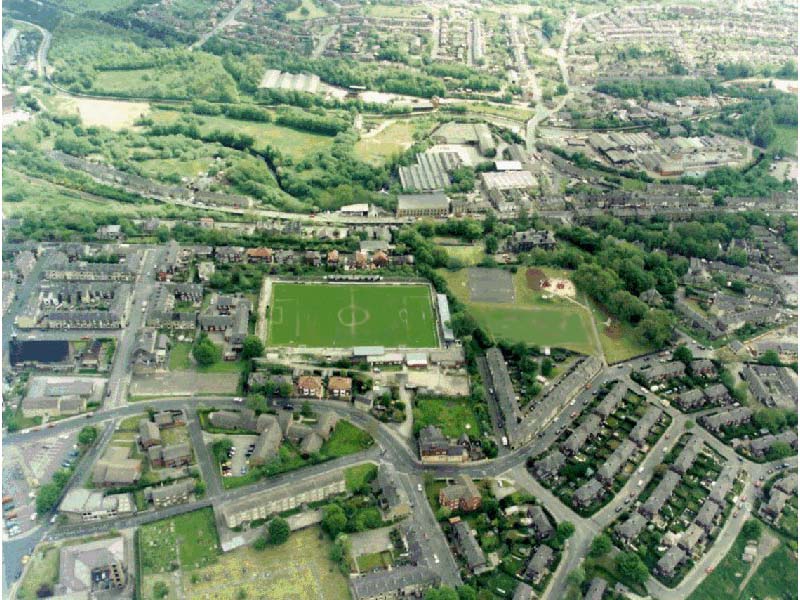 Aeriel View of Seel Park 2000
click here for info on the old ground at Luzley 1903-1911
click here for the history of the name Seel
A CHRONOLOGICAL HISTORY OF SEEL PARK
Pre 1911 - Disused cricket ground & former tip.
1911 - Mossley FC move from Luzley to new home known as Seel Fold with headquarters in the Highland Laddie Hotel next to ground. Mossley's first ever game at Seel Fold took place on Saturday 23rd September 1911 when Mossley beat Stalybridge St Peters 4-0 in the Ashton & District League.
1912 - Ground partly enclosed with a wooden fence.
1920 - A stand to hold 430 people was erected on the site of the former tip on the popular side by J.S.Adams Ltd. who also erected dressing rooms at the ground.
1921 - Turnstiles erected.
1922 - Wooden 'sleeper' terracing built on main stand side.
1927 - Three new bays added to popular side stand which would now shelter 1,000. Mossley Co-operative Society erected refreshment buildings.
1931 - Ground mysteriously became known as Seel Park. (Apparently Park was considered a more 'modern' name than Fold).
1932 - New stand erected at the Mossley Park end.
1936 - New main stand to seat 300 built on Market Street side.
1947 - Concrete wall around the pitch perimeter constructed as well as new terracing.
1948 - Mossley AFC bought Seel Park outright from owners 'Stamford Estates' for £1,200. They then erected concrete terracing in front of the main stand, the concrete players tunnel from the dressing rooms, the concrete main stand enclosure walls. and brick lavatories.
1949 - New refreshment rooms, office and dressing room were erected by the Supporters Club.
1952 - New turnstiles erected.
1953 - New social club opened on ground.
1969 - Derelict popular side stand demolished and fence replaced by concrete wall funded by sale of Alan Roberts to Bradford Park Avenue.
1971 - New stand erected on popular side by Weldem Ltd funded by sale of goalkeeper Gary Pierce to Huddersfield Town.
1972 - Floodlights erected.
1979 - New Social Club opened on ground
1980 - New stand erected at Park End along with terracing & barriers around to front of Social Club funded by sale of Eamonn O'Keefe to Everton.
1987 - Main stand demolished following serious storm damage and new structure seating 220 built in it's place named the 'James Anderson Stand' after Club President. The stand cost £17,000 funded in part by a grant from Tameside Council.
1988 - Ground sold to Investors to clear crippling debts.
1990 - Investors sold ground to Tameside Council who leased it back to Mossley AFC.
1996 - Work commenced on new terracing to continue in stages around the ground.
1997 - New perimeter wall built at School End.
1998 - Social Club refurbished and floodlights upgraded by NEC Ltd.
1999 - Old social club refurbished and opened as boardroom and sponsors lounge.
2000 - New 'dug-outs' to seat twelve in each erected. Major repainting of perimeter walls carried out. Tea bar extended. Old supporters club behind park end goal renovated and re-opened as Souvenir Shop.
2001 - New Drainage system on pitch costing £14,000, Social Club re-roofed. Terracing extended behind school end goal.
2002 - New Floodlight lamps and rewire. Terracing continuing in stages on popular side.
2003 - Social Club entrance adapted for wheelchair access and new veranda constructed on ground side of club.
2005 - Tip up seats replaced the wooden benches in the main stand.
2008 - Terracing on the Hanover Street side was completed meaning that Seel Park's concrete terracing was complete on all four sides. Dressing Rooms re-designed and extended. Social Club refurbished.
2009 - Disaster struck at the end of 2009 as two floodlight pylons collapsed and following inspections the remaining six pylons were condemned.
2010 - A new six pylon floodlighting system costing just over £30,000 was installed in the summer thanks to money raised by supporters and donations from local business' and Tameside MBC.
2014 - Social club interior re-designed and beer garden constructed to rear of building.