MOSSLEY AFC
The North West Counties League Years 1995 - 2004

1995-96

CONSOLIDATION
Mossley's manager at the time of relegation Paul Cuddy was retained for the new season as Mossley sought to return to the UniBond League at the first time of asking. The difference was that former Mossley player Kevan Keelan had been brought in as manager with ex England semi pro player Cuddy to work alongside him. The move didn't work out and Cuddy was gone by September.
Several new players were drafted in - central defender Steve Allcock (Ashton United) and Mark Thomas (Horwich RMI), midfielders Chris Lomas (Salford City) and Matt Holt (re-signed from Ashton United) alongside experienced forwards Bernie Hughes, Andy Baines and Carl Conlon (all from Keelan's former club Ashton United). They were joined a short time later from the same club by left back Mark Murray and goalkeeper Richard Bibby (Horwich RMI). Mossley began life in the NWCL with a home game against Nantwich Town and got off to a good start with a 2-1 victory with new boys Hughes and Baines scoring the goals. The Mossley team for their first game in the NWCL was:- Rod Bates, Neil McKay, Charlie Haynes, Paul Cuddy, Steve Allcock, Wayne Joynes, Chris Lomas, Danny Kent, Bernie Hughes, Mark Aitken, Andy Baines. subs. Lee Cunliffe, Paul Herring, Carl Conlon.
The team opened the season unbeaten in their first 11 games which included a superb 2-0 FA Cup win at UniBond League Premier Division leaders Bamber Bridge. The team were finally brought down to earth with a bump as they lost 4-0 at home to a very fired up Glossop and crashed out of the FA Cup losing 6-1 to a very strong Guiseley side.
Mossley played their first ever FA Vase game at Northern League side Shildon in November and won 2-1 in extra time thanks to two goals from the ever faithful Wayne Joynes. The expected run in the Vase didn't happen though as the team crashed out on an icy pitch at Midland club Barwell.
Mossley replaced Flixton at the top of the League with a 2-1 win at their Valley Road ground and looked set for an early return to the UniBond, but Flixton were a consistent side with Dalton Steele at the helm and were set to stay the distance. Mossley's went into easter leading the table but form form flailed with defeat at Glossop and a draw against Chadderton being the nails in the coffin that ended hopes of promotion and Flixton went on to gain the solitary promotion spot. Mossley finally finishing in a disappointing 4th place.
Mossley ended the season with a cup final, albeit the relatively minor NWCL Floodlit Trophy and faced League runners up Newcastle Town at Altrincham's Moss Lane and despite taking the lead with Bernie Hughes' 26th goal of the season Mossley eventually went down 2-1.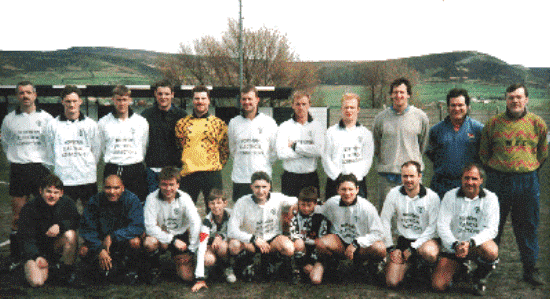 April 1996
Back: Bernie Hughes, Richard Bevan, Mike Turner, Paul Uttley, Rod Bates, Mark Thomas, Wayne Joynes, Mark Murray, Mark Walsh, Kevan Keelan (manager), Peter Cole.
Front: Lee Cunliffe, Carl Conlon, Tim Crane, unknown mascot, Chris Lomas, unknown mascot, Matt Holt, Peter Withers, Andy Baines.

1996-97
A RUN IN THE VASE
Mossley were again amongst the promotion favourites for the following season, especially as they got off to a flying start with four straight victories with new signings Peter Nolan (Prescot Cables), Neil Critchley (Chorley), Simon Kay (Oldham Athletic) and exciting winger Greg Hypolite (Wilmslow Albion) all showing promise.
League form was unfortunately patchy but hopes were raised with a good run in the FA Vase. Morpeth Town, Vauxhall Motors, Cogenhoe United and Barking were all dispatched as Mossley strode confidently through to the quarter finals with winger Tim Crane scoring in every round. He scored again in the quarter final at Vase favourites Whitby Town, but after being level at the break Whitby stepped up another gear and finally romped to a 5-1 victory and the powerful North Yorkshire outfit went on to win the Vase.
Off the field many supporters were unhappy about the direction that unpopular chairman Frank Whelan was leading the club and moves were made to oust him. He finally faded away at the end of the season as a new board was created with the club's main sponsor Sam Rigby of NEC Ltd invited to become club chairman.
Kevan Keelan resigned as manager and another former Lilywhites favourite Benny Phillips was appointed as his successor.

1997-98
BENNY TAKES CHARGE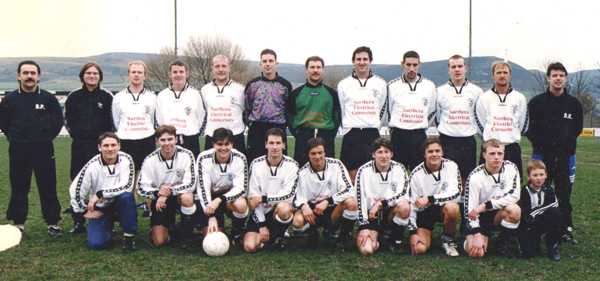 Back row: Benny Phillips (manager), Dave Moss. Mark Murray, Stuart Cunningham, Chris Bailey, Rod Bates, Mark Walsh, Pedro Brennan, Drew Cain, Wayne Joynes, Danny Keogh (assistant manager).
Front row: Matt Holt, Jimmy Birch, Warren Thompson, Tony Jones, Mark Jones, Steve Jordan, Chris Smith, CJ.Smith.

New boss Benny Phillips had to sign a new team with a limited budget but was unable to bring in a proven goalscorer and results reflected that problem with only speedy teenager CJ Smith and experienced midfield dynamo Pedro Brennan looking potential goalscorers.
Brennan proved to be an inspired signing as was central defenders Ian Phillips and later Paul Taylor who arrived before the season finished.
Mossley looked good defensively but had little flair up front and eventually finished in 9th position.
It was a very transformational time for Mossley AFC both on and off the field with few high spots. FA Cup hopes were ended early at Gretna and the team fared no better in the Vase going out to unfancied Northern Leaguers West Auckland Town.

1998-99
FINAL DAY HEARTBREAK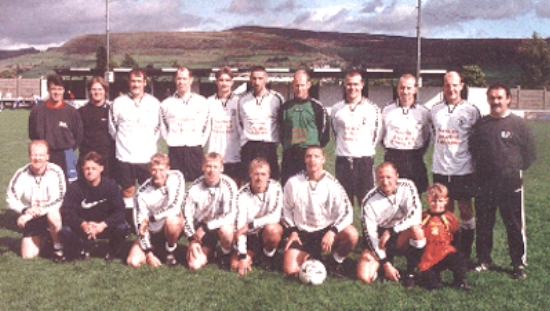 August 1998
Back: Danny Keough (assistant manager), Dave Moss, Lee Wilkinson, Paul Taylor, Mike Wolstenholme, Pedro Brennan, Martin White, Drew Cain, Mike Cunningham, Ian Phillips, Benny Phillips (manager)
Front: Mark Murray, Dave Wynn (physio), Ian Barker, Darrell Dicken, Chris J.Smith, Gavin Oldham, Chris Willcock, unknown mascot.
The arrival of powerful centre forward Lee Wilkinson from Castleton Gabriels and exciting winger Darrell Dicken (Winsford United) meant that Mossley were a much more potent attacking force and some great results put the side in a strong position to challenge for honours.
An all out assault on the League title took place but it was to end in heartbreak, as, after leading the table for the last three months Mossley were pipped at the post on the last day of the season by Workington on a dramatic day in Cumbria as a 3,500 crowd witnessed Workington edge Mossley off top spot with a controversial 2-1 win over the Lilywhites.
Earlier Mossley had reached the 4th round of the FA Vase before bowing out in extra time on the south coast at Wessex League leaders Lymington & New Milton.
Mossley were equally unfortunate to go out of the FA Cup to UniBond Premier leaders Lancaster City in the 3rd qualifying round after wins over Trafford and Billingham Synthonia.

1999-00
ANOTHER RUN IN THE VASE
The Millennium season saw Mossley as favourites for promotion after the efforts of the previous season and Benny Phillips side went unbeaten in the first eight games.
Tragedy struck early in September though when centre half Ian Phillips saw his career ended with a sickening leg injury incurred against Gretna in the FA Cup. League form was inconsistent but the FA Vase saw hopes of another good run and exciting home wins over Billingham Town, Nantwich Town, Saltdean United and Alfreton Town saw the Lilywhites through to the quarter finals for the second time. Unfortunately the side froze on the south coast at eventual winners Deal Town and after having the brilliant but volatile Darrell Dicken dismissed Mossley crashed to a 3-1 defeat.
There was still lots of work to be done in the League but Vauxhall Motors proved too strong and they went on to gain promotion with Mossley slipping to a disappointing 4th place.

2000-01
A DISAPPOINTING SEASON
Striker Darren Wardle was signed from Oldham Athletic and earned a contract withg two impressive hat-tricks in the pre season friendlies and four on his home debut but proved to be injury prone through what turned out to be a disappointing NWCL season.
After losing the opening game of the season to neighbours Curzon Ashton, Mossley went on a 14 match unbeaten run which included a superb 3-0 win at UniBond Premier League big-guns Altrincham in the FA Cup before bowing out in extra time at Frickley Athletic following a drawn game at Seel Park.
League form dipped as midfielder Steve Burns (who had been in excellent form) broke a leg in a match against Leek CSOB and highly rated winger Danny Murphy was snapped up by Altrincham after turning down a contract offer with Mossley.
The team slipped out of the FA Vase at the first hurdle to Northern League side Consett and the early season form never returned and Mossley finished in a lowly 10th place. The lowest position they had finished in the NWCL years.
Midfielder Pedro Brennan was top scorer with 20 goals although the arrival of striker Bradley Wosahlo promised much as he hit 8 goals in 11 starts before the season's close.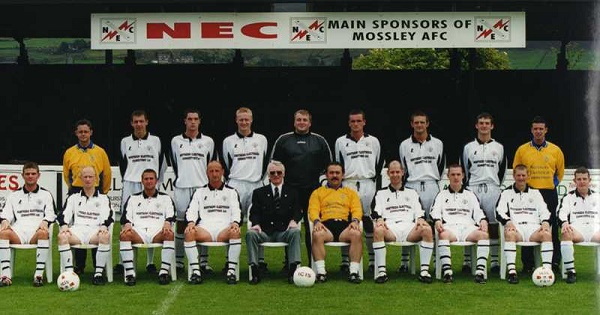 August 2000
Back: Dave Wynn (assistant coach), Kenny Abbott, Darren Wardle, Mark Paver, Tommy Allen, Danny Murphy, Mike Garside, Richard Ashcroft, Danny Keough (assistant manager).
Front: Steve Burns, Mark Murray, Paul Barrow, Chris Willcock, Sam Rigby (chairman), Benny Phillips (manager), Paul Taylor, Steve Mallinson, Keith Evans, Stuart Cunningham.

2001-02
A CHANGE IN MANAGEMENT
The squad had an altogether stronger look to it as Mossley embarked on the 2001-02 season and a Bradley Wosahlo hat-trick that earned a 3-0 win at much fancied Clitheroe augered well for the season although an injury depleted team went down 4-2 at Spennymoor United in the FA Cup.
The signing of controversial striker Padi Wilson saw Mossley thrash League leaders Kidsgrove Athletic 5-2 in the League Cup only for it to be discovered that Wilson hadn't been registered in time and Mossley were expelled from the competition.
The game also proved to be Benny Phillips' last game in charge as he resigned a few days after and became new boss at Witton Albion taking several key Mossley players with him!
Bob Murphy stepped in for two games which saw a highly unlucky defeat at Durham City in the FA Vase and a 2-1 reverse at title chasing St Helens Town before former Stoke and Coventry City defender Ally Pickering was appointed as the new manager.
Pickering was forced to sign several new players and on occasions looked to be building a more than useful side. Mossley felt robbed in the Manchester Premier Cup when a partial floodlight failure caused the abandonment of the Manchester Premier Cup Semi Final against Salford City just 8 minutes from time with Mossley leading 1-0.
The replayed game saw Salford win 2-1 much to Mossley's disappointment. In the end the season petered out with nothing to play for and Mossley finally finished in 8th place.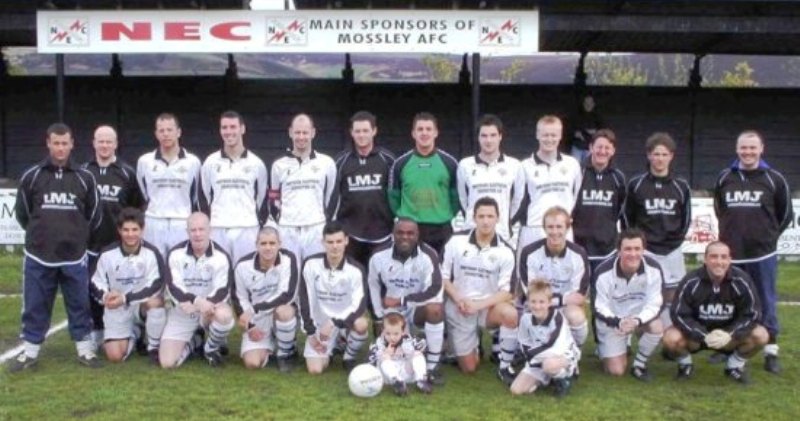 April 2002
Back: Ally Pickering (manager), Mark Murray, Ricky Harris, Mark Phillips, Paul Taylor, Wayne Backhouse, Rob Hackney, Darren Wardle, Mark Paver, Tony Coyne, Russell Headley, Carl Kelly (assistant manager).
Front: Bradley Wosahlo, Tony Gaffey, Damien Wilkinson, Danny Griggs, Andy Gayle, John Foster, Rowan Hines, Paul Mitten, Danny Mitten (physio).

2002-03
SOME WELL DESERVED SILVERWARE
The appointment of ex Manchester City player Jason Beckford as assistant manager had a positive effect as Mossley stepped into their Centenary Season with renewed vigour and the intention to succeed in finally gaining promotion back to the UniBond League.
Early form was impressive but a disappointing 2-1 defeat at Workington saw Mossley exit the FA Cup in disappointing fashion. The arrival of experienced ex League player Rob Matthews proved a pivotal signing as he scored a hat-trick on his debut at Flixton and was superb throughout the remainder of the season alongside the prolific Tony Carroll.
The club fancied an FA Vase run and got its wish with a 3-2 win over Ramsbottom United followed by away victory over Salford City sandwiched between the disposing of Northern Leaguers Esh Winning and Guisborough Town that saw Mossley through to the 4th Round and an away day at Lymington & New Milton, who had knocked Mossley out four years earlier.
This time it was Mossley who were victorious and it was a great day for the 150 or so Mossley fans who made the journey to the south coast as Josh Howard scored a late goal to seal a 3-2 victory.
The fifth round saw Mossley entertain NWCL leaders Prescot Cables and in a classic cup tie Mossley edged through 2-1. The Quarter Final paired Mossley with Vase favourites AFC Sudbury but a disappointing first half performance saw Mossley crash out 2-0.
In the League Prescot were running away with the title so Mossley set about winning the only silverware still realistically available - the NWCL Worthington Trophy and wins over Stone, Nantwich, Salford and Newcastle saw Mossley through to the final at Bury's Gigg Lane and the season was rounded off with some silverware as captain Paul Taylor lifted the trophy in front of around 1,000 fans following a 2-1 victory!
Promotion hopes had ended as Prescot won the title and Mossley settled for 3rd place.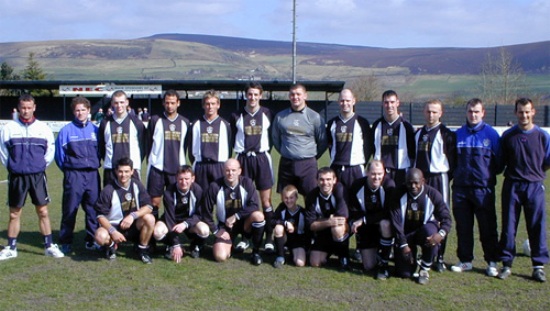 April 2003
Back: Ally Pickering (manager), Russell Headley, Stephen Sheil, Nathan Brookes, Simon Heaton, Nick Welton, Steve Hilton, Paul Taylor, Mark Phillips, Robert Trees, Paul Lythe, Anthony Evans (physio).
Front: Bradley Wosahlo, Tony Coyne, Tony Carroll, Robert McDickens (mascot), Neil Pointon, Rob Matthews, Jason Beckford (assistant manager).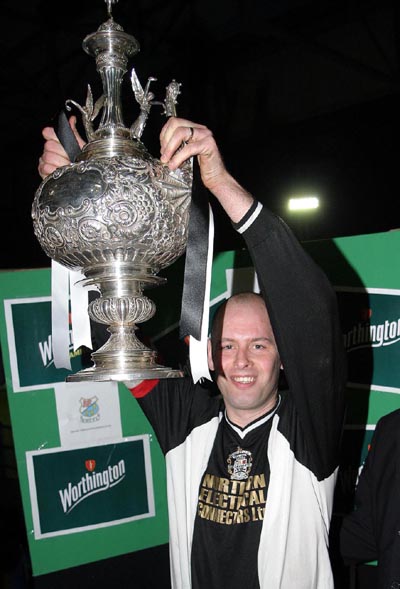 Skipper Paul Taylor raises aloft the NWCL Worthington Trophy after victory over Clitheroe in the final in May 2003

2003-04
PROMOTION AT LAST
The proposed restructuring of the non league pyramid excited everyone and knowing that a top four placing would almost certainly guarentee promotion Mossley set about making absolutely sure by winning the League. But the season began controversially as manager Ally Pickering departed under something of a cloud and Jason Beckford was appointed as his successor.
The team opened the season brightly but an FA Cup horror show saw Hyde United win 6-1 at Seel Park. The alarm bells sounded and fortunately were quickly heeded and following an unlucky 2-1 home defeat by Clitheroe, Mossley went on a fantastic 21 match unbeaten run which finally came to an end in the Nantwich mud at the beginning of January.
The next month proved to be harrowing. Mossley were deducted three points for an administrative error and from an 11 point lead at the top of the table at Christmas the team were suddenly hauled back giving rivals Clitheroe and Woodley Sports the onus!
A deflated Mossley went out of three cups in eight days - the FA Vase to eventual winners Winchester City, the Manchester Premier Cup to Hyde United on the extra time golden goal rule and the League Cup to Newcastle Town.
A run of five successive victories put Mossley back to the top of the League but a crunch match at Woodley Sports ended in disappointment as Mossley lost 4-2 and handed their rivals the opportunity to snatch the title. Woodley faded thereafter but Clitheroe kept going with a run of narrow victories that saw them take the title on the last day of the season.
The points deduction came back to haunt Mossley as but for the loss of the three points Mossley would have been champions and not Clitheroe!
Mossley settled in the end for runners up and a place back in the UniBond League after a nine year wait!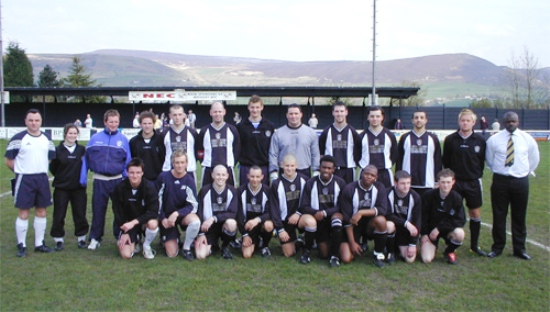 April 2004
Back: John Murphy (assistant manager), Rosa Martin (physio), Tony Coyne, Russ Headley, Steve Sheil, Paul Taylor, Danny Meadowcroft, Phil Melville, Mark Phillips, Dave Brown, Josh Howard, Chris Downey, Jason Beckford (manager)
Front: Alan Bailey, Simon Heaton, Adam Morning, Rhodri Giggs, Shaun Dootson, Matty Taylor, Leon Mike, Steve Tobin, Leyton Slack.