23/01/10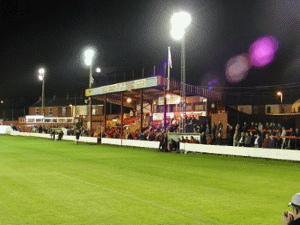 Due to the current floodlight situation Mossley's next scheduled home game will take place at Ashton United's Hurst Cross ground.
FC Halifax Town will be the visitors to Hurst Cross on Tuesday 2nd February - 7.45 pm.
Football Secretary Harry Hulmes said today, "On behalf of everyone at the club, I would like to express our sincere gratitude to Ashton United FC and especially chairman Dave Aspinall and secretary Bryan Marshall. They are genuine lifesavers in our time of need. If we can assist them at any time in the future, it goes without saying that we will do all we can."
The floodlights are now down and stored safely, ready for scrapping. This is due to the hard work of certain committee members and a few loyal supporters.
This means that (with the league's permission) we can now play Saturday fixtures at the ground with earlier kick-off times.
Our generous neighbours Ashton United have kindly offered us the use of their ground for evening fixtures (clashes permitting), which at least takes a bit of the pressure off us for the immediate future, as we should be able to complete our league fixtures without worry.
Many thanks to Mark Robinson at MDR for the use of his cutting equipment and lorry, which made the floodlight removal possible without any expense.
Also thanks to Steve & James Burgess for climbing up the condemned poles and removing the lights, before cutting the pylons up.
It would also be remiss of me not to thank all of the volunteers who carried out a street collection today around Mossley & Ashton, raising vital money for the 'Floodlight Fund'.