Saturday 1st May 2004
MOSSLEY HAVE TO SETTLE FOR RUNNERS UP!
In a dramatic climax to the season Clitheroe sneaked a 3-2 win at Nantwich Town to claim top spot and edge Mossley into 2nd place. A painful reminder from 1999 when the Lilywhites also lost the League title on the last day of the season. This time however, it looks certain that Mossley will be promoted to the UniBond League along with champions Clitheroe, 4th placed Woodley Sports, 5th placed Warrington Town and maybe even 6th placed Newcastle Town.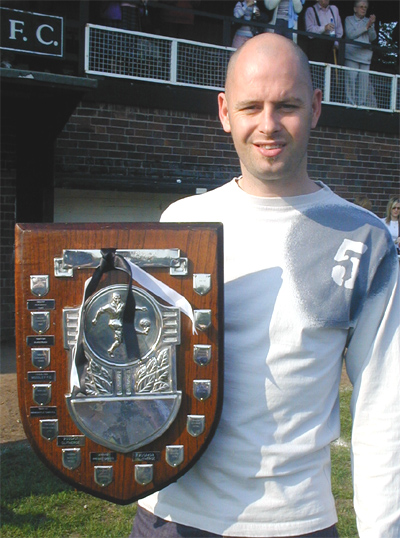 Paul Taylor with the NWCL Runners up Trophy
Friday 30th April 2004
BECKFORD BLAST AT LEAGUE RULES (from www.tamesideadvertiser.co.uk)
Jason Beckford insists he is glad his Mossley side are leaving the North West Counties Football League, escaping what he labelled as 'amateurish' organisation.
With the Lilywhites certain of promotion into the UniBond League at the end of the current campaign, Beckford's anger is directed at North West Counties officials.
The problem lies in their decision not to order a replay of the Mossley-Atherton Collieries match after Colls were found to have fielded an ineligible player in the 1-1 draw.
While the league has docked Colls the standard three points, plus the one gained on the day, what irritates Beckford is the lack of a replay considering Mossley and Glossop North End played again after the Lilywhites wrongly fielded Mark Bradshaw.
He said: "I don't want to get on the wrong side of people, but I think there's double standards and the league needs to look at itself and ask if they're doing what's right. At the end of the day, that sums the league up for me – they have been amateurish throughout from the administration side of things to the standard of officiating."
Matters were barely helped on the pitch when Mossley finished their season – league intervention preventing – with a 2-2 draw against Ramsbottom United at Seel Park. That left the Lilywhites level on points with Clitheroe who only need a point at Nantwich on Saturday to take the title.
Beckford added: "It's probably the most disappointed I've been for a long time, even back to my playing days. We just looked lethargic, we didn't show much urgency and I was truly disappointed with the lads.
"I'm being very critical, but I look at the season we have had and I'm happy with the way we have moved forward as a club."
HEADLEY, HEATON AND PHILLIPS RELEASED!
Jason Beckford has released three of Mossley's longest serving players - Russ Headley (144 games - 15 goals), Simon Heaton (100 games - 7 goals) and Mark Phillips (111 games - 15 goals). All three have been popular players and good servants to the club. They will undoubtedly be snapped up quickly by other clubs. The only other departure sees the return of teenager Danny Meadowcroft to Stockport County where he has been offered a one year contract after making 8 appearances for Mossley.
Saturday 24th April 2004
ANYTHING COULD HAPPEN AND PROBABLY WILL!
Mossley have now completed their fixtures and are top of the League with 89 points from 42 games and have scored 24 goals more than their nearest rivals. Unfortunately for Mossley the three points deducted after Christmas and the denial of a rightful replay against Atherton Collieries leaves the title in rivals Clitheroe's hands (almost!). First Mossley's 'Lancashire' rivals need at least a point from their last game of the season at Nantwich Town next Saturday. There is expected to be a large number of Mossley fans travelling to Jackson Avenue for the game which will inevitably decide the fate of this season's NWCFL Division One title! How long can you hold your breath?
Tuesday 20th April 2004
THIS IS IMPORTANT! (Correction & Apology))
I would like to apologise to NWCFL Chairman Dave Tomlinson for the quote (alegedly) attributed to him (allegedly) in yesterday's report (which has also now been amended). <see below> The quote was in fact made by another League official and not by Mr Tomlinson who has apparently nailed his flag to Mossley's mast on this issue. I would like to apologise unreservedly to Mr Tomlinson for the misquote and for any distress this may have caused. The Atherton Collieries issue though, remains unresolved at this moment!
Monday 19th April 2004
THIS IS IMPORTANT!
Apparently, when Mossley played Atherton Collieries at Alder Street on Saturday 7th February 2004, Atherton Collieries fielded an unregistered player (rumoured to be their goalscorer) and have been deducted three points.
When Mossley were victim of a similar offence at Glossop on Boxing Day Mossley were deducted three points and ordered to replay the game.
The NWCFL have however denied Mossley the right to a replay, apparently because Atherton Collieries didn't win the game.
Sorry!....errrr what was that?
An 'un-named' League official is alleged to have said, 'It doesn't matter anyway, they (Mossley) are going up anyway'.
There seems a massive injustice here. How can you have one rule for one and another for another. Mossley AFC are, I am reliably informed, taking the matter to the FA as a matter of urgency!
Watch this space!
Tuesday 6th April 2004
JASON WINS MANAGER OF THE MONTH AGAIN!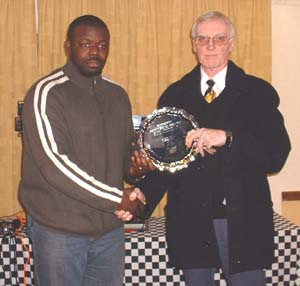 Jason Becford has won the NWCL Division One Manager of the Month award for the third time this season. He received his award after the 6-2 win over Atherton Collieries from Mossley Chairman Sam Rigby (pic courtesy of Mossleymania)
Thursday 26th March 2004
ANOTHER SUCCESSFUL FORUM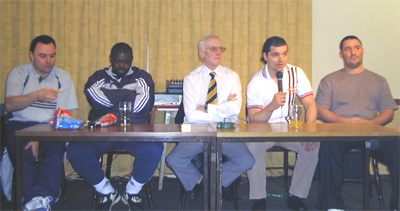 Another successful Forum was enjoyed by a decent sized attendance at the Social Club last night. Pictured on the top table (l to r): John Murphy (enjoying a late tea), Jason Beckford (in thoughtful mood), Sam Rigby (listening intently), Dave Brown (with another anecdote) and Phil Melville (weighing it all up)!
Saturday 13th March 2004
300 UP FOR CAPTAIN FANTASTIC!
Mossley skipper Paul Taylor today clocked up his 300th appearance in a Mossley shirt as the Lilywhites romped to a 4-1 win at Fleetwood Town. PT was rescued from Manchester amateur side Connelly's late in the 1997-98 season after previously playing for Chorley, Frickley Athletic and Radcliffe Borough and became an instant hit with his controlled aggressive defending. He made his Mossley debut against Kidsgrove Athletic on 1st April 1998 and such is his never say die attitude that he has earned the Supporters Player of the Year award on no less than three occasions - 1998-99, 2000-01 and 2001-02. Still playing as well as ever despite reaching his mid 30's Paul has in the past threatened to retire but his displays continue to belie his age, in fact if anything he just get's better.
Congratulations Paul on a fantastic achievement and heres to many more games in the old black & white!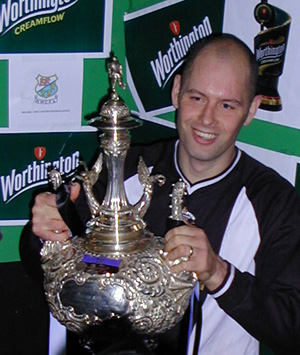 Paul Taylor in his finest moment at Mossley so far,
lifting the Worthington Challenge Trophy after victory over Clitheroe last season.
Saturday 6th March 2004
TC IS LATEST TO GO!
Leading scorer Tony Carroll is the latest player to depart from Seel Park after losing his place in the side. TC has chosen to take a rest from football after an injury hit season that has seen his scoring tally limited to just 18 goals in 34 appearances this season well short of his 35 goal tally in 48 games last term.

Monday 1st March 2004
CONKIE ABOUT-TURN!
Goalkeeper Matt Conkie will not now be joining Mossley this season after all. He has decided to stay at Congleton for the remaining games out of a sense of loyalty!
It appears that Mark Phillips will currently remain a Mossley player as he is on a contract. Whether he is actually selected to play is another matter altogether!
The fixtures until the end of the season have now been released click here
Saturday 28th February 2004
BUSY WEEK OF SIGNINGS!
Mossley manager Jason Beckford has completed the week with three new signings and one surprise departure. Arriving at Seel Park are the previously mentioned Rhodri Giggs and Chris Downey who have been joined by 18 year old, 6' 4", Stockport County YTS central defender Danny Meadowcroft who has signed for Mossley until the end of the season when he will return to Edgeley Park. Leaving Mossley is central defender Mark Phillips who has been released after showing poor form and a disapointing attitude. It is an unfortunate turn of events after Mark had had an outstanding season last term winning several club awards but has not shown the same form or commitment this season! Mark played a total of 107 games for Mossley and scored 14 goals.
Today's game against Abbey Hey was called off early this morning after another deep frost and will be played on a date yet to be arranged.
Friday 27th February 2004
DOWNEY SIGNS FROM ALTY!
Mossley have signed Chris Downey from UniBond Leaguers Altrincham. Downey, 20, who hails from Warrington was Bolton Wanderers 'Young Player of the Year' a couple of seasons ago but was released at the end of last season and initially played for Leigh RMI before joining Alty in December. He also made a solitary appearance for Trafford earlier this season.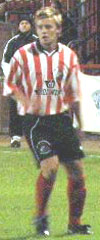 Chris Downey
Thursday 26th February 2004
RESTRUCTURE CONFIRMED
The Arbitration Tribunal which heard the Isthmian League's challenge to the restructuring of the National League System today announced that it has unanimously dismissed their claims.
The Tribunal was made up of three very senior legal figures, including former senior law lord Lord Browne-Wilkinson.
"The FA is of course pleased that our decision and processes have been upheld by the Tribunal. However, the most important point is that we, together with the Alliance partners, can now look to the future and get on with the vital reorganisation of football at this level" Nic Coward, The FA's Director of Corporate and Legal Affairs, told us.
The FA believes the new system will raise standards, create more excitement through play-offs, and deliver more consistent rules, regulations and ground grading requirements.
A key principle has been to ensure that the National League System will be fair and equitable for clubs irrespective of their geographic position in the country. Uppermost in The FA's decision-making and consultation throughout this process was that change should not take place for change's sake, but only if it would bring long-term benefits for the game.
At a meeting in May 2003 the Football Conference, and the Isthmian, Northern Premier and Southern Leagues' 'Alliance' agreed to recommend to the National League System Committee a new structure and a timetable to achieve it. This proposal includes the following key features:

22 clubs per league
Play-offs at each step down to step 4
Better linkages throughout the league structure
A semi-national step between the Conference and step 3
Remove leagues within a league
Deliver more consistent rules, regulations, ground grading and promotion/relegation through play- offs
This structure was considered by the National League System Committee at their meeting on 9th May 2003 and approved by The FA Council at its Summer Meeting on 21st June 2003. It will now be implemented with effect from the start of season 2004/05.
Alex Stone
FA Media Relations Manager

Saturday 21st February 2004
JASON LINES UP GIGGS & CONKIE!
Mossley manager Jason Beckford is hopeful of adding two new players to the squad for today's game against Abbey Hey. Striker Rhodri Giggs, 26, younger brother of Manchester United's Ryan is expected to sign from Bacup Borough. Rhodri has previous experience with Stockport County, Bangor City, Salford City and Aberystwyth Town. Goalkeeper Matt Conkie, 25, has been plying his trade with Congleton Town for the last couple of seasons and was previously with Chester City, Winsford United and Witton Albion. Conkie in fact scored against Mossley a couple of years ago with a long kick out in a NWCL game at WInsford.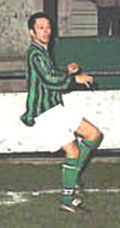 Rhodri Giggs


Matt Conkie
Thursday 19th February 2004
MOSSLEY SNAP UP ANOTHER CITY TEENAGER!
Following on from the success of former Manchester City academy players Ciaran Kilheeney and more recently Adam Morning, Mossley manager Jason Beckford has signed 19 year old former Scotland Schoolboy International forward Leyton Slack. The youngster has recently been released by Manchester City having joined them after leaving school from Glasgow Celtic where he played in their junior teams. He is expected to make his debut against Skelmersdale United as replacement for the injured Josh Howard.
Saturday 14th February 2004
MATTHEWS IS LATEST TO GO!
Mossley have reluctantly agreed to release Rob Matthews due to an ongoing family illness which has taken his focus away from football. I am sure everyone at Mossley will wish to thank Rob for the excellent service he has given to the team in his two spells at Seel Park. His 27 goals in just 59 games have been a pleasure to watch!
Meanwhile Mattie Hughes has decided against a comeback due to work commitments after playing only 10 minutes competitively in a Mossley shirt. Very disappointing!
Due to FIFA regulations Italian Stephano Gioacchini cannot play for Mossley until his Italian contract has been ended for 30 days and so it will be March before he can appear in the team.
Expect Jason Beckford to sign at least one new player before next weekend's home game against Skelmersdale United.
In my opinion it is high time that we have some GOOD news!
Wednesday 11th February 2004
JASON LINES UP ITALIAN
Mossley manager Jason Beckford has lined up the signing of Italian attacking midfielder Stephano Gioacchini who has extensive Serie A and B experience most recently with Serie B side Salernatina, but previously with Cosenza, Venezia and Perugia. The 27 year old who hails from Rome is married to an English girl and is currently out of contract in Italy. He impressed in training with Mossley for the first time on Tuesday night and Jason is hopeful of having his International clearance sorted before Saturday.
Meanwhile, Alan Bailey, who has only just returned from injury was involved in a freak training accident on Tuesday night and is likely to be sidelined for six to eight weeks after breaking a couple of bones in his foot.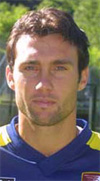 Stephano Gioacchini
Wednesday 11th February 2004
NDJEBAYI GOES
Cameroonian goalkeeper Jean-Paul Ndjebayi has been sensationally released by Mossley at his own request after being left out of the side for last Saturday's game at Atherton Collieries. Mossley manager Jason Beckford has labelled the 23 year old keeper as 'mercenary'.
Sunday 1st February 2004
FRIENDLY ARRANGED FOR TUESDAY!
Mossley will return to action in a hastily arranged mid-season friendly match on Tuesday night (3rd Feb) at Seel Park when UniBond League side Radcliffe Borough will provide the opposition with a 7.45 kick off. The game is expected to see the first apperarance of new signing Mattie Hughes.

Friday 30th January
MATTIE SIGNS ON!!!
Mossley manager Jason Beckford has signed highly rated left sided striker Mattie Hughes after a brief spell out of the game due to work commitments. Although unavailable for tomorrow's game at Salford he will apparently be available from then on! The following is courtesy of the Altrincham FC Official Website
Mattie HUGHES (d.o.b. 27 July, 1977)
Signed on 27 March 2003 from Salford City, Mattie is a pacey left-footed striker who had already scored 25 goals for the NW Counties League side when he left them. Mattie made a promising debut at Droylsden on 31 March and scored on his Moss Lane debut on 5 April. In his three pre-season games, Mattie scored four times but injured his nose which ruled him out of the opening league game at Alfreton. He then played twice before serving a suspension incurred before he joined Altrincham. Sadly, work commitments halted his promising Alty career by mid-September 2003 and his registration was cancelled in mid-October 2003. He rejoined Salford City. Career record on departure: 7; goals 3.

Mattie Hughes
Sunday 25th January 2004
SAS IS PLAYER OF THE MONTH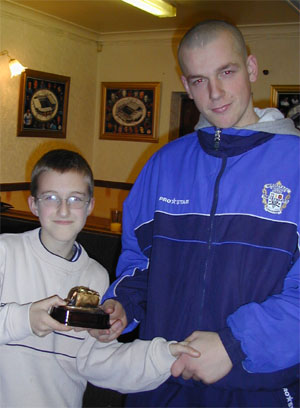 Steve Sheil is presented with the Mossley AFC Player of the Month award for December by team mascot Robert McDickens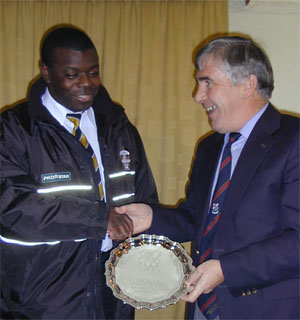 Jason Beckford belatedly receives the NWCL Manager of the Month award from League official Jeff Wilkinson.
Friday 23rd January 2004
FORUM IS A BIG HIT WITH FANS!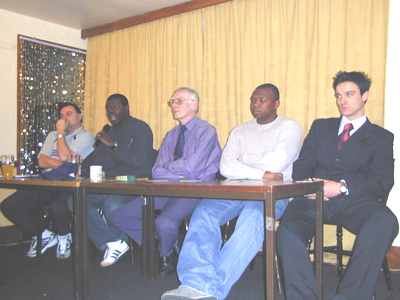 A good turn out at last night's Forum enjoyed a lively discussion and some frank answers to some tricky questions. The over-riding feeling was one of a positivity and clear support by the fans for the board, management and players.
Pictured on last night's top table are:- (left to right)
John Murphy, Jason Beckford, Sam Rigby, Leon Mike and Alan Bailey.
Sunday 18th January 2004
MOSSLEY HIT FOR SIX BY POINTS DEDUCTION!
It appears that rumours of a six point deduction by the NWCFL for Mossley fielding an ineligible player in the Christmas fixture at Glossop are true. Although we are still awaiting an official statement from either the club or NWCFL. It seems that the registration form for the re-signed Mark Bradshaw was held up in the Christmas post and that his registration was not received in time for him to play in that match. Bizarrly Mossley were already comfortably 2-0 up when Bradshaw appeared as a second half substitute. Mossley will have the chance to claw back three of the points though, as they have to replay the Glossop game. A real blow in the title race that now unfortunately gives second placed Clitheroe a real boost!
It is still not known if Mossley will lodge an appeal!
The NWCFL rule 37 states 'Any club playing an ineligible player will have deducted from its record any points gained in such games plus three penalty points for each game and liable to a fine not less than £100.00. The Management Committee may also at its discretion (a) have the game replayed on a date and time at the discretion of the Management Committee. (b) have the gate money in the replayed game distributed at its discretion.'

Saturday 3rd January 2004
MARIO GOES TO LEIGH, SEAN GOES TO CURZON!
Recent signing Mario Daniel has chosen to try his luck with Conference strugglers Leigh RMI and made a scoring debut for them in New Years Day's 6-2 home defeat by Chester City. He is to remain a Mossley player but Jason Beckford rightly chose not to stand in the speedy teeenager's way after being contacted by Leigh boss Phil Starbuck due to a serious injury crisis at Hilton Park. Meanwhile, Sean Pickering who was released by Mossley last week has signed for neighbours Curzon Ashton and could face Mossley on his debut today!
Thursday 1st January 2004
JASON IS MANAGER OF THE MONTH...AGAIN!
Mossley manager Jason Beckford has won his second NWCFL Manager of the Month award for the season after his team enjoyed six straight wins in December, including making progress in both the FA Vase and the NWCFL Cup, also cementing their place at the top of the League and establishing an eleven point gap.
WELL DONE JASON & JOHN . . . KEEP UP THE GOOD WORK!
Sunday 28th December 2003
HYDE GAME RE-ARRANGED
The Manchester Premier Cup tie against Hyde United at Seel Park scheduled for 13th January has been put back a week to the following Wednesday, 21st January in order to give Mossley more preparation time for the FA Vase tie against Winchester City on Saturday 17th January.
Wednesday 24th December 2003
BRADDERS RE-SIGNS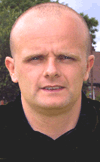 Experienced former Macclesfield, Halifax & England Semi Pro left wing back Mark Bradshaw has rejoined Mossley after Jason Beckford placed seven days notice of approach on his current club Abbey Hey. Bradshaw recently resigned as player-manager of Woodley Sports Reserve side. He made 25 appearances scoring 2 goals for Mossley last season before a knee injury ended his season prematurely. He will undoubtedly give Steve Sheil some serious competition for the Mossley number 3 shirt.
Monday 15th December 2003
WINCHESTER CITY AT HOME IN FA VASE
Mossley have been drawn at home to big spending Sydenhams Wessex League club Winchester City in the 4th Round of the FA Vase. The tie will take place on Saturday 17th January 2004. As Winchester have an excellent League record and are amongst the favourites for the Vase it will possibly be the 'tie of the round'. For more information visit www.winchestercityfc.com
Saturday 13th December 2003
LEON IS NWCL PLAYER OF THE MONTH
Leon Mike has been awarded the NWCL Player of the Month. Unfortunatelly due to a misunderstanding Leon missed his appointement with the trophy which was received on his behalf by team captain Paul Taylor from NWCL representative Mike Darby following today's 4-0 FA Vase success over Whitley Bay.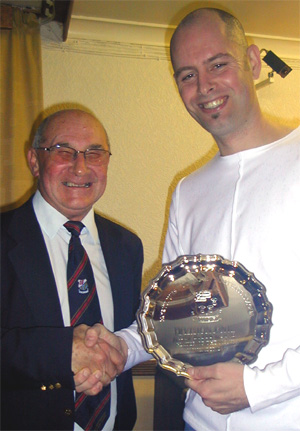 Friday 12th December 2003
NEWCASTLE TOWN AT HOME IN LEAGUE CUP
The draw forthe third round (quarter finals) ofthe NWCL League Cup was made live on BBC Radio Lancashire this evening and Mossley have been paired with old rivals Newcastle Town. The sides met in the semi final last year with Mossley winning 5-3 on aggregate. The game will take place at Seel Park on Saturday 24th January 2004.
Sunday 7th December 2003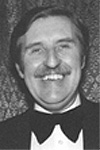 JIM WHARMBY
1924 - 2003
It is with great sadness that we record the death of Mossley Football Club President Jim Wharmby. Jim passed away on Saturday evening after a long illness.
Jim Wharmby's connection with Mossley Football Club goes back to before the war, when as a young boy he supported the team, progressing onto the committee in 1952 and becoming Secretary in 1958.
During his time as secretary, along with his good friend and Club Chairman Ian Morecroft, he was instrumental in Mossley moving up from the Cheshire County League to the Northern Premier League in 1972.
After 20 plus years as Secretary, Jim remained on the committee during the glory days of the late 70's and early 80's before becoming, first vice-chairman and then Chairman in 1983 a position he held until 1987. At this time he received a long service award in recognition of his services to football and Mossley AFC from the Football Association, to go with a similar award he received from the Northern Premier League two years previously.
It wasn't long after in 1990 that he was asked once again to come back on board as the club faced yet more problems.
Continuing to be ever present after this Jim was appointed Club President in the late 1990's, a position he has held to the end.
On a personal note I would like to add—Jim's loyalty to Mossley AFC was well known and he was a popular figure, and figurehead at Seel Park for many years. I first knew Jim when as a young lad with a growing interest in football and particularly Mossley. Jim was always very encouraging to me as I showed interest in the administrative side of football and we had many long conversations on both the team and football in general—he was extremely knowledgable in both and many other subjects also. He encouraged my involvement with Mossley and was a great source of help and inspiration when I was first compiling the Club history, especially when I discovered that he had on one occasion actually played on the wing for Mossley in an away match at Wrexham Reserves in the late 1950's.
I count his family among my dearest friends and I am certain that everyone who knew Jim will have their hearts with his family at this time!
A minute's silence will be held in Jim's honour prior to tonight's match!

Saturday 29th November 2003
ADIE MIKE AND MATTY CROSS RELEASED
Jason Beckford has decided to release Adie Mike and Matty Cross as, with recent signings, the squad was getting a bit top heavy! Adie will be remembered with fondness for his last minute double strike against Congleton just fourteen days ago, while Matty has struggled with injuries during his spell with Mossley, but played his part in many ways including taking charge of several summer soccer schools. We wish both players well for the future! Meanwhile Dave Brown begins a seven day ban for accumulated yellow cards on Monday. Mossley have signed 16 year old left winger Adam Morning who has recently been released by Manchester City. Adam is gaining experience of open age football with Hollinwood of the Manchester League whilst training with Mossley...one for the future!
Saturday 29th November 2003
SIMON IS OCTOBER PLAYER OF THE MONTH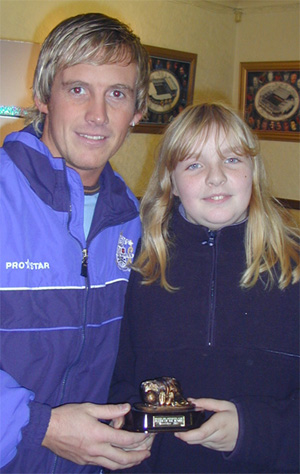 Versatile Mossley player Simon Heaton has been voted Mossley Supporters Club Player of the Month for October by the fans for his outstanding contribution to the club's unbeaten run during the Month - playing as a right winger, central midfielder and at centre forward.
He was presented with his award by young fan Rebecca Hughes following Saturday's game against Curzon Ashton.
Monday 24th November 2003
IT'S WHITLEY BAY AT HOME IN THE VASE!
Mossley have been draawn at home to Albany Northern League promotion hopefuls Whitley Bay in the 3rd Round of the FA Vase on Saturday 13th December. Whitley Bay won 2-0 at Clitheroe in Saturday's 2nd Round.
FA Vase winners in 2002 Whitley Bay have been in inconsistent form in the League this season and are currently in 3rd place in the Albany Northern League Division One - two seasons after their relegation from the UniBond League. Mossley and Whitley Bay last met at Seel Park in a UniBond League Premier Division match on 13th January 1993 and Mossley won 5-0 with goals by Stacy Reed-3 and Graham Hoyland-2.
Like ourselves Whitley Bay have been relegated twice since that meeting and like ourselves have applied for membership of the UniBond League again for next season.
In the same stage of the competition last season Mossley won 1-0 at Bay's fellow Northern League side Guisborough Town and went on to beat Lymington & New Milton and Prescot Cables before going out in the quarter finals to AFC Sudbury while Bay reached the 5th round beating Billingham Synthonia, Dunston FB and Wooton Blue Cross before losing 2-1 at home to Oadby Town.
Incidentally, Mossley assistant manager John Murphy and Whitley Bay manager John Charlton (son of Jackie) are apparently old friends, having done coaching courses together, which may add a little spice to the occasion.
Monday 24th November 2003
MARIO IS THE LATEST RECRUIT!
Mossley have signed diminutive 19 year old striker Mario Sergio Daniel from Atherton Collieries. Mario scored Colls first goal in Mossley's 4-3 League Cup victory recently and impressed with his pace and skill.
Mario began his playing career with Altrincham and progressed through their youth team and reserves before breaking into the first team. With chances in Bernard Taylor's team limited he joined Trafford with whom he remained until recently before briefly playing for Colls.
Whilst with Altrincham he had trials with Everton and his progress was monitored for some time by Leicester City. Incidentally Mario is the cousin of injured Mossley wing back Matty Taylor and is a former Trinidad & Tobago Youth International.
Thanks to John Laidlar (Altrincham web-site) for the much of the info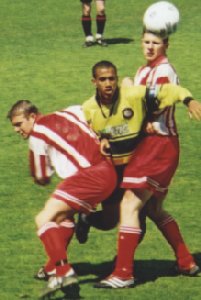 Mario Sergio-Daniel (centre) in action for Altrincham
Saturday 22nd November 2003
SQUIRES GATE MATCH IS OFF!
This coming Tuesday's re-arranged fixture against Squires Gate has been postponed due to the Blackpool based club drawing 3-3 after extra time at Albany Northern League side Billingham Town in the FA Vase today.
The Draw for the third round will be on Mossleyweb by lunch time on Monday!
Saturday 15th November 2003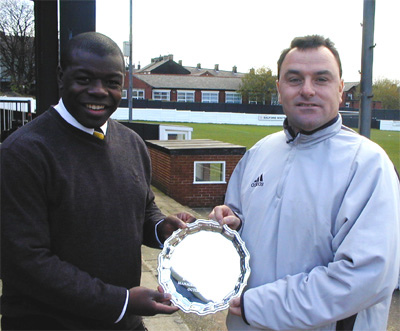 Jason and John won't dwell on this for long, but it's nice to be acknowledged!
Sunday 9th November 2003
JEAN-PAUL WINS NWCFL 'SAFE HANDS' AWARD
Mossley keeper Jean-Paul Ndjebayi has added to his Mossley 'Player of the Month' award for October by winning the League's Safe Hands award after four clean sheets in eight games, all won, helped Mossley to the top of the League. He will be presented with his award prior to next Saturday's home game against Congleton Town.
Saturday 1st November 2003
FLEETWOOD AWAY IN NEXT ROUND
Mossley won the dubious award of an away tie at Fleetwood Town in the 2nd round of the League Cup following today's 4-3 first round win over Atherton Colls. Fleetwood's 1st round victory came by 3-2 athome to Second Division Norton United. Fleetwood are currently unbeaten in five games since Mossley hammered them 5-1 at Seel Park last month.
JASON IS 'MANAGER OF THE MONTH' FOR OCTOBER
Mossley manager Jason Beckford has won his first NWCFL 'Manager of the Month' award following Mossley's run of eight straight victories and a goal difference of 23 for and 6 against in October. The award will be presented before the Mossley's next home match v Congleton Town on Saturday 15th November.
JEAN-PAUL IS PLAYER OF THE MONTH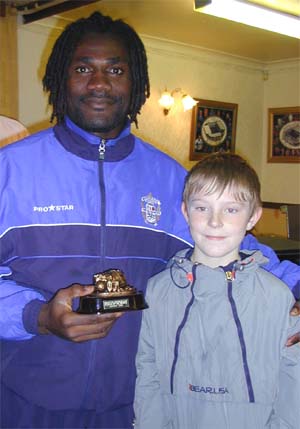 Young fan Matthew Burgess presents Mossley goalkeeper Jean-Paul Ndjebayi with the Supporters Club 'Player of the Month' award for October.
Monday 20tth October 2003
AT HOME IN THE VASE!
Mossley have been drawn at home to fellow NWCL side Trafford in the 2nd Round of the FA Vase. The tie will take place on Saturday 22nd November at Seel Park.
click here for full draw
Friday 17th October 2003
ANOTHER QUALITY SIGNING!
Mossley have signed experienced midfielder Steve Tobin from fellow NWCL side Skelmersdale United. Tobin joined Skem from Kidsgrove Athletic who he helped to win the NWCL title the season before last. He began his career as a pro with Leeds United and later played for Macclesfield Town, Altrincham, Leek Town, Hyde United.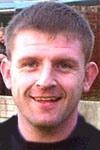 Steve Tobin
Thursday 16th October 2003
FRINGE PLAYERS RELEASED
Mossley manager Jason Beckford has released fringe players Gavinle Ellison and Nathan Brookes after both players had failed to claim a regular shirt. Ellison, on the long road back from a serious knee injury that ended his pro career at Blackpool hasn't achieved the required fitness level and Brookes, who looked a promising signing when he arrived from Rochdale late last season has failed to repeat that form this term. Meanwhile, Beckford is hopeful of landing a quality midfield player this week who is currently playing for another NWCFL club.
Monday 13th October 2003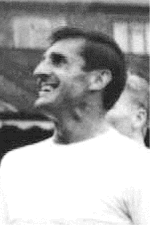 DON WILSON 1930-2003
It is with great sadness that I record the death of Mossley's longest serving manager, 1962-1972, Don Wilson who sadly passed away after a long illness last weekend. I make no apologies for repeating the article published in the 'Seel Park Heroes' section in Tuesday night's programme which featured Don, written when I was blissfully unaware of his passing.
On a personal note—Don was Mossley manager when I first started watching the Lilywhites in the 1960's. He was the man who signed Lennie Dickenson, Mike Batty, Keith Mason et al, gave the Birtwistle twins their chance, led Mossley to runners up in the Cheshire League in 1970 the best position for 50 years and the first round proper of the FA Cup where we drew at Stockport County and narrowly lost the replay, and led Mossley into the Northern Premier League in 1972. Even after leaving Mossley and managing Radcliffe Borough he was the man who recommended legendary striker Dave Moore to Bob Murphy in 1974. This after bringing a Radcliffe side containing seven of his former Mossley players to Seel Park for a Manchester Senior Cup tie at the end of the 1972-73 season and they beat his successor George Sievwright's team 3-2.
Thanks for the great memories Don. You were a true gentleman and a great player and manager!
A minute's silence will be observed prior to Tuesday night's match against Fleetwood Town.
"Donald Wilson was born in Heywood, Bury on 4th June 1930 and signed professional for his home town club in May 1951. A clever yet tough wing half Wilson went on to make 63 first team appearances between 1952 and 1959. He joined Mossley under Eddie Quigley in August 1962. Quigley resigned in November 1962 and Wilson was put in charge of the team but not team selection through to the end of the season. In August 1962 he was appointed player-manager of Mossley and became the Lilywhites longest serving manager remaining until November 1972.
He rebuilt Quigley's ageing team with the 1966 signing of inside forward Lennie Dickenson being his master-stroke. Wilson's occupation as a Heywood schoolteacher gave him a methodical approach to his team and after a couple of hit and miss seasons Mossley started to become a force in the Cheshire County League.
Wilson had all but retired from playing by the 1967 and then followed Mossley's best spell for many years. From 1967 to 1970 the team got better and better and in the 1969-70 season Mossley finished as League runners up, their best position since 1920, reached the 1st round proper of the FA Cup for the first time since 1949 taking Stockport County to a replay, and reached the quarter final stage of the inaugural FA Challenge Trophy competition. It was an exhilarating spell of the club's history with Wilson pulling the strings off the field and Dickenson on it. Twin brother strikers Bruce and Gordon Birtwistle were an absolute menace to defences whilst the half back line up of Kevin Burke, Mike Batty and Jimmy Dowthwaite was as good as any in non-league football at that time.
The successes of the late 60's weren't repeated in the early seventies but Wilson remained as manager as the Lilywhites stepped up into the Northern Premier League in August 1972. In November of the same year he tendered his resignation stating that he had led the team as far as he could.
Wilson then had spells in charge at Radcliffe Borough and Stalybridge Celtic before retiring from football management to concentrate on his teaching career."

Thursday 9th October 2003
Last night's Forum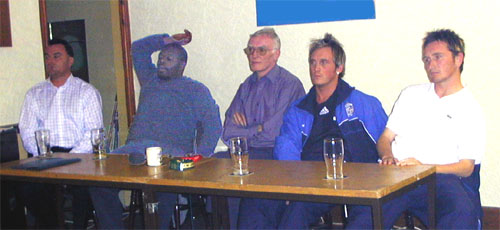 left to right: John Murphy, Jason Beckford, Sam Rigby, Simon Heaton and Tony Coyne
Among topics discssed at last night's forum, which was well attended considering the inclement weather, were;- recent form, the season so far, approaches by other clubs for Mossley players, new players targeted (no names though!) and of course promotion issues. A very interesting evening for Mossley fans and I look forward to the next one! Date to be announced!
Wednesday 1st October 2003
Todd goes to Stalybridge
Mossley have lost the services of experienced left back Lee Todd who has joined UniBond League neighbours Stalybridge Celtic. Todd made just 6 appearances for Mossley, three of them as a substitute. Celtic's interest in Todd was prompted by a serious injury to their left back Danny Caldicutt the former Atherton LR player. Another player who appears to have received a serious injury is ex Mossley striker Ciaran Kilheeney who has apparently badly broken a leg while playing for Droylsden last night. We wish him a speedy recovery!
Friday 26th September 2003
Mossley sign another Mike and Matthews returns
Experienced front man Adie Mike last night signed for Mossley. Mike (29) has most recently been with Droylsden and was previously with Manchester City, Stockport County, Leek Town, Hednesford Town, Southport, Northwich Vioctoria and Lincoln City. He is the older cousin of Leon Mike.
Meanwhile, Rob Matthews has returned to Mossley after a spell with Altrincham and is set to join the squad for tomorrows home game against Glossop North End.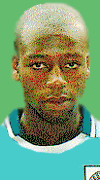 Adie Mike
Sunday 21st September 2003
Mossley sign another keeper
Mossley have signed 20 year old former Torquay United and Altrincham goalkeeper Nick Stephens to compete with Phil Melville and Jean-Paul Ndjebayi for the Mossley number 1 shirt!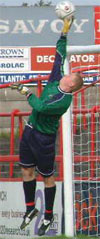 Nick Stephens in action for Altrincham
Saturday 20th September 2003
Fixture change next Saturday
Next Saturday's scheduled home game against Woodley Sports has been changed. Mossley will now entertain Glossop North End instead. The away game at Woodley due to be played on 18th October has also been changed and Mossley will now play hoste to Alsager Town on that date.
Saturday 20th September 2003
Mossley sign Bolton teenager!
Mossley have signed 19 year old midfielder Shaun Dootson who was released by Bolton Wanderers at the end of last season. Dootson has had trials with a couple of Leagueclubsand did pre season with Leigh RMI. He made his Mossley debut as a substitute intoday's game against Newcastle Town. Meanwhile, Craig Coote and Stefan Lewis have been loaned to Chadderton.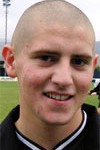 Shaun Dootson
Tuesday 16th September 2003
Jean Paul cleared at last!
Cameroonian goalkeeper Jean-Paul Ndjebayi has at last received International clearance to enable him to play competitive football for Mossley. Jean-Paul was impressive in pre season but has been sidelined ever since due to EUFA transfer rules. His clearance comes in the nick of time as Phil Melville is currently suffering with at thigh injury!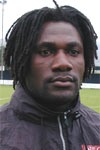 Jean-Paul Ndjebayi
Saturday 6th September 2003
Brown signs for third spell
Mossley today completed the signing of experienced midfielder Dave Brown after a brief spell with Curzon Ashton. Brown had a lengthy spell with Salford City before winning promotion to the UniBond Premier last season with Radcliffe Borough. He first played for Mossley in the 1993-94 season and had a second spell in 1998-99 in Benny Phillips' team.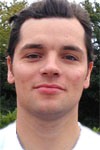 Dave Brown
Tuesday 19th August 2003
Another big name signing for Mossley!
Mossley have signed experienced former Football League wing back Lee Todd. Todd, 31, began his career as a junior with Hartlepool United before moving to Stockport County, where he made over 300 appearances, he was then transferred to Southampton for a £850,000 fee, then Bradford City for £250,000 and then to Rochdale. Injury put him out of the full time game but he is all set for a comeback with Mossley.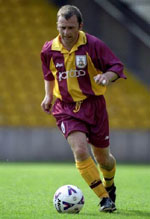 Lee Todd in action for Bradford City
Saturday 16th August 2003
Beckford snaps up Aberdeen striker as Kilheeney goes!
The stunning news of Ciaran Kilheeney's eve of season departure to Droylsden has been somewhat tempered by Jason Beckford's equally surprising signing of Aberdeen's former Manchester City striker Leon Mike. Mike (22) signed for Aberdeen for a £50,000 fee in February 2002 after making just 2 first team appearances for City and a handful of appearances in loan spells with Oxford United and Halifax Town. He made 39 appearances for Aberdeen in the Scottish Premier League, 18 of them as a substitute, scoring 6 goals. Mossley have also signed former Hyde United defender Clive Brown (brother of Manchester United star Wes Brown) who has been training with Mossley but misserd the preseason games through injury.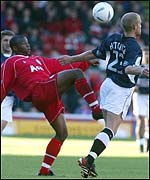 Leon Mike in action for Aberdeen
Saturday 9th August 2003
New Assistant Manager appointed
Mossley have appointed former Manchester City and Nottingham Forest academy coach John Murphy as the new assistant manager. 38 years old, Murphy a UEFA A grade coach has extensive coaching experience both here and in New Zealand. His playing days were spent with Oldham Athletic, Falkirk and Cork Celtic. He has known Jason Beckford for a number of years and they worked together at Man City.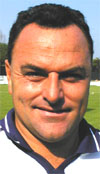 John Murphy
Wednesday 6th August 2003
BECKFORD IS NEW BOSS
Jason Beckford has been unveiled as the newmanager of Mossley AFC prior to tonight's excellent 2-0 home win over a strong Stockport County side. I would like to take this opportunity to welcome Jason to his new job and to wish him all the very best for the coming season.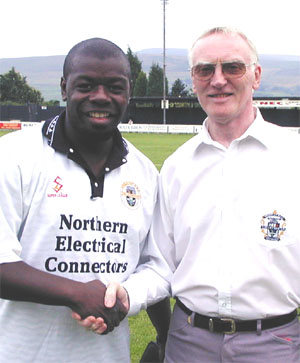 Jason Beckford is welcomed to his new position of Team Manager
by Mossley AFC Chairman Sam Rigby
Tuesday 5th August 2003
Aziz released, ex Salford keeper set for debut
Teenage african keeper Mewada Aziz has been released after being told that he is unlikely to figure in the team, in his place Mossley will give a debut against Stockport tomorrow night to former Rotherham United and Salford City goalkeeper Phil Melville. Melville is a well known figure in local non-league circles and has been impressive on each occasion that he has faced Mossley.
Wednesday 30th July 2003
SHOCK NEWS - PICKERING DEPARTS
Mossley AFC and team manager Ally Pickering have today parted company! The official club statement is that the parting is by mutual consent and that Jason Beckford has been appointed Caretaker Manager until further notice! Watch this space for news as it breaks!
Tuesday 29th July 2003
Former Schoolboy International signs
Mossley have signed former England schoolboy international Jamie Almond who has recently been released by Manchester City. The 19 year old winger was signed by City for a record fee for a schoolboy when he arrived from Scarborough as a fifteen year old. Almond, who has recently had trials for Bradford City, was signed following an impressive debut against Radcliffe on Saturday. Meanwhile teenage midfielder Craig Coote, released by Bury, is to have a further trial in tomorrow's re-arranged home friendly against Macclesfield Town. Coote began his pre season playing a couple of friendlies for Conference new boys Accrington Stanley. A well known experienced NWCL goalkeeper is due to train with Mossley tonight. Meanwhile ex Manchester City, Curzon Ashton and Hyde United wing back Clive Brown (brother of Manchester United's Wes) and ex Blackpool midfielder Gavinlee Ellison are still awaiting their debuts due to injury.
Saturday 26th July 2003
Oldham game off - Macc step in!
Oldham Athletic have cancelled this coming Wednesday's scheduled friendly match at Seel Park but fortunately Macclesfield Town have stepped into the breach and have agreed to replace them at very short notice. Macc' have also promised to send their first team squad for a game that will rekindle memories of the days when Mossley regularly played Macc on an equal footing over many years in both the Cheshire League and Northern Premier League. The game kicks off at 7.30 p.m.
Saturday 26th July 2003
African keepers both signed!
Cameroonian goalkeepers Jean-Paul Ndjebayi and Mewada Aziz have both signed for Mossley. Ndjebayi (pronounced Jebayi) is 23 years old and was previously with Port FC (Cameroon), Gonyela SK (Cyprus), Roda JC (Holand) and Oryx de Douala (Cameroon). 19 years old Aziz previously played for Cameroon clubs KSA Aspores, Coqrouge and Rail de Douala.
Mossley gave trial debuts today to midfielder Craig Coote (recently released by Bury) and former England u-15's winger Jamie Almond (previously with Scarborough and Manchester City).
Thursday 24th July 2003
Sas ban quashed!
Mossley defender Steve Sheil has had his 35 day ban quashed from his sending off against Nantwich late last season after being found 'not guilty' at a Manchester County FA appeal hearing last night.
Meanwhile, Mossley are to give a trial to former Kidsgrove and Alsager goalkeeper Martin Bellamy who has recently moved to live in the area.
Russ Headley returns to the squad on Saturday after missing the opening two games through holidays although Alan Bailey will miss the next couple of games due to business commitments.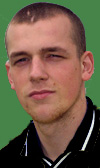 Steve Sheil
Wednesday 16th July 2003
Matty re-signs
Mossley manager Ally Pickering has re-signed skilful utility player Matty Taylor after a spell with Trafford. The highly rated player who made 16 appearances scoring 2 goals early last season before returning to his former club Hyde United has pledged his future to Mossley after much to'ing and fro'ing last term.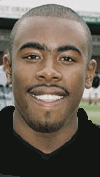 Matty Taylor