23 / 01 / 11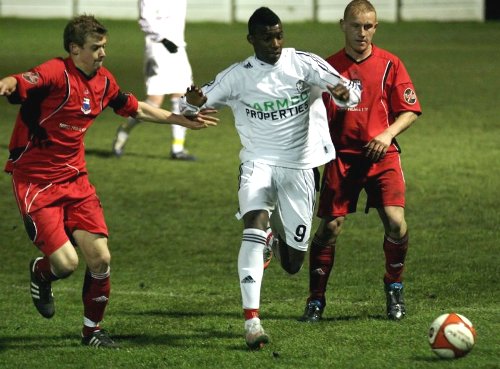 Teenage Mossley striker Fabio Abreu has been selected for the 18 player England Schools under 18's squad for the forthcoming International season.

Fellow Mossley player Joe Heapo reached the last 30 final trial and is now a reserve.
SQUAD:- JORDAN AYRIS Oxfordshire, EDWARD BALDY Wiltshire, JONATHAN BARDEN Middlesex, THOMAS BOAKYE Gloucestershire, SCOTT CHEETHAM Greater Manchester, JONATHAN EVANS Durham, JOSH GLOVER Staffordshire, FABIO GONCALVES-ABREU Greater Manchester, JOSH HART Merseyside, THOMAS HURLEY Somerset, ALEX MEANEY Lancashire, CLIFF MOYO Staffordshire, JACK SHERRETT Staffordshire, JAMIE SUMMERS Surrey, CONOR THOMPSON Gloucestershire, JACK VALLIS Wiltshire, JOSHUA WHITE Somerset, JACK WOOD Gloucestershire.
The first gathering of the final squad will be at Lilleshall for the weekend of 28-30 January where the opposition for the weekend will be provided by Loughborough University. The final preparations for the international season will be completed with a training camp in Malaga, supported by Inspire Sport, where the opposition will be provided by the Academy of CF Malaga, one of Spain's top.
Fellow Mossley player Joe Heap made the final 30 trials and will now be a reserve to the squad.