26 / 10 / 10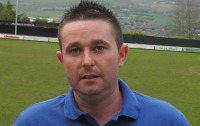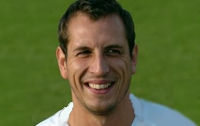 Following the departure of first team coach Matt Broadhead, experienced Mossley defender Danny Warner has been appointed player coach in his stead.

Warner (pictured above right), already a qualified coach, arrived at Seel Park from Witton Albion in September and gave a string of excellent displays at left back before being injured in late November. Now back to full fitness the 31 year old former Droylsden and Bradford Park Avenue player is looking forward to the new challenge.
Matt Braodhead (pictured above left), resigned at Christmas and left with these words, "It is of course a very difficult decision because I have worked with fantastic people for four months and I am very proud that I was first team coach of Mossley AFC."

" From a management point of view two fits better than three 'big chiefs' and I wish Shaun and Oggy all the best in the future. I am 100% convinced that we have improved the squad no ends since we arrived as well as the quality of the football and again take great pride in playing part of that."
"I would like to state that I have thoroughly enjoyed working at this level and my relationship with the players has been great. The dressing room is full of top quality lads and I am sure that if everyone works hard and pulls together then Mossley AFC are in with a shout of top 5 this season no problem."
" The most important thing for the players and for the management team is that we build upon the great run of results and push on going from strength to strength."
" I'll still come down as often as I can as once I become a part of something then I will hold them close to my heart. I still have lots of football still with Tameside Boys, Greater Manchester County U16's and Burnley FC. Plus I might get to a few more away's now with Mancini and the lads."