26 / 11 / 11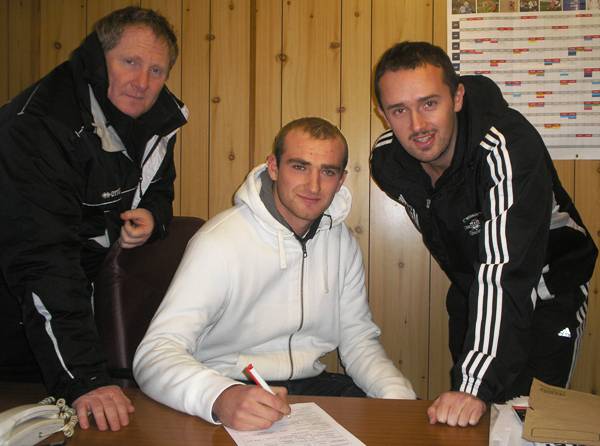 Mossley Manager Gareth McClelland is delighted to have landed a player he has persued for some time in 6' 7" centre forward Tom Denton (age 22) snapped up from Wakefield FC.
Holmfirth based, Tom began his career playing for Wakefield in 2006 at the age of 17. He made 14 appearances scoring five goals for Wakefield between 2006–2008. He was offered a trial at Premier League side Blackburn Rovers and he managed to score a goal for their reserve team.
After his trial was completed, he was being looked at by Rovers, Crystal Palace and Huddersfield Town, but in August 2008, Huddersfield beat off the competition and signed him from Wakefield for a fee of £60,000.
In November 2008, he joined Conference National side Woking for a one month loan, scoring on his debut and he managed one more goal in 5 appearances before he returned to Huddersfield Town in January 2009.
In March 2009, Denton rejoined Wakefield on loan until the end of the season and scored 12 goals in 13 games, including four in an 8–1 victory over Salford City.
Denton joined Cheltenham Town on a six month loan deal during the summer of 2009. He made his Cheltenham debut in the League Cup First Round game against Southend United on 11 August 2009. He made his league debut four days later in the 1–1 draw at Hereford United. He returned to Huddersfield in November, after making four appearances for the club.
In February 2010 he returned to Wakefield on a month's loan deal scoring 4 goals in 6 appearances before he returned to Huddersfield at the end of the season, but was released from his contract in June 2010.
Tom re-signed for Wakefield in June 2010 and was top scorer for the Bears last season and has averaged a goal every other game this term.