26 / 05 / 11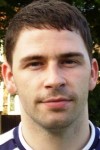 Mossley have tonight signed former Trafford striker Scott Barlow from promoted Chester FC for a nominal undisclosed fee.
Barlow (age 22) is one of the highest rated strikers in the division, after scoring 99 goals for Trafford in just 171 appearances, making him the club's all time record goalscorer.
In his debut season 2007-08 he scored 20 goals to help Trafford to win the Vodkat League title by 11 points clear of their nearest rivals after stepping up from college football.
In the following season in the Unibond League First Division North Scott scored an incredible 40 goals to become the Division's runner-up top goalscorer of the season.
The 21 goals scored last campaign took the striker past the previous club goalscoring record of 89, set by current Trafford manager Garry Vaughan.
Barlow scored 10 goals in 20 games last season before moving to promotion bound Chester for a fee in early March. Unfortunately, he wasn't given full opportunity at shine at the Deva Stadium and made only six substitute appearances for the eventual champions.
With Chester moving a good number of players out, Mossley boss Gareth McClelland was able to step in and sign the highly rated striker who Chester boss Neil Young described thus; "He's a fox in the box and he'll hit the target 99 times out of a 100 when he gets in there."
Scott Barlow is the first of several high calibre signings lined up by McClelland. More new arrivals will be announced shortly, along with news of several departures.