MOSSLEY LINK UP WITH THE VILLAGE HOTEL
18 / 12 / 12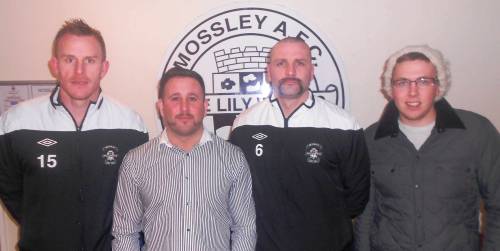 Evo-Stik League, Division 1 North leaders, Mossley AFC are delighted to announce an exciting partnership with local hotel and gymnasium group, 'The Village Hotel'.
Under the new agreement, the Lilywhites management team of Steve Halford and Peter Band will take their squad to the Village gymnasium at Hyde, for midweek training sessions, where they utilise the training studios, weight training equipment and swimming pool facilities.
This is particularly useful to the club during the recent inclement weather, which has often meant in the past that training may be cancelled.
In return the Seel Park outfit will publicise the gym at the ground, in their match programme and on the club's website.
Pictured above are (L-R), Peter Band, James Elmore, Steve Halford & Craig Arnold as the club welcomed the Village representatives to Seel Park for a sponsors hospitality package in the recent match against Garforth Town.
For details of hotel bookings and gymnasium membership, go to:
www.village-hotels.co.uk or contact The Village, Hyde on 0871 222 4586.