FISH GOES TO BRIGHOUSE
AS SIX ARRIVE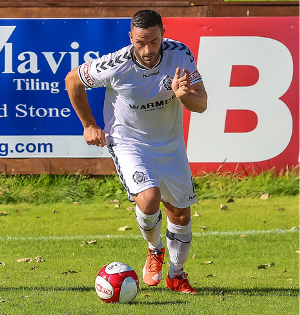 Mossley joint bosses Peter Band and Lloyd Morrison have received a blow this week with the surprise departure of top scorer Mike Fish.
Fishy looked set to finish his career at Seel Park and has scored a remarkable 22 goals in just 25 starts this season. This of course got him noticed by some of the bigger spenders in the division and Brighouse Town offered him a very lucrative deal he couldn't turn down at this stage of his career and so we bid farewell to a player who has reached near legendary status with the Mossley fans. He has made a total of 235 appearances for Mossley and has scored 87 goals.
We have however, made several new signings as Bandy and Lloyd look to rebuild the squad following several recent departures.
Ex Glossop keeper Dean Williams (age 27) joins us from West Didsbury & Chorlton. Central defender James Etherington (26) arrives from Wrexham, versatile former Accrington Stanley midfielder / defender Keenan Quansah (19) has signed from Burscough and midfielders Dan Johnson (24), Eddie Busfield (19) have signed from New Mills and Silsden respectively and tall center forward Craig Billington (26) arrives from AFC Emley).