The Football Association has published Non-League's club allocations at Steps 1 to 4 following the creation of the new Midlands divisions for season 2018-19.
The Northern Premier League's clubs are running the rule over the future geography of the EVO-STIK League and Non-League overall after the FA released details of the allocation, subject to any appeals, at 5pm on Thursday.
In accordance with FA Regulations, club appeals to Wembley over the allocation must be made within seven days with any subsequent hearings set to take place at the end of May and start of June.
Carried out by the FA Leagues Committee to iron out geographical anomalies, cut down on travelling costs and time for fans, players and officials and encourage more Step 5 clubs to climb the pyramid, the biggest shake-up to the structure of Non-League in more than a decade since 2004 has seen the creation of new Step 3 and 4 divisions covering the Midlands region.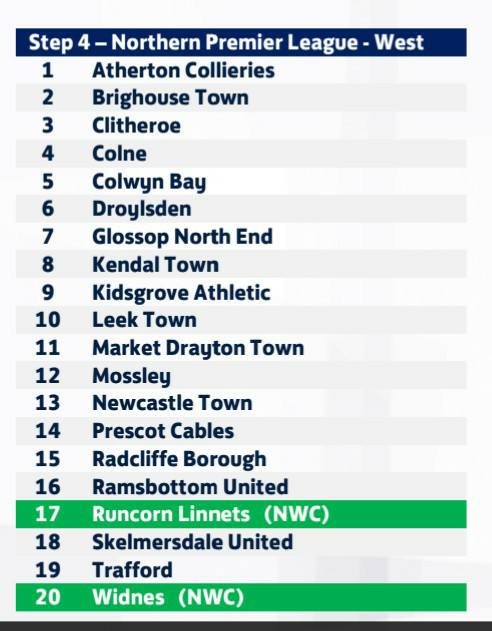 In total, the 276 clubs currently playing in Steps 1 to 4 are increasing by 20 to 296 when the two new divisions kick-off in August. Across the board, the reshuffle had seen the three current Step 3 divisions of 24 clubs increase to four divisions of 22 clubs while the six divisions at Step 4 currently run by the Northern Premier League, Southern League and Isthmian League have risen from 136 clubs playing in six divisions to seven 20 club divisions.
To achieve the FA's aims, only the bottom clubs in the current Step 3 divisions were relegated at the end of 2017-18 season. In addition, only the clubs finishing last in the six divisions currently operating at Step 4 were relegated with 26 clubs set to come up from Step 5. As a result of the shake-up, the NPL's clubs at Step 4 voted in March to switch from a north/south geographical split to an east/west allocation for 2018-19 and beyond.