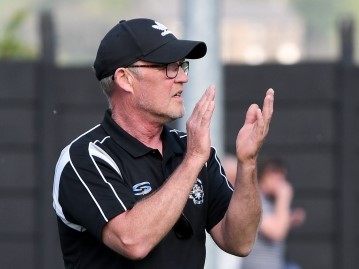 DAVE Wild is to fly solo at Mossley Football Club following the resignation of joint manager Terry Hincks.
Wild revealed he will not be adding to his management team at Seel Park when he will be the sole manager for the 2019-20 season.
He said: "I have spoken at length to Terry and it is all amicable.
"I always knew Terry would go his own way in the future, but it was earlier than I expected.
"It was evident in the season just ended I took the lead and it is time for me to be sole manager."
Wild, who has Phil Carratt remaining as assistant manager, added as he has always been hands-on with coaching there is no need to bring in a replacement.
Hincks said the decision was for "purely football reasons and nothing to do with politics".
He added: "I have loved my 14 months at the club and can't fault anything about the club and the supporters have been amazing.
"There has been a lot of progression at the club, which is also credit to the board, and I am leaving it on a high.
"I have been in non-league football for a long time and never seen a club with such dedicated volunteers and I wish the club all the best going forward.
"I have made a lot of good friends and Mossley will always be close to my heart."
Hincks pointed out he will be attending the club's presentation night on Saturday, May 11 which underlines it has been an amicable departure.
He explained he received "numerous offers" in the season just ended and others since he announced his resignation.
"I intend to have a couple of week's rest and then assess my options," said Hincks.
Chairman Gary Dean said: "There hasn't been a fallout and Terry has evidently evaluated his position for next season and is not able to commit.
"I know Terry runs his own business which may have also influenced his decision."
Tony Bugby (Mossley Correspondent)
* Terry has since been appointed as the new manager at Hallmark Security NWCL club Abbey Hey where he has been joined by Mossley's now departed under 21 management team of Chris Woods, Wayne Harley and Micael Caires.