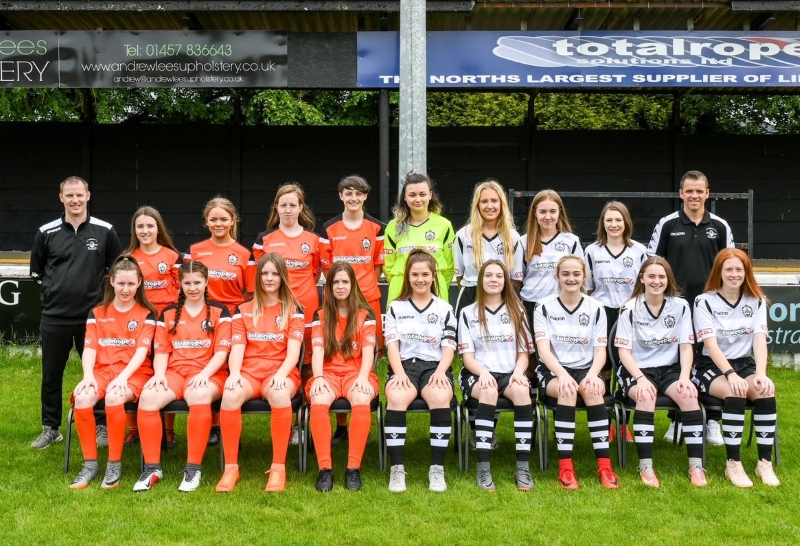 We have now launched our new adult womens team who will play the coming season at Seel Park on Sunday afternoons in the Greater Manchester Womens League under the guidance of Chris Brooks and Dame Blackshaw.
We are also setting up our first ever girls football section from ages under 9's through to under 16s.

If you, your daughter, granddaughter, friends want to be part of the club's history and form the future then please get in touch. The pathway to the womens first team starts here.
Introducing our first ever women's team captain, Mia Riley!
Here's what Mia had to say about aims for the season and what supporters can expect, "I'm looking forward to the team growing, developing and being a part of something with great opportunities for myself and the girls. Playing at a harder level is going to be tough but I'm looking forward to it because it gives myself and the girls experience for the future. "We play good football and we have girls that are fast and skilful. We're a young team and we're stepping up to open age. You can expect to see some tough matches and to see us getting better and stronger throughout the season."
Mossley AFC Women - and we're now recruiting players!
As a club we're aiming to:
▪️ promote all aspects of women's football
▪️ offer football to everyone, regardless of past experience or ability
▪️ build and develop a team with the desire and commitment to progress
▪️ encourage women to lead a healthy and active lifestyle
▪️ offer a safe environment that is welcoming to all
If you're:
▪️ passionate about football
▪️ looking for a fun and friendly team to join
Then we're the club for you!
We can offer you:
▪️ regular training
▪️ competitive matches and tournaments
▪️ social events including an end of season presentation night
▪️ FA qualified coaching and player development
To register your interest please contact
info@mossleyafc.club