Mossley are 'comeback kings'
Mossley 3 Ossett Albion 2
FA Cup 1st Qualifying Round
Saturday 18th September 2004 - 3.00 pm
@ Seel Park, Mossley
Referee
Attendance 325


14°C - wind W/SW 11mph
Mossley
1. Lee Bracey (7)
2. Carl Rezai (7)
3. Matty Taylor (8)
4. Steve Sheil (7)
5. Paul Taylor (7)
6. Tony Coyne (8)
7. Rhodri Giggs (8)
8. Shaun Dootson (9*)
9. Chris Downey (8)
10. Josh Howard (8)
11. John Hore (7)
12. Billy McCartney (not used)
14. Mario Daniel (for Downey 85 mins)
15. Jordan Goodeve (9) (for Hore 20 mins)
16. Adam Morning (not used)
17. Phil Melville (not used)

Ossett Albion
1. Carney Y
2. G.Dodd Y
3. D.Dodd
4. Ingall
5. Hazelden
6. Stack
7. Riordon
8. Kenefeck
9. Norbury
10. Toronczak
11. Dickenson
12. Wordsworth
14. Dougherty
15. Agar
16. Fretwell Y
17. Berry

Mossley staged a superb recovery to fight back from a two goal deficit in today's FA Cup 1st Qualifying Round tie against UniBond rivals Ossett Albion. Making progress to Monday's 2nd Qualifying Round draw and bagging over £2,000 in prize money from their victory.
Early honours were even, but it was the visitors who scored first with a dipping 20 yard volley by midfielder Asa Ingall. Mossley were finding life difficult against a bigger more direct side who's only ambition was get the ball upfield as quickly as possible, shoot on site and when they weren't doing that, hoofing an endless stream of balls long distances out of the ground.
It was a shame that Ossett resorted to such basic tactics because on the rare occasion that they did get the ball down and play they looked a decent side.
Ossett right back Gareth Dodd was lucky not to see red when a two footed lunge at John Hore's ankle led to the former Kettering man taking no further part after a brief unsuccessful attempt to 'run it off'. The player wasn't even cautioned. He was a few minutes later though after he had given similar treatment to Hore's replacement Jordan Goodeve.
It was Ossett who doubled their advantage on 31 minutes. Danny Toronczak burst through on the right to finish well in the bottom corner.
Three minutes later and Mossley found themselves back in the game. Jordan Goodeve attacked down the left, cut inside at speed and unleashed an absolutely ferocious drive that screamed past helpless keeper Carney from fully 25 yards for a real 'goal of the season' contender.
Ossett's 'hit it and hope' tactics were now to be severely tested!
The second half almost got off to the perfect start but Rhodri giggs shot weakly with just the keeper to beat. Mossley ought then to have had a penalty when Chris Downey almost had his arm removed from it's socket a yard inside the box but the referee awarded an indirect free kick on the edge instead? Then Goodeve burst through to be brought down outside the box by the keeper, who escaped lightly with a caution! Goodeve would surely have scored!
Mossley weren't to be denied though and in the 69th minute found the equalizer they deserved despite Ossett having spurned a couple of scoring opportunities themselves. Rhodri Giggs received the ball on the right, his pass found Tony Coyne who's shot was blocked but Josh Howard reacted quickest, won a tackle with the last defender and calmly slotted home from six yards.
Ossett would by this time have been more than happy with a draw, but Mossley, now very much in the ascendancy , weren't going to allow the visitors spoiling tactics to ruin their day and in the 81st minute fashioned a goal worthy of winning such an exciting cup match. Josh Howard setting up Tony Coyne who curled a beauty into the top corner from 20 yards causing Seel Park to erupt in the process. Ossett could only muster some rough stuff in reply and Mossley were worthy winners!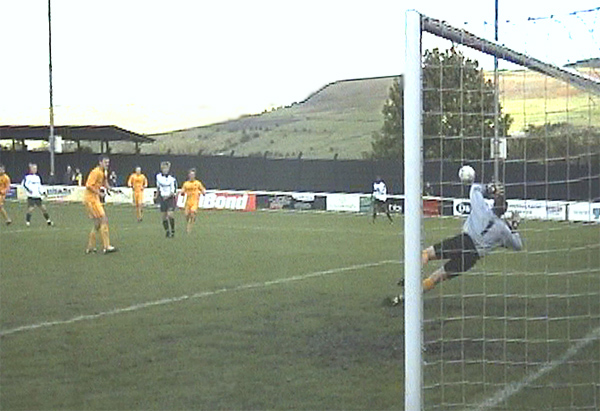 Jordan Goodeve (left) watches his 25 yard piledriver fly past Ossett keeper Carney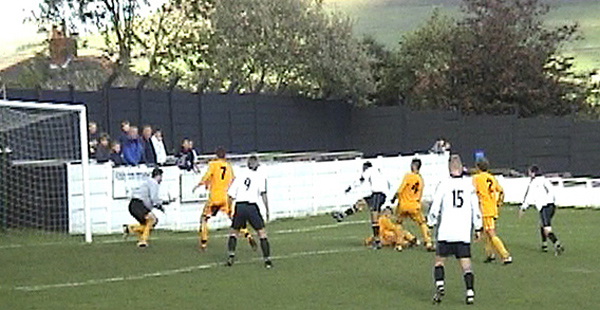 Josh Howard fires home Mossley's equaliser
Tony Coyne curls home Mossley's 81st minute winner
pictures courtesy of http://www.mossleymania.co.uk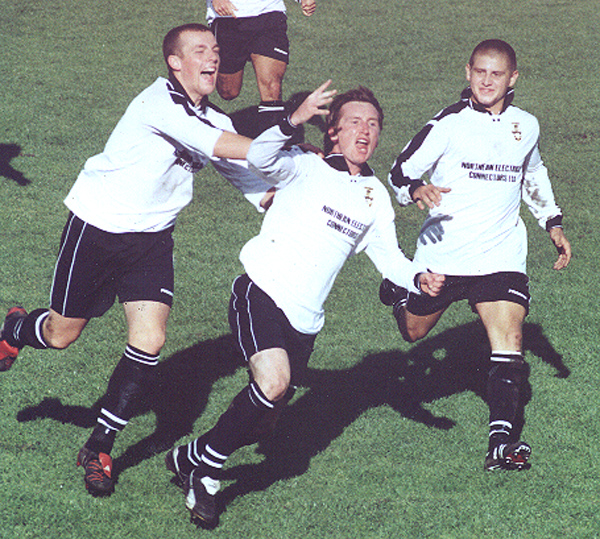 Tony Coyne celebrates his winning goal with Steve Sheil and Shaun Dootson in close attendance
photograph by Dean
Mossleyweb Man of the Match: Shaun Dootson...all strength and guile!
Mossleyweb Verdict: What a comeback!