Rocester Roasted !
Mossley 5 Rocester 1


UniBond League Division One

Saturday 21st August 2004 - 3.00 pm @ Seel Park, Mossley

Referee C A Barker

Attendance 238





18°C - wind E/SE 8mph
playing surface: 8/10
Mossley
1. Lee Bracey (7)
2. Carl Rezai (7)
3. Steve Sheil (7)
4. Gavinlee Ellison (7)
5. Paul Taylor (7)
6. Josh Howard (cptn) (8)
7. Jordan Goodeve (7)
8. Shaun Dootson (8)
9. Leon Mike (7)
10. Chris Downey (8)
11. Adam Morning (9*)
12. Mario Daniel (7) (for Mike 65 mins)
14. Rhodri Giggs (7) (for Goodeve 70 mins)
15. Tony Coyne (7) (for Dootson 75 mins)

Rocester
1. McGing
2. Colclough
3. Bostock
4. Skelton
5. Heaney
6. Holland
7. Seward
8. Marlowe (cptn)
9. Mitchell
10. Hewitt
11. Hassell
12. Alexander
14. Millward
15. Allen

Mossley posted a warning to the rest of the UniBond Division One this afternoon with an excellent display to leave Midland Alliance champions Rocester reeling. Mossley scored possibly the fastest UniBond League goal of the day as they struck in only the 2nd minute. Rocester defender Heaney's poor headed clearance spun wide to Adam Morning on the left and his whipped cross was controlled and dispatched superbly by Chris Downey. Having made such a fine start Mossley were shocked to be pegged back just five minutes later when Paul Taylor pulled a shirt in the box and Richard Mitchell equalised from the spot. Mossley were in no mood to wait for Rocester to strike again though and raided at will with Morning and Goodeve causing havoc on the flanks. It was from another Morning left wing cross on 22 minutes that Mossley regained the lead. This time the Mossley teenager floated a cross from deep which Leon Mike met with a fine diving header that looped over the keeper and dropped under the bar. Mossley had several chances to increase their lead but despite their dominance, the game still hung on a knife-edge with a slender lead that remained the same until the 58th minute. Carl Rezai played a defence splitting pass from right back that saw Josh Howard dance past the last defender and confidently walk the ball around the keeper to make the points all but secure. From then on it became a case of damage limitation for the shell-shocked Staffordshire side but it took Mossley only five minutes to add a fourth. Morning went on a mazy run on the left and from his accurate cross Chris Downey headed home at the far post. The scoring was completed on 82 minutes. Downey turned provider when his superb flick set substitute Mario Daniel clear and the livewire striker stroked the ball past a stranded keeper. Mossley might have made it six in the last minute but Downey just failed to connect with sub Rhodri Gigg's cross from the right.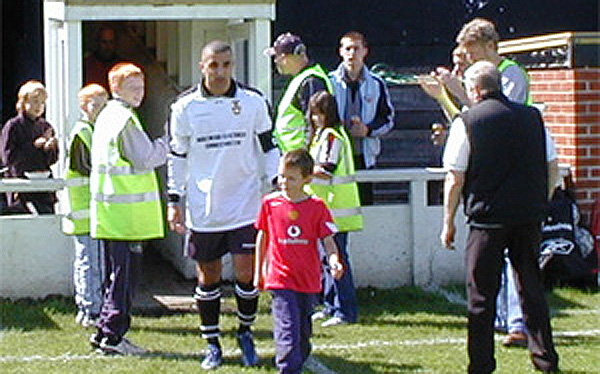 Josh Howard leads the team out for Mossley's first game back in the UniBond League!
pic by Orpheus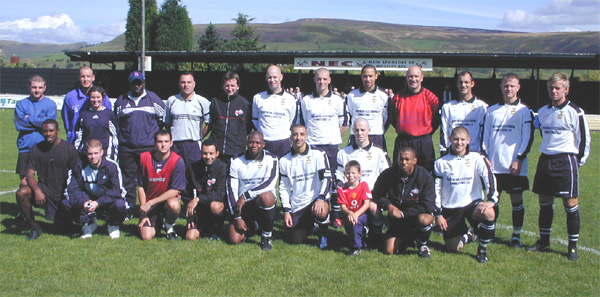 The team lines up before the big kick off
pic by Orpheus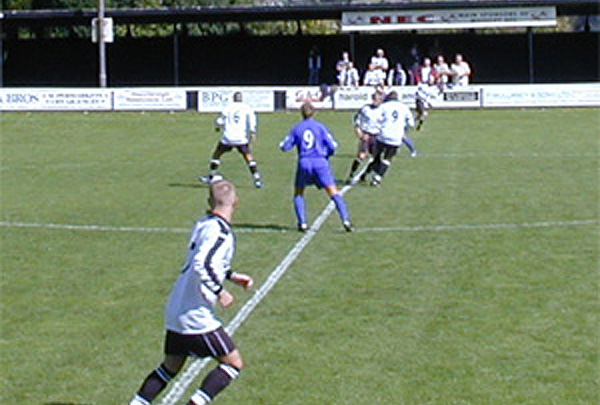 Mossley kick off the new season against Rocester

pic by Orpheus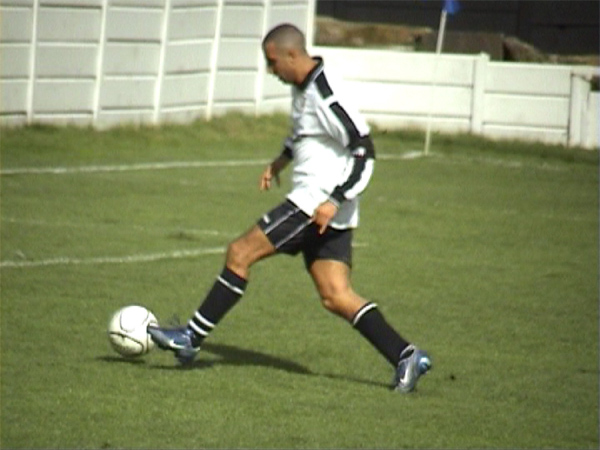 Josh Howard rolls the ball into an empty net for Mossley's third goal
pic courtesy of www.mossleymania.co.uk
Mossleyweb Man of the Match: Adam Morning - Rocester had no answer!
Mossleyweb Verdict: What a great start...now to keep it going!