Mossley too good for Robins!
Mossley 3 Selby Town 0
FA Cup Preliminary Round
Saturday 4th September 2004 - 3.00 pm
@ Seel Park, Mossley
Referee A B Morben
Attendance 238


18°C - wind W/SW 8mph
Mossley
1. Lee Bracey (7)
2. Carl Rezai (7)
3. Matty Taylor (8)
4. Steve Sheil (7)
5. Paul Taylor (8)
6. Josh Howard (cptn) (8)
7. Rhodri Giggs (7)
8. Shaun Dootson (9*)
9. Leon Mike (8)
10. Chris Downey (8)
11. John Hore (8)
12. Tony Coyne (not used)
14. Mario Daniel (not used)
15. Jordan Goodeve (7) (for Hore 84 mins)
16. Billy McCartney (8) (for P.Taylor 69 mins)
17. Mark Molyneaux (not used)

Selby Town
1. Mitchell
2. Dawson
3. Hart Y
4. Sadler Y
5. Croad Y
6. Cox
7. Caughan Y
8. Stuart
9. Harris
10. Walsh
11. Mathews
12. MacKenzie
14. Littler
15. Clamp
16. Ward
17. Cygan

Mossley enjoyed a comfortable victory over Northern Counties East Leaguers Selby Town in today's FA Cup Preliminary Round tie to earn another home tie in the next round and boosted club coffers by £1,000 into the bargain. Mossley dominated the entire match but twice had let-offs in the first half when ex Hull City striker Jason Harris headed over when it looked easier to score and then when Tom Matthews drove a shot against the bar. Mossley meanwhile had chances of their own with Josh Howard shooting narrowly wide after a great run and both Chris Downey and Leon Mike also missed the target before Mossley took a deserved 34th minute lead. Carl Rezai received the ball back from Dootson, played up to Leon Mike who's delightful turn and chipped through ball sat up for Chris Downey to pick his spot in the bottom corner from 15 yards. After the interval Mossley doubled their lead within three minutes and effectively ended the tie as a contest. Rhodri Giggs set up Leon Mike who's 20 yard shot lacked power but somehow beat Selby keeper Mitchell at his near post. Matty Taylor and Downey combined to set up Leon Mike for his second as he stroked the ball home from 18 yards in the 61st minute to complete the scoring. Mike had a couple of chances to complete his hat-trick while debutant John Hore and the impressive Shaun Dootson both went close after mazy runs as Mossley coasted to an inevitably comfortable victory and safe passage through to the next round.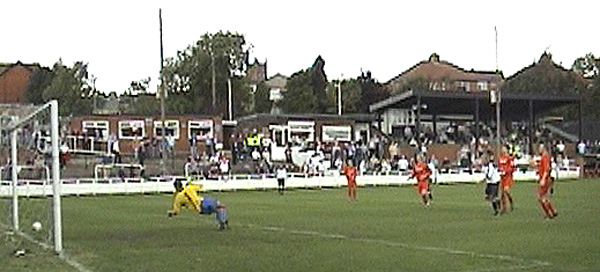 Chris Downey opens the scoring
pics courtesy of www.mossleymania.co.uk
Leon Mike rattles home the third goal
pics courtesy of www.mossleymania.co.uk
Mossleyweb Man of the Match: Shaun Dootson...a bundle of energy!
Mossleyweb Verdict: Comfortable!