Josh leaves it late!
Shepshed Dynamo 0 Mossley 1


UniBond League Division One

Saturday 28th August 2004 - 3.00 pm @ The Dovecote, Shepshed

Referee A. Parker

Attendance 202





18°C - wind W/SW 8mph
Shepshed Dynamo
1. Keeling
2. O'Brien
3. Hook
4. Lambert
5. Savage (cptn) Y
6. Timms
7. Moran
8. Knight Y
9. Gomm
10. Henson
11. Gamble
12. Bestwick
14. Maric
15. Walker

Mossley
1. Lee Bracey (7)
2. Carl Rezai (8)
3. Steve Sheil (8) Y
4. Gavinlee Ellison (8)
5. Paul Taylor (8)
6. Josh Howard (cptn) (8) Y
7. Rhodri Giggs (7)
8. Shaun Dootson (8) Y
9. Leon Mike (8*)
10. Chris Downey (6)
11. Adam Morning (6)
12. Tony Coyne (6) (for Dootson 80 mins)
14. Mario Daniel (6) (for Downey 54 mins)
15. Jordan Goodeve (6) (for Giggs 70 mins)
Mossley had to show plenty of mettle to take maximum points from a big physical Shepshed side at the Dovecote this afternoon. It was something of a war of attrition with Mossley's freeflowing style thwarted by some niggly defending that went mostly unpunished by a weak referee. Mike and Downey came in for some rough treatment from the Shepshed central defenders without receiving any kind of protection. Mossley lacked the incisive cutting edge that they shown in the two previous outings as the service from wingers Giggs and Morning lacked penetration. There were few chances in the opening 45 as Shepshed packed the midfield allowing Mossley no room to manouvre. Downey had the ball in the Shepshed net but was victim of a narrow off-side decision. The home side craeted little and when they did Bracey was a solid last line of defence although he was rescued on one occasion by a near goal-line clearance by Ellison.
Mossley began to truly dominate the game after the break. Mario Daniel replaced Downey just nine minutes into the half and his pace and movement allowed Leon Mike more room to play and Mossley started to look the likely winners. In fact Shepshed were visbly time-wasting from quite early in the second half and looked like they would be more than happy with a point. Mike bent a fierce drive that scraped a post and curled into the side netting as Mossley's domination became total. Surely a goal must come eventually, and eventually it did. With just seven minutes left on the clock. Substitute Goodeve was fouled on the right wing. Morning took the free kick and set Josh Howard on a run. The new Mossley captain played a one-two at pace with Leon Mike and burried the ball in the bottom corner from ten yards as the large Mossley contingent erupted with delight and relef that Mossley's dominance had finally been rewarded. Mossley almost added a second in a frantic goalmouth scramble but Shepshed somehow survived but failed to cause any consternation in the Mossley defence and the Lilywhites hung on easily to maintain their place as early season pace-setters!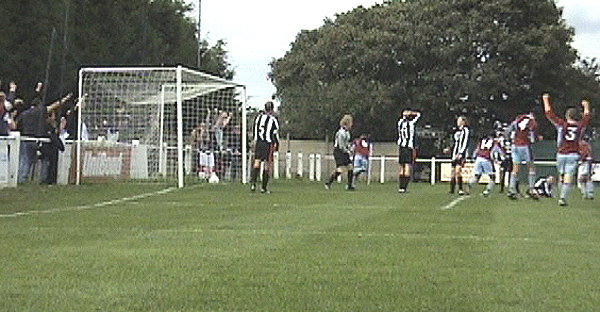 Mossley players celebrate Josh Howard's winning goal
pic courtesy of www.mossleymania.co.uk
Mossleyweb Man of the Match: Leon Mike...never gave Shepshed's defence any rest!
Mossleyweb Verdict: Hard graft wins the day!