Whitby Whitewash!
Whitby Town 0 Mossley 2
FA Cup 2nd Qualifying Round
Saturday 2nd October 2004 - 3.00 pm
@ The Turnbull Ground, Whitby
Referee P. Simpson
Attendance 374


11°C - wind S 19mph
Whitby Town
1. Escritt
2. Williams
3. Veart
4. Farthing
5. Linighan
6. L.Gildea Y
7. Bishop R
8. Nicholson
9. Ormerod Y
10. Robinson (cptn) Y
11. A.Gildea
12. P.Campbell
14. Obern
15. McTiernan
16. Jackson
17. D.Campbell

Mossley
1. Lee Bracey (8)
2. Carl Rezai (8)
3. Steve Sheil (8)
4. Danny Meadowcroft (9*)
5. Paul Taylor (7)
6. Josh Howard (cptn) (7)
7. Matty Taylor (8)
8. Shaun Dootson (7)
9. Jordan Goodeve (7) Y
10. Chris Downey (8)
11. Adam Morning (7) Y
12. Tony Coyne (7) (for P.Taylor 35 mins)
14. Mario Daniel (7) (for Goodeve 80 mins)
15. Phil Melville (not used)
16. -
17. -

Mossley bounced back from two successive defeats to win relatively comfortably at UniBond Premier side Whitby Town in this FA Cup 2nd Qualifier despite the line up having an unfamiliar look.
The Lilywhites were quicker out of the blocks than of late, despite playing into a strong wind, and probed Whitby's defence from the off with some neat passing and excellent movement from front two Downey and Goodeve. Matty Taylor playing on the right of midfield was a constant menace while Adam Morning recalled to the starting line up on the left also looked to have the better of his marker.
Matty Taylor was the first to get in a shot but fired high after a typically mazy run. Downey and Morning also had half chances before Mossley took a deserved 26th minute lead. Some great work and a good pass by Downey on the left found Jordan Goodeve who drove at the defence before firing into the bottom corner from 18 yards.
Lee Bracey was finally called into action on the half hour when he brilliantly turned away Ormerod's goal-bound effort.
Mossley lost Paul Taylor to injury on 35 minutes, which meant Steve Sheil moving to central defence alongside the on-loan Danny Meadowcroft with Tony Coyne coming on as an unfamiliar left back.
Whitby enjoyed a spell of possession in the second half but made little headway against a resolute Mossley defence who played with 'clean-sheet determination' while on the break the Lilywhites were a constant menace with Matty Taylor and Morning providing excellent outlets.
Whitby did themselves no favours when Neil Bishop got himself red carded for retaliating after a hard but fair Goodeve challenge on 55 minutes. Now with three at the back the home side pressed forward in gung-ho fashion but Mossley's defending was top class and the breakaway goal that would effectively seal the game looked more likely than a home strike and indeed that was the case. Good work on the ball by Shaun Dootson saw the ex Bolton youngster set up Chris Downey who turned his marker and fired home from 15 yards.
Goodeve was ridiculously yellow carded for diving when he was blatantly brought down by the keeper as he was about to shoot while seconds later Ormerod did dive in the Mossley box but amazingly went unpunished after receiving a yellow for the same offence in the first half.
Mossley introduced Mario Daniel in place of Goodeve with ten minutes to go as Mossley carved openings at will, but a desire to keep the ball and some overplaying in the final third meant that the score wasn't added to and at the final whistle Mossley players and the large traveling contingent of fans shared the delight of an excellent FA Cup victory!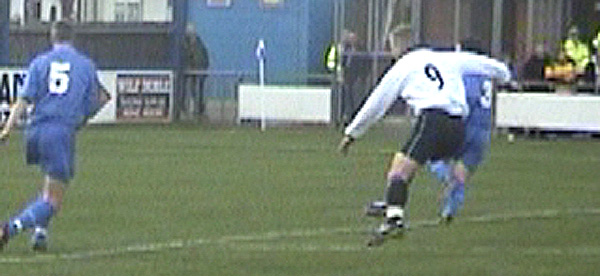 Jordan Goodeve fires Mossley into the lead
pics courtesy of www.mossleymania.co.uk
Chris Downey nets Mossley's second
pic courtesy of http://www.whitby-town.com/
Mossleyweb Man of the Match: Danny Meadowcroft...immaculate performance on his return to the white shirt!
Mossleyweb Verdict: Excelent team performance, richly deserved victory!