Sir Walter Winterbottom MBE
1913 - 2002
(from BBC SPORT FOOTBALL Football mourns Sir Walter)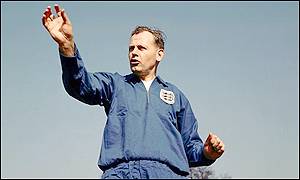 The first ever England football manager, Walter Winterbottom, has died aged 88. Walter's long career was before the remit of this site, but nobody would deny the influence that his coaching style had on the generation of managers and coaches that were prominent in the 70-71 season. Here is some of the ways that Walter has been commemorated on the Net
Brian Glanville at Guardian Unlimited Football News Sir Walter Winterbottom reports
Walter Winterbottom, who has died aged 88, was the first full-time manager of the England football team, and kept the job for an astonishing 16 years, from 1946 to 1962. During this time England consistently qualified for the World Cup, although in the 1950 tournament in Brazil they lost 1-0 to the United States - possibly the greatest humiliation in the history of English football.
Winterbottom was concurrently director of coaching at the Football Association, and significantly was wont to say that he considered this the more important of his two jobs. When his mentor, the FA secretary Sir Stanley Rous, retired in 1962, everyone expected Winterbottom to become the new secretary. But journalists who supported him overplayed their hand, with the result that Professor Sir Harold Thompson, who detested Rous, succeeded in steering through a compromise candidate. Winterbottom instead became secretary of the Central Council of Physical Recreation.
The charge that Winterbottom could never communicate with England players because he had not played professional football himself was unfair. He had in fact played it with some success.
Born in Lancashire, Winterbottom was educated at Oldham grammar school and Chester College. It was there that he met Eddie Lever, a Portsmouth footballer whose career had just been ended by a knee injury. In later years, Lever would become the Portsmouth manager. Long conversations about tactics stimulated the young Winterbottom. "It was largely from Eddie Lever's knowledge," he admitted, "that I got my yearning for the game."
Winterbottom then became a schoolmaster. He taught for three years in Oldham, playing centre-half meanwhile for Royston Amateurs in the Lancashire and Cheshire League, and for Mossley. It was here that he was spotted by Manchester United's legendary chief scout, Louis Rocca; and the money he earned from turning professional with United allowed him to study at Carnegie physical training college, where eventually he joined the staff.
His debut for United was in 1934, in a League match versus Leeds, which he remembered chiefly because he had eaten something that upset him and felt violently ill. Yet he played well enough to displace, for a time, one of United's salient pre-war players, George Vose.
Spinal trouble put him prematurely out of the game, and when the second world war broke out in 1939 he joined the RAF, becoming chief instructor of physical training at RAF Cosford, then head of physical training at the Air Ministry. He later resumed his playing career, turning out as a guest for Chelsea at half back and full back, and was even named twice as an England reserve. A star he may not have been, but he had every right to call himself a first-class footballer.
When he was appointed England manager and senior FA coach in 1946, he inaugurated a series of courses. He was concurrently in charge of the senior, amateur and youth international teams - the latter a new departure - till pressure of work obliged him to give up the last two responsibilities.
He found himself confronted by a welter of prejudice and ignorance. If the FA coaching scheme may in later years have ossified into a new orthodoxy, initially it had much to offer; and much to contend with. At many clubs, training still consisted of endless running round the track, with nothing seen of the ball, the theory being that the less players saw of it during the week, the more they would want it on a Saturday.
Having never been a club manager, Winterbottom found himself subject to much criticism. And so he gathered around him a band of like-minded disciples; men such as Ron Greenwood and Bill Nicholson, who would become influential managers in the years to come.
Tall, agile, pipe-smoking and bespectacled, he could have passed for a public school beak, which had much to do with the way he was perceived. Coaching, he insisted, was merely "a means of showing how to practise". His apothegms were always illuminating: "Football is a game where superiority in match play can't always be indicated by goals, because of the difficulty of mooring."
He inherited a talented England team, though it must be emphasised that he never, officially, had responsibility for picking it. He deferred in this to a panel of selectors, and yet was the target of the press when things went wrong. However, by the time of the 1958 World Cup finals, England's third in a row, he had the selectors dancing to his tune.
In no other footballing country in the world could a manager with Winterbottom's results have survived so long. You could hardly blame him for the ghastly defeat in Brazil when, as he said, "We did have our chances, dozens of them," but he was never an inspirational figure, he had a tendency to talk above his players' heads, and for all his interest in tactics, his strategies were often flawed.
This became particularly plain in 1953, when England were thrashed 6-3 by Hungary at Wembley. When they went to Budapest the following May, they had learned so little that they were humiliated 7-1. Still, Winterbottom kept his job, and took the team on to the 1954 World Cup in Switzerland, where they honourably attained the quarter-finals.
Meanwhile, the FA coaching scheme was becoming the domain of theorist schoolmasters who, unlike Winterbottom, had never played at professional level. Jargon abounded. Asked once about the ability of certain players almost to photograph the field around them, Winterbottom replied, "We know all about that, but we call it environmental awareness."
England's 1958 prospects were damaged by the Munich air crash, which killed three key players - Roger Byrne, Tommy Taylor and Duncan Edwards. Leaving the Bolton centre-forward Nat Lofthouse out of a World Cup party was an evident blunder. A second was not to give the young Bobby Charlton a single World Cup game. A third was to throw two neophytes, Peter Broadbent and Peter Brabrook, in at the deep end for the doomed play-off against the Soviet Union.
But under Winterbottom, England qualified again in 1962 and reached the quarter-finals, going out to Brazil. The time had come, it seemed, for Winterbottom to succeed Rous - which he would have done, but for the machinations of Harold Thompson.
He married his wife Ann in 1942. She and their two daughters survive him; a son predeceased him.
• Walter Winterbottom, football coach, born March 31 1913; died February 16 2002
The Football Association - News includes some tributes from 70-71 stars (hyperlinked - underlined)
Howard Wilkinson, The F.A.'s Technical Director today paid this tribute to Sir Walter Winterbottom, saying: "Quite simply, he was a visionary, light years ahead of his time.
"With England and the Football Association, he worked tirelessly to drag the coaching set-up out of the Dark Ages.
"After England's disastrous performance at the 1950 World Cup in Brazil, Walter produced a prophetic report which recommended the essential need for better qualified English coaches to concentrate entirely on the development of technique and skill in the very young. He also called for the provision of floodlit training areas to facilitate this work in the evenings and furthermore recommended that the FA should have its own centre – a "home" as he put it. He was a knowledgeable and modest prophet in his own land to whom the game owes an incalculable debt."
Sir Walter, 89, who ran the team from 1946-62, died on Saturday at Royal Surrey County Hospital in Guildford.
Born in Oldham on January 31, 1913, he was a centre halfback for Manchester United until his playing days were ended by injury in 1939.
He was appointed national director of coaching in 1946 with responsibility for the national team, aged 33, and officially became manager in May 1947.
Sir Walter started on high note, with a 7-2 thrashing of Northern Ireland in in his first match in charge in September 1946.
He subsequently guided England through four World Cup finals during his stint as the team's longest serving manager, before handing over the reins to Sir Alf Ramsey.
He was awarded an OBE in 1963 for services to football, receiving a CBE in 1972 and his knighthood in 1978 for services to sport.
Sir Walter Winterbottom was England's first full-time manager and the longest-serving of the post-war era.
He was appointed chief coach by The Football Association in 1946 and was later installed as manager after some political manoeuvring by secretary Stanley Rous.
With great players of the like of Stan Mortensen, Tom Finney, Stanley Matthews, Raich Carter and Tommy Lawton at his disposal, he oversaw some emphatic victories in his first few years in charge.
Portugal's 10-0 thrashing in Lisbon in 1947 followed 7-2 and 8-2 defeats of Northern Ireland and Holland respectively. Northern Ireland particularly became favoured whipping boys with 6-2 and 9-2 wins following in subsequent years.
Winterbottom was also the first manager to lead England into World Cup competition in 1950.
The tournament in Brazil was the first time England had entered, having hitherto considered the Home Nations Internationals their priority.
Winterbottom resigned four months after his fourth World Cup in charge ended with defeat by Brazil in 1962.
He left the job after being overlooked for the role of F.A. secretary following Rous' elevation to FIFA president. He went on to take up a post with the General Council for Physical Education.
His record remains the most successful of any post-war England manager having recorded 78 wins, 33 draw and 28 defeats from his 139 matches in charge.
The F.A.'s Executive Director, David Davies, warmly recalled Sir Walter, telling TheFA.com: "He was a lovely guy and a highly intelligent man.
"He was an innovator and set up the first ever national coaching network as well as initiating what was then the England Under-23 team.
"He had a great sense of humour and a tremendous work ethic. When England teams travelled under him, he was in charge of food, travel and training, though not team selection which in those days was made by the International Committee.
"He was England manager for 16 years, taking charge of players who are household names such as Matthews, Wright, Finney and Lawton.
"He gave a lot to the game and will be sadly missed.
Former England manager, Bobby Robson, was deeply inspired by Sir Walter and credits him with putting him where he is today.
Robson, who celebrates his 69th birthday tomorrow, said: ``I'm very saddened because Sir Walter is one of the finest men I've ever met in football, not because he brought me into the international arena, which he did - he gave me my first cap and I played all the matches under Sir Walter.
``He was my mentor, he was one of the most, if not the most, knowledgable men in football I've ever met.
``He was a fantastic guy, he was a great coach, he had a wonderful knowledge of the game and he could impart that knowledge. I could listen to Walter for hours talking about football.''
And Robson revealed it was one of his predecessors as national coach who persuaded him to try his hand at management.
``I wouldn't be here today if it wasn't for Sir Walter because when I played for him, he came to Don Howe and I and said `I want you two to come to Lilleshall every summer and get your qualifications and get your diplomas and stay in the game', and we responded to that,'' he said.
``I kept in touch with him and he used to write me fantastic letters of support when I was the England manager.
``I'm very sad to hear of his death and it's a funeral I really must go to.
``He was a great football man, one of the finest football men this country has ever, ever produced.''
Former England captain paid his own tribute, describing him as a ``terrific bloke'' who was a ``true gent''.
Winterbottom handed Armfield his international debut against Brazil in 1959 - the first of 43 caps for his country.
And Armfield was quick to praise Sir Walter for the way he managed such exceptional talents as Sir Stanley Matthews and Stan Mortensen.
``He was a terrific bloke,'' Armfield said. ``He had a problem in a way - he came in just after the war when we had such great talents and he had to get those into a team.
``He believed in a coaching system so he was ahead of his time really, he was director of football for a time.
``From my first cap in 1959 in Brazil right through to being captain in 62 he was there. I think I brought a lot with me from Walter Winterbottom - he was a gent, a nice man, a really nice person.
``You have to remember what it was like at The F.A. in those early days just after the war, you can imagine them all sat together and he probably had 12 or 13 players to look at and pick 11 of them.
``Eventually he proved his point and got his own way.
``He had some highs and some lows. We had the famous defeat by the USA - that was one of his lows, he always said that.
``He always said that the team he had was as good a bunch of players you could put together at that time so he always felt he was privileged - that was the kind of man he was.
``What he did is put down the first coaching book in this country and it provided the skeleton for all the others - a lot of European countries who used this skeleton.''
England legend Sir Tom Finney paid tribute to the spirit of English football under Winterbottom.
He said: ``The game has changed in so many ways.
``He had so much success during his spell as manager and there was nowhere near the sort of pressures the present managers are under.
``In those days it was really the enjoyment of playing and managing your country.''