1972-73
Mossley entered the Northern Premier League with great optimism after 53 years in the Cheshire League. Manager Don Wilson made four new signings. Jimmy O'Connor (Bury), John Merrell (Maine Road), Tony Hallam (Northwich Vics) and Andy Proudlove (Buxton). The season got off to a tragic start however, with a 2-1 defeat at South Liverpool which saw midfielder Kevin Burke's career ended by a terrible leg injury. He was later awarded a testimonial against a strong Manchester United side.
The first NPL victory came with a 3-1 win at Matlock Town while progress was made in the League Cup with a splendid 1-0 replay win over fancied Altrincham.
A crowd of 2,255 witnessed the first ever game under lights at Seel Park when the Lilywhites were held 2-2 by Macclesfield Town in a cracking game. Replay exits from the FA Cup at Stalybridge and League Cup at Macclesfield were tempered by a comfortable mid-table placing but the club was rocked in November when manager Don Wilson resigned after ten years in charge. Many expected long time team captain Lennie Dickenson to be given the job but the Committee looked outside and appointed Macclesfield's Scottish hard-man George Sievwright to the job. Dickenson left the club in disgust the following month and Sievwright proceeded to break apart Wilson's talented side with Tony Jackson, Peter Coleman, Pete Hadfield and John Bain all leaving for pastures new.
Kevin Crumblehulme was signed from Fleetwood, striker Rod Seddon arrived from Droylsden and Alan 'Bomber' Brown returned after a short spell out of the game.
The FA Trophy saw Mossley go out 1-0 at home to Morecambe after new signings Tony Steenson and Micky Cairns failed to show up for the game.
There were still a few high's left in the season though and a 3-1 win over champions elect Boston United in front of a 1,000+ gate was a great result while successive Seel Park wins over Runcorn 3-1 and Bradford Park Avenue 4-2 were highly exciting.
The side finished the season in 14th position with 45 points from 46 games.
After winning the last League fixture 1-0 at Goole Mossley entertained Radcliffe Borough in the semi final of the Manchester Senior Cup with the visitors now managed by non other than Don Wilson and including several former Mossley players. Radcliffe won 3-2.
Bruce Birtwistle was again leading scorer with 29 goals but he was surprisingly sold to Wigan Athletic for a bargain £100 fee. John Merrell netted 25 while Rod Seddon chipped in with 13.
Sievwright released Wilson stalwarts Mike Batty, Mike Turner, Alan Roberts, Jimmy Dowthwaite and Johnny Price at the season's close while Sievwright himself was retained for the following term. Chief scout Bob Murphy was appointed as his assistant.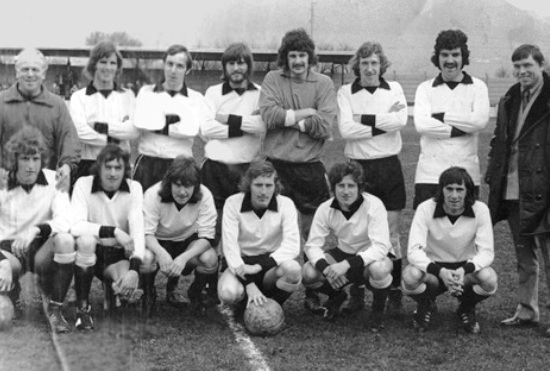 March 1973 Back: Jock Anderson (physio), Alan Roberts, Mike Turner, Jimmy Dowthwaite, Geoff Foster, Rod Seddon, Mike Batty, George Sievwright (manager). Front: John Merrell, Harry Pollitt, Jimmy O'Connor, Bruce Birtwistle, Alan Brown, Johnny Price.


1973-74
Mossley's second season in the Northern Premier League began with a major clear out and a newly built team by manager George Sievwright. Only goalkeeper Geoff Foster, Kevin Crumblehulme, Alan Brown, John Merrell, Jimmy O'Connor and Rod Seddon remained from the previous season along with young defenders Tony Steenson and Harry Pollitt. Sievwright's new signings were full backs Jim McKernan (Halifax Town) and Gary Walsh (Scarborough), wingers Micky Haughton (Hyde United) and Dave Jones (Bradford Park Avenue) and midfield players - the experienced Eric Brodie (ex Dundee, Tranmere, Shrewsbury and Bangor City) and teenager Charlie Simpson (Rochdale).
The season began with an unlucky 2-1 defeat at home to reigning champions Boston United and a 4-1 home thrashing of Gainsborough Trinity and apart from a 4-0 defeat at South Shields results went reasonably well for a spell. Progress was made in the FA Cup with wins over Yorkshire Amateurs and Prestwich Heys before a 2-1 defeat at Buxton ended hopes of an extended run. Midfielder Geoff Dover arrived from Bradford Park Avenue and striker Micky Cairns from Salford Amateurs.
Things started to go wrong however, in December. It was the time of the strikes and regular electricity black outs saw midweek games switched to Sunday's and the cancellation of the North West Floodlit League.
Heavy defeats by Runcorn 2-6 and Wigan Athletic 0-4 , South Liverpool 0-2, Stafford Rangers 0-3, Burscough (FA Trophy) 0-2, Boston United 1-4 and finally a 0-3 defeat at Fleetwood on 27th January saw Sievwright dismissed and the surprise appointment of assistant boss Bob Murphy as manager until the end of the season. Murphy released centre forward John Merrell and replaced him with Tommy Aspinall who became Mossley's first ever money signing when he arrived from Wigan Athletic for a nominal £100 fee in February. He helped Murphy's first Mossley team to a 2-1 win over Lancaster City, the sides first victory in 10 outings. He was joined by former Buxton men Robin Hughes and Dick Lee and Mossley climbed to a more respectable 15th position with some excellent performances including a League Cup success over Wigan Athletic and League victories over Great Harwood 4-0, Barrow 3-0 and Altrincham 2-1 on the last day of the season.
Murphy was appointed as manager for the following season and he was to make several changes starting with the release of McKernan, Walsh, Crumblehulme, leading goalscorer Seddon (19 goals) and Cairns.
Tony Steenson was a popular winner of the club's Player of the Year award.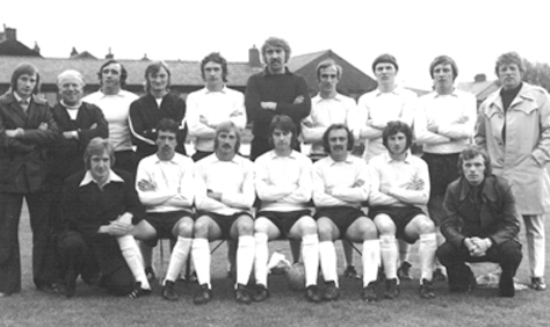 September 1974. Back: Geoff Dover, Jock Anderson (trainer), Eric Brodie, Jimmy Riley, Harry Pollitt, Alan Aubrey, Graham Schofield, Bobby Manning, Dick Lee, Bob Murphy (manager). Front: Tony Steenson, Dave Moore, Tommy Aspinall, Jimmy O'Connor, Geoff Sleight, Alan Brown, Robin Hughes.
1974-75
This was Mossley's best season since joining the Northern Premier League with Bob Murphy's rebuilt team scaling new heights. New signings were goalkeeper Alan Aubrey (Gainsborough Trinity), midfielder Geoff Sleight (Buxton) and striker David Moore snapped up from Radcliffe Borough for a bargain £100. Moore was to be the star of the season netting a club post war record 38 goals. Aubrey's reign as custodian was short lived as the giant Yorkshireman failed to settle and he was replaced by John Fitton signed from Skelmersdale United.
As well as some excellent League results with some scintillating performances the side embarked on an FA Cup run beating Eastwood Hanley, Nantwich Town and Runcorn before going out to a surprise home defeat in the final qualifying round to Oswestry Town. There was much success also in the FA Trophy with Hyde United, Macclesfield and Bilston all beaten before an unlucky and dramatic 2-1 defeat at Burton Albion in the last 16.
In the Reporter Floodlit League Mossley repeatedly thrashed all the local Tameside clubs and then beat Stalybridge Celtic 6-4 on aggregate in the final.
In January Murphy made two key signings in centre forward Leo Skeete on loan from Rochdale and midfield dynamo Micky Fleming from Buxton. They were followed by another loan signing from Rochdale in striker Mike Brennan. These after Tommy Aspinall had moved on to Winsford United for a small fee.
Best League results were a startling 6-4 win at Northwich Victoria after being 4-3 down with less than ten minutes remaining, a superb 2-1 home win over Boston United, a 5-0 thrashing of Morecambe and an exciting late season 3-1 win over Stafford Rangers. All this left Mossley with their highest placing so far finishing 6th.
Player of the Year was centre half Graham Schofield signed from Oldham Athletic two seasons earlier but hampered by serious injury. He was an outstanding defender but his career was dramatically ended by another serious leg injury incurred at Runcorn in March. He was compensated with a well attended testimonial match against Oldham.
At the end of the season Jimmy O'Connor moved to Macclesfield Town, Mike Brennan returned to Rochdale and Geoff Dover was released.
The big news however, was the permanent capture of Leo Skeete from Rochdale who's partnership with Dave Moore showed much promise!
Surprise success of the season had been local amateur striker Jimmy Riley who netted 18 goals in 32 appearances but his appearances were to become limited due to the presence of Moore (38 goals) and Skeete (15 in 18 appearances).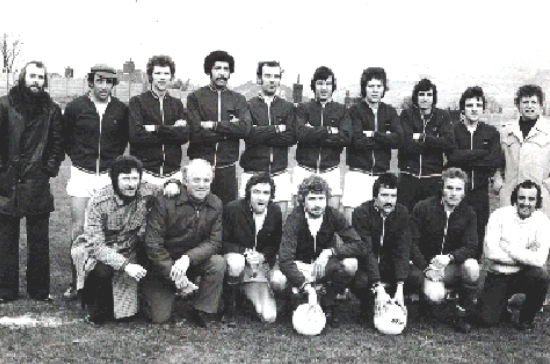 December 1975 Back: Johnny Worth, Eric Brodie, Albert Jackson, Leo Skeete, Roy Ellam, Alan Tinsley, Colin Williams, John Fitton, Terry Cooke, Bob Murphy (manager). Front: Alan Brown, Jock Anderson (physio), Harry Pollitt, Micky Fleming, Dave Moore, Billy Bell, Geoff Sleight.
1975-76
The season began with some key signings by manager Bob Murphy. Experienced defenders Roy Ellam (Leeds United & Huddersfield Town) and former Irish International John Napier (Bradford City) arrived along with winger Dave Lyon for his second spell with the club from Southern Leaguers Poole Town and young striker Colin Williams from local football.
Despite the new signings results didn't go well apart from early wins over Boston United 1-0 and Macclesfield 4-0. In fact a run of 11 League games without a win left Mossley floundering near the foot of the table and a 1-0 defeat at Worksop saw an early FA Cup exit.
The arrival of full back Billy Bell from Rochdale, midfielder Alan Tinsley (Bury), defender Albert Jackson (Bangor City) and strikers Johnny Worth (Runcorn) and Joe Fletcher on his return from playing in Australia strengthened the team and results improved dramatically. Eight wins in 9 outings pushed the Lilywhites into the top half of the table with the side finally finishing in 9th place.
After an impressive spell Napier returned to Bradford City as chief coach while local lads Bobby Street and Jimmy Riley were released.
In the FA Trophy Mossley went down to a replay defeat at Runcorn but embarked on a run in the League Cup that saw Mossley in their first NPL final. Wins over Stafford Rangers, South Liverpool and Worksop Town saw the Lilywhites face Boston United in a two-legged final.
Mossley were hit before the final when Leo Skeete and Johnny Worth were injured, Albert Jackson was suspended while Roy Ellam and Alan Tinsley had gone to play in the USA for the Summer. So bad was Mossley's plight in fact that they were given special dispensation by the League to sign a player after the deadline and he was centre half Billy Boslem on loan from Rochdale.
It didn't go well though and Boslem's rawness along with Billy Bell's dismissal were contributary factors in a 4-0 first leg defeat at York Street in front of a 2,000+ crowd. Skeete returned for the second leg and blushes were spared somewhat as goals by Joe Fletcher and Dave Moore gave Mossley a 2-1 Seel Park victory but a 5-2 aggregate defeat.
At the seasons close Colin Williams was sold to Droylsden for a £600 fee and later went on to play for Scarborough, Telford United and the England semi-pro side. Billy Bell was sacked for his indiscretions at Boston, Johnny Worth's injury was worse than feared and he retired from football and local lads Terry Cooke and Billy Ash were released
Dave Moore was top scorer with 33 goals while Leo Skeete hit 20.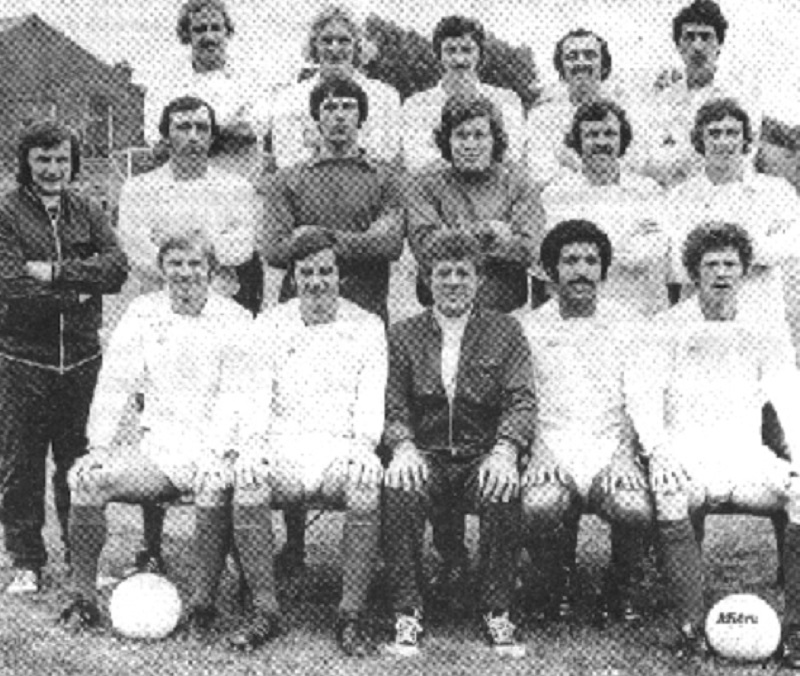 August 1976. Back: Jimmy Nicholson, Dave Ainsworth, Alan Brown, Geoff Sleight, Dave Moore. Middle: Bernard Keeley (trainer), Eric Brodie, Rod Jones, Alan Coward, Joe Fletcher, Harry Pollitt. Front: George Buchan, Alan Tinsley, Bob Murphy (Manager), Leo Skeete, Albert Jackson.
1976-77
The season saw manager Bob Murphy make some interesting signings. Goalkeepers Rod Jones (Barrow) and Alan Coward (Blackpool) were joined by former Manchester United, Huddersfield Town and Northern Ireland star Jimmy Nicholson and winger George Buchan, brother of Martin (ex Aberdeen, Manchester United and Bury), winger Andy Sweeney (ex Oldham and Rochdale) and full back Dave Ainsworth (Rochdale).
Form wasn't too good however and a shock 6-0 FA Cup defeat at Great Harwood sent shockwaves through the club. John Fitton was soon recalled to the nets and the disappointing Jones was released. All the pre-season signings had shown poor form with striking partners Leo Skeete and Dave Moore being the saving grace on more than one occasion. In November the seemingly inevitable happened, another poor run of results and form saw Bob Murphy dismissed from his first spell as Mossley manager and the non-league world was shocked to see his replacement named as Boston United's successful player-boss Howard Wilkinson.
Despite the fact that Wilkinson's first games in charge saw Mossley beaten in the FA Trophy by Chorley he turned the season around. Nicholson, Buchan, Sweeney, Ainsworth, Eric Brodie, Geoff Sleight and Roy Ellam were all released. Midfielder Peter Wilkie arrived from Boston United and he was joined by defenders Dave Vaughan (Boston FC), John Tandy (Retford Town) and Eamonn O'Keefe (Al Hilal of Saudi Arabia).
Wilkinson's master stroke was to move full back O'Keefe to midfield in support of Leo Skeete and Dave Moore and to work on a vast array of set-piece moves which set the side up for a long unbeaten run. It had taken a while for the penny to drop but drop it did and following a shock 4-0 win at Runcorn, Mossley went from strength to strength. The goal floodgates opened and messrs Skeete, Moore and O'Keefe went on the rampage. Skeete broke the club post-war scoring record with 45 goals and Moore netted 32 with O'Keefe chipping in 9 along with veteran Joe Fletcher who bagged 13 and the side climbed from close to bottom to finish in 9th place.
Mossley reached the final of the Manchester Senior Cup and won a one sided two legged game against Droylsden 5-0 away and 7-3 at home. In the Floodlit Cup semi final the Lilywhites beat Hyde United in the semi final 12-2 on aggregate but after a superb unbeaten run of 18 games the Lilywhites came a cropper in the second leg of the final. Having won the first leg 2-0 at Witton Albion, a tired looking side went down 4-0 at home in the return game.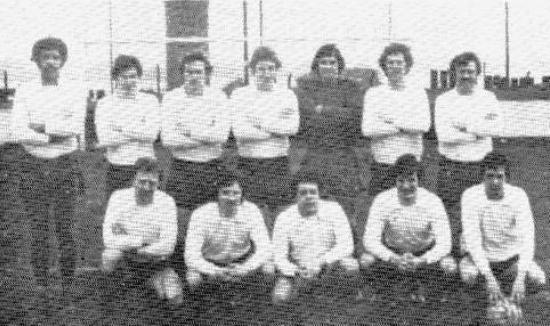 March 1977. Back: Leo Skeete, Mick Hill, Harry Pollitt, Dave Vaughan, John Fitton, Albert Jackson, Joe Fletcher.
Front: Howard Wilkinson (player/manager), Alan Brown, Peter WIlkie, Alan Tinsley, Dave Moore.

1977-78
Mossley were disappointed to lose manager Howard Wilkinson who was appointed as an FA regional coach but such was his esteem in his short spell at Mossley that he was able to propose his own successor. Former Boston United centre back Dick Bate from Buxton who was appointed player-manager. Bate signed full back Gary Hull (Sheffield Wednesday), winger Vinny Garmory (Manchester City), midfielder Neil Wheelton (Loughborough University) and a young striker named Ian Smith from Yorkshire Leaguers Mexborough Town.
The season opened reasonably well but Bate's style was more stifling than that of Wilkinson and it soon began to show. Star striker Dave Moore was often left out of the side and Smith looked anything but promising. However, the side did embark on an FA Cup run and after wins over Macclesfield Town, Curzon Ashton, Winsford United after two replays and unknown Lincolnshire giant-killers Appleby Frodingham Athletic, Bate became only the third Mossley manager to lead his team into the first round proper. An away tie at Third Division Rotherham United wasn't exactly a mouth-watering prospect and on the day everything went wrong. Joe Fletcher limped off injured after only five minutes and after going two goals down Gary Hull was sent off. It finished a highly disappointing 3-0 in front of a 4,453 gate at Millmoor.
Bate was unpopular with the fans however, and his seemingly negative style of play cost him his job the following month.
The season's turning point came when a managerless Mossley travelled to unbeaten League leaders Boston United in early January when a spectacular last minute length of the field goal by the thus far ineffective Ian Smith gave the Lilywhites a shock 1-0 win.
Bate's successor, the return of Bob Murphy after brief spells in charge at Northwich Vics and Stalybridge to mark the beginning of the 'glory, glory' years.
Murphy released Wilkinson and Bate favourite Peter Wilkie and signed winger Micky Wadsworth (ex Frickley), midfielder Dave Warrender (ICI Blackley) and full back Don Rankin (Rossendale United).
The side went 11 games unbeaten after Murphy's return to climb into the top half finally finishing 9th for the third successive season. Dave Moore was top scorer with 29 goals followed by Player of the Year Leo Skeete with 26 and the by now impressive Ian Smith on 10.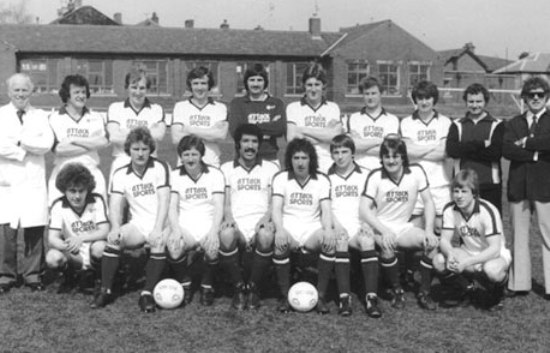 September 1978 Back: Jock Anderson (physio), Brian Grundy, Neil Wheelton, Harry Pollitt, John Fitton, Dave Vaughan, Micky Roberts, Jimmy O'Connor, Keith Wild (trainer), Bob Murphy (manager).
Front: Mark Smethurst, Kevin Gorman, Alan Brown, Leo Skeete, Dave Moore, Ian Smith, Vinny Garmory, Eamonn O'Keefe.

1978-79
What a season!
Manager Bob Murphy's only summer signings were central defender Micky Roberts (Oldham Athletic), midfielder Jimmy O'Connor (re-signed after spells with Macclesfield, Runcorn and Droylsden) and Leo Skeete's younger brother Steve (South Liverpool). The season began with seven wins and a draw in the first eight games before a shock 4-2 defeat at Witton Albion in the FA Cup which proved to be no more than a hic-up. The side went from strength to strength with a four pronged attack of Skeete, Moore, Smith and O'Keefe. The goals flowed and the performances were electric. Another shock defeat, this time by Stalybridge in the FA Trophy left the Lilywhites clear to concentrate on a possible League and League Cup double, and concentrate they did.
In the League Cup Mossley scored a record 27 goals in winning the tournament with wins over Macclesfield 7-1, Scarborough 4-0 away, Worksop 5-1 before an epic semi-final with old rivals Altrincham. Mossley were leading the first leg at Moss Lane 4-1 when O'Keefe was sent off and keeper John Fitton was hurt before Alty came back to win 5-4. The second leg at Seel Park was a different matter as a fired up Mossley hammered their old rivals out of sight winning 5-1 before a superb gate of 3,002. The final saw Mossley pitted against Northwich Vics the only side to have scored a League double over the Lilywhites. A classic game at Manchester City's Maine Road was watched by a 5,000+ crowd . Mossley had taken the lead through Moore before Vics equalised taking the game to extra time. However, further strikes by Smith, Gorman and Moore ensured an emphatic victory.
The League Cup fortunately didn't prove a distraction. Altrincham were still in with a shout though and despite a great run, successive away defeats at Scarborough and Gainsborough put the pressure on. However, a 6-1 victory over Barrow was followed two days later by a home fixture against South Liverpool. Mossley had to win and win they did with another six goal rout. Meanwhile Altrincham were losing to Southport and Mossley were crowned League Champions for the first time in their professional history scoring a record 119 League goals in the process.
Regular 1,000+ gates had given Seel Park a great atmosphere all season and in the last game Mossley entertained FA Trophy winners Stafford Rangers and both sides paraded their trophies before a 1,355 gate. Mossley won the game 2-1.
Mossley also reached the Manchester Senior Cup final and after drawing the 1st leg 1-1 at Droylsden a weakened team lost the second leg 3-0 but by then it didn't really matter. The team paraded their trophies around the town on an open top bus at the annual Carnival to rapturous applause.
The goalscoring charts told their own story of a fantastic season. Moore hit 41, Smith 38, O'Keefe 32 and Leo Skeete 26 with Skeete retaining his Player of the Year award.
O'Keefe was selected to play for the England semi-pro side and he scored the winning goal in the four nations championship against Holland at Stafford before being transferred to Everton for a club record £25,000 fee.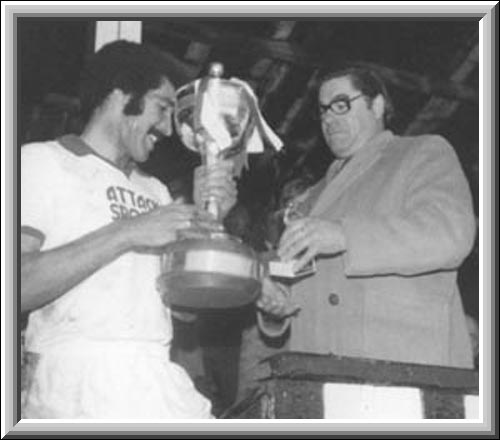 Mossley captain Leo Skeete receives the Northern Premier League Championship Trophy from League Chairman Ken Marsden - 5th May 1979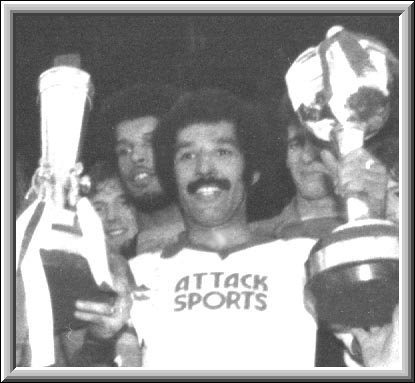 Leo Skeete proudly holds aloft the Northern Premier League Cup and the Championship Trophy 21st May 1979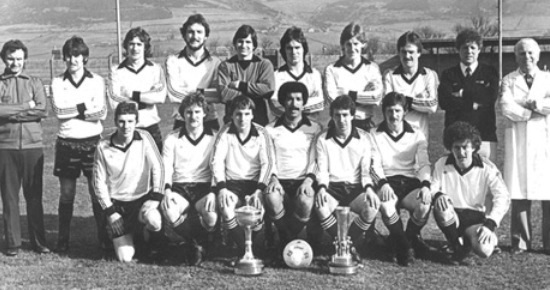 December 1980 Back: Keith Wild (trainer), Jimmy O'Connor, Harry Pollitt, John Salter, John Fitton, Kevan Keelan, Dave Vaughan, Vinny Garmory, Bob Murphy (manager), Jock Anderson (physio). Front: Tony Grimshaw, Kevin Gorman, Ian Smith, Leo Skeete, Dave Moore, Alan Brown, Mark Smethurst.
1979-80
If 78-79 had been a fantastic season 79-80 was even more spectacular. Mossley were now the team to beat and with the newly formed Alliance Premier League (Conference) taking several of the NPL's leading sides Mossley were hot favourites to retain the title. And they did, in some style! But that wasn't all, the side went all the way to Wembley in the FA Trophy!
With Eamonn O'Keefe sold to Everton and defender Micky Roberts moving to Bangor City, manager Bob Murphy made only one major summer signing in winger Tony Grimshaw from Manchester United. Although a few games into the season veteran defender Dave Mobley arrived from Altrincham and striker Kevan Keelan was snapped up on his return from Australian soccer. Keelan proved to be an ideal replacement for O'Keefe and he was soon amongst the goals. Good League form was coupled with a fine FA Cup run which saw victories over Fleetwood, Macclesfield, Winsford & Goole. In the 1st Round proper Mossley faced a difficult away tie at York City and went into the game without injured keeper John Fitton. Unfortunately for Mossley, his stand in Tommy Cavanagh had an absolute nightmare and despite looking the better side Mossley went down 5-2 in front of 3,872 fans. Cavanagh was released almost immediately as Fitton returned to fitness.
Earlier in the season Mossley had lost 4-2 to Altrincham in the NPL Challenge Shield and unluckily went down 4-3 on aggregate to Southern League champions Worcester City in the last ever Non League Champion of Champions Cup.
In the League Mossley were fighting all the way with Witton Albion, Frickley Athletic and Burton Albion being the main rivals. The side was bolstered with the signing of centre back John Salter from Southport for a four figure fee and he was an instant success.
The FA Trophy campaign began in January with a hard fought 3-1 win over Northern League champions Spennymoor United. This was followed by a goalless draw at Midland League champions Boston FC before a 6-3 thrashing in the Seel Park replay saw Mossley through to face Alliance leaders Altrincham at Moss Lane. Despite the presence in goal of ex Manchester United star Alex Stepney, Mossley were in a different class and won 5-1 in front of a 2,525 gate. The quarter final saw Mossley at home to famous cup fighters Blyth Spartans and 2,427 spectators were at Seel Park to witness a 1-1 draw. Mossley went to Blyth for the replay as underdogs but silenced the massive home following with a superb 2-0 victory. In the semi final the Lilywhites faced Boston United and after a 1-1 home draw (watched by 3,408) the second leg at York Street looked a daunting prospect. But Kevan Keelan stole the show scoring two second half goals to give Mossley a 2-1 win in front of 4,590 fans. Mossley were at Wembley!
Meanwhile the League still had to be won and after a fantastic run which saw the Lilywhites unbeaten in 23 League games the Lilywhites were again crowned champions at the unlikely setting of Netherfield Kendal following a 0-0 draw to pip Witton by just one point.
The Wembley story could fill the pages of a book itself, but suffice to say Mossley unluckily lost on the big day 2-1 to a late goal against Isthmian League giants Dagenham. 10,000 people travelled from Mossley and the surrounding areas to cheer the Lilywhites at Wembley and the following day at least as many turned up in the market ground to welcome them home as though they had won. What a day, what a season!
The whole event had been filmed by Granada Television and was shown on prime time TV on the Monday as a documentary named 'Mossley Goes to Wembley'
Wembley scorer Ian Smith was top marksman with 31 goals followed by Leo Skeete 29, Dave Moore 26 and Kevan Keelan 16. Alan 'Bomber' Brown was a popular Player of the Year.


November 1980 Back: Keith Wild (trainer), Jock Anderson (physio), Alex Gibson, Dave Vaughan, Leo Skeete, John Fitton, Mike Sherlock, Tibor Szabo, Vinny Garmory, Bob Murphy (manager). Front: Paul Hallows, Sean Moloney, Kevan Keelan, Kevin Gorman, Pete McQuade, Dave Mobley, Jimmy O'Connor, Alan Brown
1980-81
Mossley were chasing their third successive title and such was the optimism of the time that everyone believed that the side would return to Wembley to win the Trophy that they so unluckily lost the previous season.
Mossley won six of the first seven games despite the close season departure of Ian Smith to Scarborough (£9,000) and the retirement of Harry Pollitt.
Manager Bob Murphy made a double signing with the arrivals from Macclesfield Town of goalkeeper Mike Sherlock and striker Tibor Szabo, midfielder Alex Gibson arrived from Witton Albion and defender Paul Hallows from Oswestry Town but unfortunately for Mossley Runcorn were the new team to beat and they had got off to a flyer which proved an impossible task to emulate.
Mossley had earned an exemption to the 1st Round proper of the FA Cup and were happy to be drawn at home to Crewe Alexandra. A Seel Park crowd of 3,800 saw Mossley beat their Football League opposition thanks to a goal by veteran defender Dave Mobley from a cross by ex Manchester City and England star Mike Summerbee who made a one off appearance for the club.
The second round saw an unfortunate 3-1 home defeat by Mansfield Town despite a Leo Skeete special watched by a crowd of 3,680.
The Wembley way beckoned once more and all looked well with a superb 1-0 replay win at Scarborough (2,043) after a 1-1 draw at Seel Park (1,241) followed by a 'backs to the wall' 1-0 win at Kettering Town (2,427) and a 3-0 away hammering of Isthmian League Carshalton Athletic which put Mossley into the quarter final. No-one was too concerned about the prospect of a trip to Bangor City, struggling at the foot of the Alliance. But a Farrar Road crowd of 2,049 saw Mossley come back from 3-1 down to 3-3 only to concede two more late goals to exit the competition and end a dream!
Back to the League and Runcorn's lead was by now unassailable leaving Mossley to battle for runners-up spot with Marine. Mossley had strengthened the squad with the signings of Alan Tinsley (Blackpool Wren Rovers), centre forward Billy Hughes Buxton £700) and a young winger named Phil Derbyshire from Manchester amateur side Avro. A fine run-in which saw only one defeat in the last ten games assured runners-up spot on the last day of the season with a 3-2 win at Worksop Town but they still trailed Runcorn by an amazing 16 points. Runcorn had also managed a League double over Mossley and also beat them 2-1 to win the NPL Challenge Shield earlier in the season.
At the season's close John Fitton, Alan Brown and Dave Mobley all retired, John Salter emigrated to South Africa and Kevan Keelan was transferred to Macclesfield Town for a £1,000 fee.
Reliable defender Dave Vaughan was voted Player of the Year while Dave Moore topped the scoring chart with 20, followed by Leo Skeete 19, Jimmy O'Connor 15 and Tibor Szabo 14.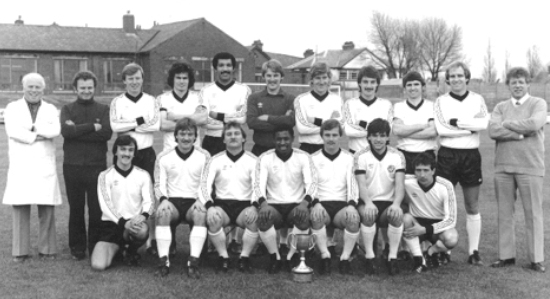 October 1981 Back: Jock Anderson (physio), Keith Wild (trainer), Pete McQuade, Tibor Szabo, Leo Skeete, Mike Sherlock, Dave Vaughan, Phil Derbyshire, Phil Burrows, Peter Duff, Bob Murphy (manager). Front: Simon Gallagher, Vinny Garmory, Kevin Gorman, Faz Page, John Harrop, Kevin Deakin, Dave Moore.
1981-82
Mossley went into the 1981-82 season as favourites for the title after finishing runners up to Runcorn the previous season and manager Bob Murphy strengthened the side with several new signings. Striker Faz Page was signed from Netherfield for a £2,000 fee, winger Kevin Deakin arrived from Buxton for £1,500, full backs John Harrop (Stalybridge Celtic) and Simon Gallagher (Morecambe), and experienced centre half Peter Duff (Runcorn) were all added to the squad.
The season opened with seven successive victories and signs looked good that Mossley may regain the title but an ominous first defeat came at Bangor City who looked like they too could be 'in with a shout'.
Once more exempted in the FA Cup and after winning 1-0 at Northern League side South Bank, Mossley made the short trip to Stockport County in the first round proper. Defensive mistakes proved vital though and after conceding two early goals Mossley finally went down 3-1 in front of a gate of 4,216.
Long serving star striker Leo Skeete had however been expressing discontent and he was finally transferred to Runcorn for a £3,500 fee in December. His long time strike partner Dave Moore was next to go when he retired from semi-pro football making his last appearance in March 82.
In the FA Trophy Mossley were drawn away to Kettering Town for the second successive season and again defied the odds with a superb 1-0 victory. The 2nd round saw a trip to London to face Isthmian League side Woking and following a goalless first game Mossley hammered them 5-0 in the midweek replay. The 3rd round saw another away draw this time at old rivals Altrincham and despite looking the better side the Lilywhites went out to two dubious penalties.
The new strike force of Tibor Szabo, Faz Page and Billy Hughes were far from ineffective though and with Phil Derbyshire blossoming with every game the Lilywhites were still a force to be reckoned with.
Mossley were hit by an injury to full back John Harrop who fell through a roof in his work as a fireman badly injuring his shoulder and effectively ending his Mossley career.
In the League Cup Mossley reached the Maine Road final with wins over Morecambe, King's Lynn and Workington, and faced Gainsborough Trinity in the final. A below par display though saw Mossley beaten 1-0 with a deflected goal.
Mossley finally lost the title to Bangor City but earned some consolation with by far the best performance of the season, a 6-1 thrashing of the champions elect. It was tough justice on Bob Murphy's lads though, after chasing a League and Cup double all season and having to settle for runners-up in both.
Leading scorers were Phil Derbyshire (16), Billy Hughes (15), Dave Moore (14) and Tibor Szabo (12) while outstanding goalkeeper Mike Sherlock was voted Player of the Year and was also selected for the England non-league squad.
At the season's close long serving defender Dave Vaughan moved to Burton Albion, Billy Hughes was surprisingly sold to Prestwich Heys for £750 and Kevin Deakin was released.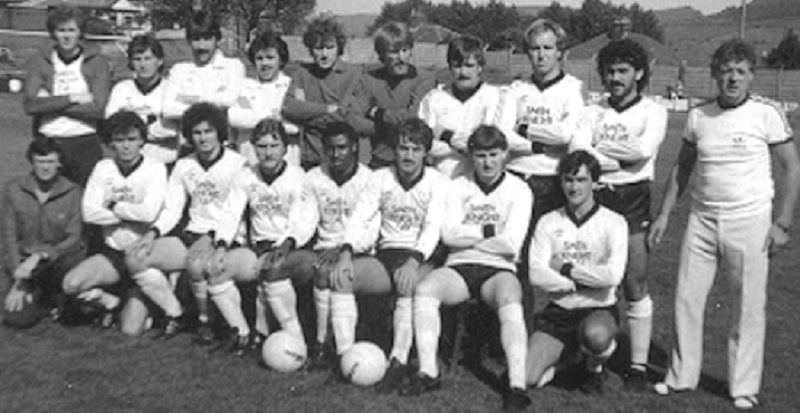 August 1982 Back: Peter Tilley, Dave Warrender, Andy Barton, Steve Bradley, Mike Sherlock, Vinny Garmory, Peter Duff, Benny Phillips, Bob Murphy (manager).
Front: Peter Ward (physio), Mal Wagstaffe, Tibor Szabo, Kevin Gorman, Faz Page, Phil Derbyshire, Jimmy O'Connor, Simon Gallagher.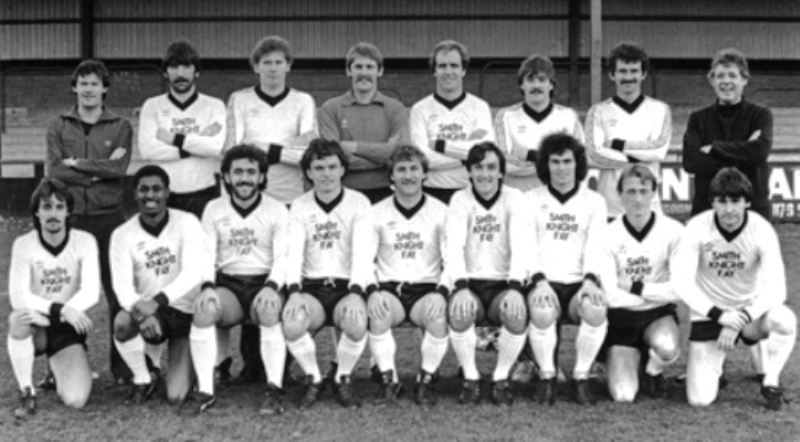 November 1982 Back: Peter Ward (physio), Wayne Roberts, Peter Tilley jr, Mike Sherlock, Peter Duff, Vinny Garmory, Jeff Tate, Bob Murphy (manager). Front: Phil Derbyshire, Faz Page, Benny Phillips, Mal Wagstaffe, Kevin Gorman, Simon Gallagher, Tibor Szabo, Dave Young, Jimmy O'Connor.
1982-83
Mossley were once more amongst the title favourites going into the 1982-83 season. But with a financial crisis looming all was not well behind the scenes.
Manager Bob Murphy made several new signings - centre half Wayne Roberts was signed from Workington, striker Mal Wagstaffe arrived from Marine for a small fee, full back Benny Phillips was snapped up from Stalybridge Celtic and midfielders Peter Tilley (Curzon Ashton) and Dave Warrender (ICI Blackley) were also signed.
Early season form was erratic though and thing's didn't start to turn around until the signings of Manchester University students Geoff Tate (ex Burnley & Morecambe) and Dave Young. October was an excellent month. Beginning with two draws the Lilywhites then hammered Worksop, Tamworth, Netherfield and Marine and then made progress in the FA Cup with a 1-0 win over South Bank for the second season on the trot. In the 1st Round proper Mossley were faced with a mouth-watering away game just over th'hill at Huddersfield Town. The Lilywhites watched by a crowd of over 7,000 outplayed their illustrious opponents for long spells, having two goals disallowed, before going down to a late 'controversial' goal.
After losing to Southport in early December Mossley were then beaten only twice throughout the remainder of the season with new arrival Martyn Gill (Frickley Athletic) playing a dominant role in midfield. Gill's form was a revelation and had he been with the club from the start of the season then maybe a third successive runners-up placing could have been improved upon. As it was, Gateshead had a great season and won the title by 16 points (the first season when 3 points were awarded for a win) which was directly attributable to a poor start to the season by the Lilywhites. Some solace was taken when Gateshead arrived at Seel Park for a League fixture with the title beckoning but Mossley were in great form and thrashed the champions elect 4-0.
In form Phil Derbyshire played and scored twice for the FA XI against Guernsey and was selected to play for the England semi-pro side against Italy, Holland and Scotland at Scarborough. He wanted Alliance football though and was transferred to Altrincham at the end of the season.
With financial pressures looming Mossley also lost the services of Peter Duff who retired, Mal Wagstaffe who returned to Marine and outstanding goalkeeper Mike Sherlock who returned to his former club Macclesfield Town. Long serving winger Vinny Garmory also left the club at the season's close.
Top scorers were Phil Derbyshire (18), Tibor Szabo (17) and Mal Wagstaffe (14). Benny Phillips was the popular choice of the supporters as Player of the Year.

1983-84
No-one could have expected the events of this dramatically disappointing season. After five years of unparalleled success the turnaround was dramatic in the extreme. There was a serious financial crisis behind the scenes. The seemingly bottomless pit of the club's formerly successful lottery had all but dried up. Much money had been spent on the team and ground improvements and the kitty was almost empty. But still the team looked to be useful again with a reasonable start to the season. New signings were - goalkeeper Stuart Hinchliffe (Orient), centre half Noel Bradley (Chester), midfielders Dave Brook (Southport), Micky Halliday and the re-signed Billy Hughes (Prestwich Heys) and striker Greg Brown (local football). Brook left after just two games, Bradley left after eleven, Hinchliffe was released after disappointing in his 22 appearances.
Then the financial 'shift hit the fan'. A 4-2 defeat at Southport on 3rd December saw the end of the 'golden era' when Bob Murphy resigned and players Benny Phillips, Kevin Gorman, Wayne Roberts and Martyn Gill all left the club. This came after the financial situation had seen new signings coming from local football with youngsters Mark Onley, Mark Hoolickin and goalkeeper Andy Gray being thrown in the deep end against Darlington in the FA Cup when the Lilywhites were hammered 5-0.
Mossley acted quickly to replace Murphy and brought in ex Mossley player Brian Grundy who had been in charge at Glossop, and he was forced to make instant signings, bringing in Brian Clegg, Gary Collins and Chris Conway from his former club along with Denzil Hart (Prestwich Heys), Jim Curran (ICL), Tony Keyes and Kevin Scarborough (Witton Albion) and goalkeeper Ian Senior (on loan from Altrincham) amongst others.
The results went from bad to worse, Mossley slipped lower and lower in the League with only one win in 22 games following Grundy's arrival which left Mossley facing the embarrassment of finishing bottom and having to apply for re-election.
Grundy gave the fans some hope with two wins at the end of the season which undoubtedly saved his job as the Lilywhites beat Rhyl 2-1 away and Witton Albion 2-0 at Seel Park.
At the end of the season Tibor Szabo moved to Gainsborough Trinity leaving only Jimmy O'Connor from the all conquering side of the previous five years. Szabo was leading scorer with 15 goals while the Player of the Year award was shared by Szabo and O'Connor.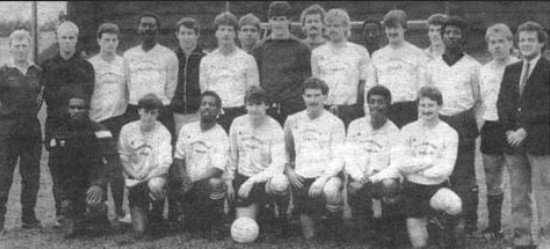 August 1984 Back: Bob Partridge (assistant manager), Roger Lewis, Mick Beckett, Chris Ricketts, Chris Conway, Craig Wardle, Tony Keyes, Mike Cammack, Steve Bridgewater, Brian Hart, Gus Wilson (trialist), Gordon Simpson, Bernie Green (trialist), Mike McLean (trialist), Brian Clegg, Brian Grundy (manager). Front: Mike Halliday, Brian Duffy (trialist), Kevin Scarborough, Jimmy O'Connor, Tim DeVault, Levi Edwards, Gary Riley
1984-85
After the horrors of the previous season the only way was up and hopes were high that despite manager Brian Grundy's failings last term, that the experience would serve him well and that the road to recovery was accessible. However it was to prove to be another controversial season.
Grundy made some impressive summer signings including defenders Craig Wardle (Macclesfield) and Brian Hart (Southport), midfielder Gary Riley (Hyde United) and Tim DeVault (Glossop) and striker Levi Edwards (Stockport County) along with extravagant goalkeeper Roger Lewis (Bolton ST). He constantly chopped and changed his side looking for the right blend biut results were poor again and he was dismissed following a 3-1 home reverse by Goole Town on 24th September after only one win in the opening 12 games. His replacement was a popular choice in ex Mossley and Hyde defender Tony Steenson. His reign was short lived though and after strengthening the side with the signings of midfielders Jimmy Golder and Kevin Glendon (Witton Albion) and strikers Chris Owen (Witton), Joe Connor (Hyde) and Gary Stewart (Irlam Town) and despite a slight improvement in form, Steenson was ingloriously sacked for a 'breach of club discipline' after less than a month in charge. Disappointed at not getting the job following Grundy's departure, long serving player Jimmy O'Connor was given his chance to restore some sort of order to what had been a complete shambles for around a year when he was appointed player-manager. O'Connor signed Joe Connor's older brother Jim following his return from playing in New Zealand, defender Micky Grech (Bolton ST) and appointed veteran defender Paul Webb (ex Alfreton Town, Rossendale & Chorley) as his assistant. Results levelled off and the Lilywhites finally finished in a far more respectable 15th position after only one defeat in the last eight matches. A run which included the best performances of the season - a 3-1 win at Hyde, a 4-0 Seel Park thrashing of South Liverpool and battling 1-0 wins over Bangor City and Marine.
Leading scorer was Joe Connor with just 9 goals while the eccentric Roger Lewis became the third Mossley keeper to win the supporters Player of the Year award following some outstanding displays. Mossley used an incredible 46 players during a season that saw three managers in charge. Now was a time for some much needed stability and in O'Connor, Lewis, Wardle, Riley, Golder, Glendon, Stewart and the Connor brothers there was much optimism for a better season next time out.

1985-86
Player-manager Jimmy O'Connor in his first season in charge had brought some much needed stability to the club after two troublesome seasons, and despite a financially limiting budget had built a team that could hold it's own in the NPL.
He made only four summer signings - promising striker Martin Forry arrived from Manchester Leaguers Highfield United, midfielder Peter Beaumont was signed from Radcliffe Borough along with Gary Dunford and Dave McDougall (Rossendale United).
Some very enjoyable displays weren't always matched by positive results but O'Connor had created an entertaining side that enjoyed little runs in both the FA Cup and Trophy. In the Cup Mossley beat Rossendale and Burscough before going down 2-0 to a powerful Runcorn side which drew a 700+ gate, while in the Trophy wins over Arnold Town and Shildon preceded a goalless draw at Barrow and an unlucky 4-2 extra-time defeat in an exciting Seel Park replay.
In the League Cup Mossley beat Matlock Town 6-4 on aggregate in the first round before going down 2-1 in a replay at Witton Albion.
Mossley also entered the Lancashire Floodlit League, the highlight of which was 4-0 and 4-1 wins over Hyde United and Stalybridge Celtic respecively, and missed out on a place in the semi-finals by only one point.
In the League Mossley were holding onto mid-table respectability thanks to a settled side that had been improved with the additions of winger Martin Farnworth (Accrington Stanley) and experienced ex Bradford City and Wigan full back Dave Fretwell (Northwich Vics). Former Stoke City and Southend United goalkeeper Phil Pritchard also had a spell at Seel Park on loan from Stafford Rangers. As did Tibor Szabo who returned for a five game loan spell which saw him net two goals.
Finishing in a respectable 12th position in the League, Gary Stewart was an impressive leading scorer with 26 goals followed by Martin Forry (16), Gary Riley (13) and Jim Connor with an excellent 11 from centre half.
Jim Connor was also a very popular winner of the supporters Player of the Year award. At the season's close Mossley were disappointed to lose the services of star marksman Stewart to Northwich Vics and he was the only departure.
O'Connor had his critics but his loyalty to his players was unfailing and he had earned their respect as both manager and player. Now in the twilight of a superb semi pro career which had begun at Mossley as a winger in 1972 now saw him playing as well as ever but now as a sweeper.

1986-87
Player-manager Jimmy O'Connor made only three signings for the new season. Goalkeeper Gary Pierce returned to the club fifteen years after leaving for a successful Football League career with Huddersfield Town, Wolves, Barnsley and Blackpool and midfielders Steve Curley from Hyde United and Geoff Gay was signed from Macclesfield Town.
Gay and Kevin Glendon both left the club in October by which time the Lilywhites had made an average start in the League and had exited the FA Cup to Eastwood Town after two replays. In the FA Trophy wins over Stalybridge Celtic, Congleton Town and Hyde United saw the Lilywhites take on mighty Kidderminster Harriers and earn an excellent goalless draw before losing unluckily 1-0 in the replay at Seel Park. In the League Cup Mossley beat Goole Town on aggregate before going out in a replay at Macclesfield. Experienced striker Paul Fisher was signed from Burton Albion along with full back Steve Mahon from Highfield United, while Dave Fretwell left the club and the area due to work commitments.
Generally results were disappointing and it was no real surprise when O'Connor and assistant Paul Webb resigned after a defeat at Marine in February, this followed three days after an inglorious exit from the Manchester Premier Cup at Irlam Town.
Mossley were quick to appoint a successor in former Chester manager John Sainty who had recently been in charge at Glossop.
Sainty released Pierce and Fisher recalled keeper Roger Lewis and signed ex Stockport County striker Mike Power from Northwich Vics, ex Chester midfielder Andy 'Ged' Elliott and defenders John Eaton and Steve Hibbert (Glossop).
Results showed some improvement and wins over Witton Albion 4-1, Burton Albion 2-0 and Morecambe 2-1 were highly exciting and the side finished in 10th position in the League.
Martin Forry was the top scorer with 21 goals followed by Steve Curley 16, Joe Connor 15 and Gary Riley 12 while Jim Connor won the Player of the Year award for the second successive season.



August 1987 Back: Dave Martin, Gary Riley, Gary Dunford, Andy Elliott, Steve Mahon. Middle: Steve Hibbert, Mike Power, Jim Connor, Roger Lewis, Steve Crompton, Martin Forry, Craig Wardle, Sean Moloney. Front: Joe Murty, Micky Halliday, Peter Beaumont, Rick Blackwell, Joe Connor, John Milne, Walter Nisbett.

1987-88
Manager John Sainty prepared for the 87-88 season with several new signings; highly rated Manchester League player Dave Martin was signed from Coldhurst United, midfield dynamo Walter Nisbett arrived from Barrow along with Sean Moloney (Glossop) and Darren Sheridan (Huddersfield Town) and later Joe Murty (Curzon Ashton) and Neil Mills (Stockport County).
Mossley also ran a reserve side for the first time in many years and entered the North West Reserve League and despite the fact that the reserve side actually folded by March, it was in the reserves that the discovery of the season was made. A young striker named Jim McCluskie hammered four goals on his debut against Barrow Reserves and earned an instant first team call up. The rest, as they say, is history!
Unfortunately Sainty's side won only two of their first seventeen matches and following a 3-0 FA Trophy exit at Alfreton Town he was axed.
His replacement was a puzzling one as former Oldham, Rochdale and Hyde centre half Keith Hicks was appointed without any previous managerial experience. He didn't exactly endear himself to the Mossley fans when he exchanged popular players Joe Connor and Walter Nisbett for Graham Bell and Tony Valentine from Hyde. Hicks also signed defender Brian Marriott (Oldham) and forward Darren Scott (Castleton Gabriels).
The saving grace was McCluskie and he proved to be a prolific scorer netting 23 goals in 31 appearances also winninmg the Player of the Year award.
Behind the scenes the financially destitute club gave itself away to businessmen Les Lawlor and Steve Fisher with promises of large investment. Unfortunately one of the first things they did was apply for planning permission to build houses on Seel Park. In the mean-time though they did put money into the team and an increased wage bill was promised for the following season. They had however inherited Keith Hicks and his days were numbered even though his side had reached the semi finals of the Lancashire Floodlit League.
Whatever was to happen had to be better than recent seasons, and it was, for while at least!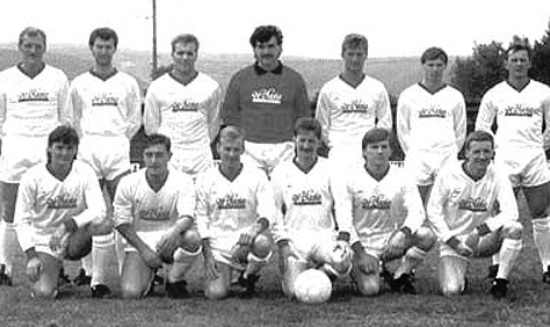 August 1988 Back: Keith Hicks (player-manager), Andrew Watson, Jim McCluskie, Ian Rowbottom, Darren Scott, Paul Buckley, Barry Diamond.
Front: Simon Holden, Dave Martin, Nick Stanley, Gary Riley, Peter Beaumont, Graham Bell.

August 1988 Back: Steve Perry (physio), Keith Hicks (manager), Kevin Lamb, Andrew Watson, Ian Rowbottom, Steve Kilroy, Jim McCluskie, Darren Scott, Barry Diamond, Paul Buckley.
Front: Simon Holden, Brian Marriott, Dave Martin, Graham Hurst, Peter Allen, Gary Riley, Tony Valentine, Peter Beaumont, Nick Stanley, Gary Williamson, Graham Bell (assistant manager).
1988-89
Keith Hicks reign as Mossley manager lasted just six games into the new season despite an increased wage bill and several new signings. He had brought in goalkeeper Ian Rowbottom (Droylsden), defenders Nick Stanley (Oldham Town) and Andrew Watson (Exeter City), winger Paul Buckley (Springhead) and experienced striker Barry Diamond (Colne Dynamoes). Hicks' assistant Graham Bell was given temporary charge but by the time an appointment was made Mossley were firmly rooted to the bottom of the League.
The new boss was former Burscough, South Liverpool and Southport boss Bryan Griffiths assisted by ex Everton and Coventry City star Dave Jones (now manager of Wolverahmpton Wanderers). Griffiths effect was swift and radical. He released Peter Beaumont, Diamond and Darren Scott and made a plethora of Merseyside based signings. Joe Kelly (Bootle), Joe Rice (Poulton Vics), Guy Norcott (Marine), Andy Doyle (Southport), Alan McDermott (Burscough), Archie Lloyd (Knowlsley United) and Tony Quinn (Southport) all joined the ranks along with Paul Griffin (Chorley) and results improved enormously. Five straight wins in November lifted Mossley away from trouble in the League but it was in cup competitions that his side shone.
In the League Cup Mossley received a lucky break from which they didn't look back. Having lost 1-0 at Barrow in the first round the Lilywhites found themselves re-instated after Barrow had fielded an ineligible player. Wins over Marine and Southport followed before an epic semi-final against Frickley Athletic that Mossley finally won 5-3 on aggregate. In the final Mossley faced Fleetwood Town at Maine Road and deservedly won 2-1 thanks to great goals by Jim McCluskie and Andy Doyle in front of over 2,000 fans.
In the Manchester Premier Cup, wins over Oldham Town and Maine Road (on penalties) saw Mossley through to the final and two rare Brian Marriott goals helped to earn a 3-1 win over Flixton at Brantingham Road.
A memorable cup treble was achieved in the re-instated Reporter Cup where the Lilywhites beat Ashton United 3-0 in the final at Seel Park in a one sided game.
At the end of the season, that had seen the Lilywhites climb to 10th place in the League, Rowbottom, Bell, Buckley, Rice, Griffin and Norcott all left the club.
Jim McCluskie was top scorer with 32 goals and was voted Player of the Year for the second season running. Dave Martin scored 15 and Tony Quinn netted 10.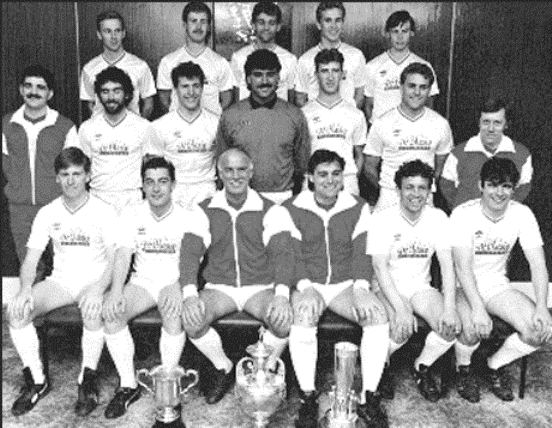 May 1989 Back: Nick Stanley, Tony Valentine, Archie Lloyd, Paul Griffin, Paul Buckley. Middle: Steve Perry (physio), Tony Quinn, Guy Norcott, Ian Rowbottom, Steve Hibbert, Jim McCluskie, Charlie Isaacs (kit manager). Front: Brian Marriott, Dave Martin, Bryan Griffiths (manager), Dave Jones (assistant manager), Joe Kelly, Andy Doyle.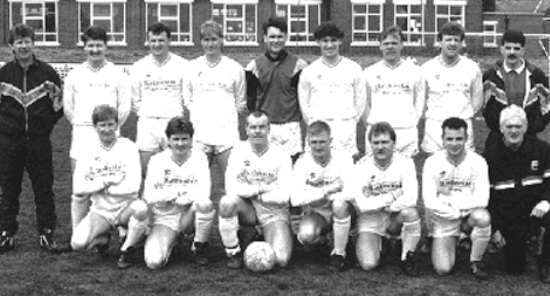 April 1990 Back: Mike Hilton (assistant manager), Steve Edwards, Ian Lloyd, Mike Lester, Darren Williams, Brendan Burke, Dave Lees, Mark Hilton (manager), Steve Perry (physio).
Front: Steve Wood, Mick Carr, Paul Bowler, Wayne Joynes, Kevin Gorman, Tony Jackson, Ronnie Fox (trainer)

1989-90
The season started with a high. Mossley won 2-1 at reigning champions Barrow to win the NPL Challenge Shield for the first time after four previous failures.
New signings - goalkeepers Phil Jackson (Rhyl) and Ian Haigh (Southport) were joined by ex Oldham & Bury centre half Mark Hilton, midfielders Kenny Saunders (Marine) and Joe Gibiliru (St.Helens Town), winger Steve Wood (Chadderton) and full back Ian Lloyd (Chorley).
League form was promising and the side had a good run in the FA Cup beating South Liverpool, Accrington Stanley and Curzon Ashton before losing in a replay at Bishop Auckland, but there was turmoil behind the scenes once more. Club owners Messrs Lawler & Fisher were trying to sell the club. They succeeded, eventually, and made a healthy profit into the bargain. They finally indirectly sold Seel Park to Tameside Council for an inflated price after it had been made clear that there was no way planning permission would ever be granted on Seel Park and as a parting shot they sold star striker Jim McCluskie to Hyde United for an £8,000 fee that the Club never saw.
With the financial backers gone the wage bill was cut in half and Griffiths and Dave Jones resigned on 2nd December. Joe Kelly, Andy Doyle, Saunders, Tony Quinn, Haigh, Gibiliru and Alan McDermott and later signing Paul Tomlinson all left with them.
Senior player Mark Hilton was appointed player manager and he brought in his brother Mike as his assistant. Recent signing Paul Bowler (Chadderton) was seen as the replacement for McCluskie and the Hilton's had to make several hurried signings. Kevin Gorman returned to the club as did, the by now veteran, Kevan Keelan and they were joined by Wayne Joynes (Chadderton), Dave Lees (Curzon Ashton), Mike Lester (Chorley), Brendan Burke & Tony Jackson (Oldham Town), Carl Gleave (Ashton United), Martin Hall (Avro), Steve Edwards (Bangor City) and goalkeeper Darren Williams (Irlam Town) were amongst many players used before the season's close.
In the end Mossley finished in 18th position. McCluskie was again top scorer with 22 goals, his replacement Bowler netted 14 and Dave Martin netted 11. But the financial position was dire indeed and there were questions as to whether the Club would survive into the 90's. In the end of course they did, but, by the skin of their teeth!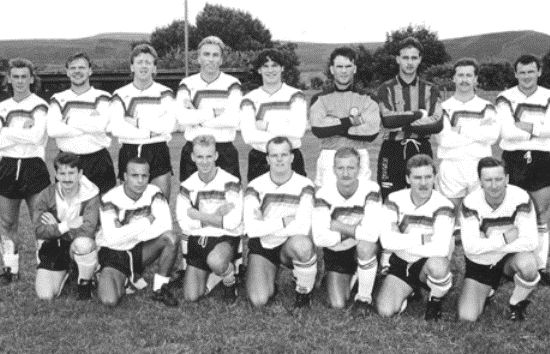 August 1990 Back: Geoff Jones, Dave Lees, Mark Hilton (player-manager) Steve Bentley, Brendan Burke, Darren Williams, Scott Healey, Tony Hilton, Ian Lloyd. Front: Gary Riley, Terry Stubbs, Nick Stanley, Paul Bowler, Wayne Joynes, Kevin Gorman, Steve Wood.

1990-91
After taking stock of the players available in the closed season the Hilton brothers set about assembling their team. In strikers Brendan Burke and Paul Bowler they had a potentially lethal striking partnership. Nick Stanley, Ian Lloyd, Wayne Joynes, Dave Lees, Kevin Gorman, Steve Wood and Dave Martin were all retained from the previous season and they were joined by goalkeeper Scott Healey and centre half Steve Bentley (Colne Dynamos), Geoff Jones (Chamber Colliery), Terry Stubbs (ICI Blackley) and the re-signed Paul Griffin (Hyde United) and later winger Darren Lyons from Leek Town for a £500 fee.
Results were unfortunately poor and the club were in 19th position when the Hilton brothers were dismissed following a 3-1 home defeat by Atherstone United in the FA Trophy on 20th October, a game which also saw the Mossley debut of Jimmy Birch (Droylsden).
Former Droylsden boss John Cooke was appointed as Hilton's successor after popular choice Kevin Gorman had turned down the job due to work commitments. Cooke released Lees, Bentley and Jones and re-signed Benny Phillips (Rossendale United), signed striker Neil Greenwood (BICC), midfielder Harvey Cunningham (Ashton United), defenders Andy Savage (Everton) and Steve Haydock (Blackpool Rovers), Gary Dooner (Runcorn) and goalkeeper Martin White (Accrington Stanley). With later arrivals being Paul Hardman (Rossendale) and Richard Owusu (local football)
A successful spell followed with Cooke developing an excellent team spirit which lifted Mossley up the League before he stunned everyone by his sudden resignation at the end of March 91.
His successor was an even greater surprise with former Hyde, Stalybridge and Witton boss Les Sutton appointed manager. Cooke had earlier led his team to the final of the Manchester Premier Cup but it was Sutton who held the reins at Maine Road as Mossley took on Droylsden in the final and won 3-2 with goals from Cunningham-2 and Bowler.
It was to be Mossley's last trophy as a Northern Premier League club!
Mossley finished in 15th position in the League with Paul Bowler netting 15 goals, Brendan Burke 12, and Harvey Cunningham 10. Bowler was also voted Player of the Year.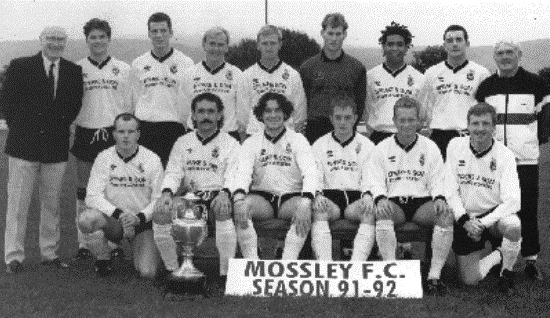 August 1991 Back: Les Sutton (manager), Martin Platt, Andy Savage, Peter Barnes, Wayne Joynes, Martin White, Harvey Cunningham, Paul Hardman, Ronnie Fox (physio). Front: Paul Bowler, Benny Phillips, Brendan Burke, Gary Parker, Chris O'Brien, Graham Bell
1991-92
Manager Les Sutton made several signings for the new season bringing in full back Chris O'Brien (Hyde United), former England International winger Peter Barnes and midfielder Graham Bell (re-signed from Hyde United). However, after an excellent opening day 4-1 win over Fleetwood, form dipped and after going out of the FA Trophy to Alfreton Town and a 6-0 defeat at Winsford in the FA Cup changes were made. Barnes, O'Brien, Benny Phillips and Martin Platt all left the club and former manager Keith Hicks returned as a player along with defenders Chris Molloy (Altrincham) and Dave Ringland (East Manchester) and a 2-1 win at Shepshed followed. Sutton was unable to keep a regular side and more departures and arrivals followed.
Before December Martin White, Paul Hardman, Wayne Joynes and Richard Owusu had all left Seel Park while goalkeeper Andy Newell arrived from Accrington along with John Mercer (Hyde United), Colin Small (Stalybridge Celtic), Bryn Dinsdale (East Manchester), Jason Hasford (Manchester City) and Kojo Taylor (Winsford United) . Controversial goalkeeper Andy Gorton (ex Oldham) also had a short exuberant spell but in general results were abysmal and the side was fighting against relegation by the time Sutton was relieved of his duties following a 5-0 thrashing at neighbours Stalybridge on 18th January.
Former East Manchester manager Ged Coyne was appointed as his successor and yet more changes were made to the playing staff. In fact only three players - Paul Bowler, Brendan Burke and Peter Sivori ended the season that had begun it. Coyne signed the experienced John Imrie (Runcorn) and Russ Hooton (Witton), winger Colin Heywood (Sheffield United), central defender Robert Price (Oldham), midfielder Dave Blow (Radcliffe Boro), Chris Duffy (Crewe), Jon Waring (Runcorn) and Darren Lenton (Northwich Vics).
In the end Mossley avoided relegation, scrambling up to 16th position. Brendan Burke was leading goalscorer with 17 goals followed by Paul Bowler on 14 while goalkeeper Andy Newell won the Player of the Year award despite not signing until November.
The season had ended with a 2-1 win at Bishop Auckland and a 3-0 home win over Droylsden and this gave much hope for the following season. However, more rebuilding had to be done, as Star strikers Burke (Witton) and Bowler (Chadderton for £1,000) left the club.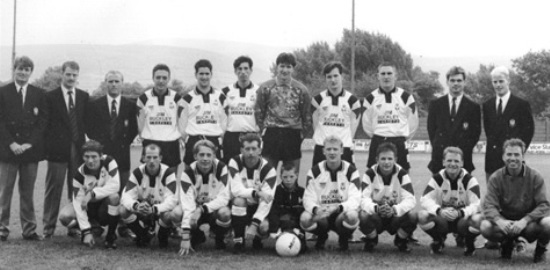 August 1992 Back: Ged Coyne (manager), Lee Butterworth, Dave Blow, Paul Whitty, Paul Herring, Jon Waring, Andy Newell, Robert Price, Greg Challender, Colin Small, Mark Butterworth.
Front: Matt Holt, Sean Pickering, John Butterworth, John Imrie, ? (mascot), Chris Molloy,
Colin Heywood, Russ Hooton, Tommy Martin (assistant manager).
1992-93
Manager Ged Coyne made only four new signings for the 92-93 season with Greg Challender (Horwich), Matthew Holt and John Butterworth (Blackburn Rovers), Sean Pickering (Abbey Hey) and Paul Whiity (local football) arriving but Mossley got off to a poor start. Early defeats by Marine, Winsford & Hyde were followed by five games undefeated. But a 2-1 defeat by unknowns Pelsall Villa in the FA Cup rang the alarm bells and form was eratic thereafter, despite the arrival of goalkeeper Rod Bates from Leek Town. It was still a surprise when following a 2-2 draw at Accrington in late October Coyne resigned.
Mossley Chairman Roger Finn acted quickly to replace him and appointed former Football League star Terry Curran, in a move than can only be described as disastrous. Any good work Coyne had achieved was quickly undone by Curran and eight straight defeats followed, several of which were truly embarrassing. The damage had been done, Mossley were bottom of the League and Curran was dismissed after little over a month in charge. During his spell in charge Russ Hooton, Colin Heywood, John Imrie, Holt, Pickering, Andy Kenton, Colin Small all left the club, and of the 16 players that he signed only Mark Aston (Castleton Gabriels) finished the season.
Who could Mossley call on in such a dire emergency? Answer - Bob Murphy! For his third spell as manager. Mossley's most successful ever manager returned to attempt to save a ship that in all honesty had already sunk. It was an uphill struggle all the way. Murphy had to sign half a team with only Rob Price, Greg Challender, John Butterworth, Darren Lenton and Dave Blow still with the club that started the season. Murphy quickly drafted in defender Colin Julian (Alfreton Town), veteran striker Graham Hoyland (Gainsborough) and on loan striker Stacy Reed (Matlock Town). Hoyland and Reed were an instant hit, both scoring on a regular basis, but too many goals were being conceded and by the time Murphy won his first match, a 5-0 win over Whitley Bay at the end of January Mossley had lost an amazing 16 consecutive games. Financial limitations meant that Murphy couldn't sign the players he would have liked and after just two wins in the last thirteen games Mossley found themselves second bottom of the table and relegated for the first time in their history on 24th April following a 5-0 home defeat by Accrington Stanley. Strangely enough 13 years after their last title win!
Stacy Reed was top scorer with 10 goals but was then recalled by Matlock, followed by Hoyland on 9 while Greg Challender won the Player of the Year award before being sold to Preston North End for a £9,000 fee.
Murphy retired from management at the end of the season and Mossley prepared to face life in the 1st Division for the first time with a new manager and yet another rebuilt team.

1993-94
Chairman Roger Finn continued his record of dodgy managerial appointments by charging former Oldham & Rochdale striker Steve Taylor with the job of leading Mossley back to the Premier Division, but with no managerial experience Taylor quickly found himself out of his depth and following a 7-1 thrashing at Bamber Bridge on 5th October he quietly resigned after 13 games in charge and only one win. He had signed Mickey Boyle (Ashton United), Simon Mooney (Radcliffe Boro), Mal Leigh (Stockport), Paul Herring (Hyde United), Dave Galloway (Leek Town), brothers Dave and Richard Brown (Bacup Borough), Livvy Leacock (North Trafford) and re-signed Barry Diamond (Rossendale) and Colin Heywood (Buxton) but all to no avail. In that time Mossley exited the FA Cup 4-2 at Lincoln United and the FA Trophy 3-2 at Dudley Town and had suffered an embarrassing 6-1 home defeat by Guiseley. The only win being a 3-1 Seel Park victory over Goole Town.
Next in line for what was now literally a 'hot-seat' was ex Ashton United boss Dave Denby but he lasted only around a month before himself resigning. Denby's legacy being the signings of Steve Caswell and Phil Hulme from his former club. It was unfortunate that Denby had resigned as his side had shown definite signs of improvement with the defence keeping several clean-sheets without being too convincing in attack.
Mossley's third manager of the season was appointed in November. Former long serving Mossley player Gary Riley, who had been assistant to Denby, was given one of the hardest jobs in non-league football - that of Mossley manager. He didn't do amazingly well, but he did help to avoid relegation, just!
Riley signed Matty Taylor (Dukinfield Town), Andy Baines (Curzon Ashton), Kevin O'Connell (Ashton United), Steve Hutchinson and Jason Astley (Witton Albion) and re-signed Graham Hoyland (Buxton) and Wayne Roberts (Chadderton).
Mossley finally finished in 17th position having used an amazing 50 players. Top scorer was Phil Hulme with just 7 goals followed by Colin Heywood on 6. Goalkeeper Rod Bates was voted Supporters Player of the Year.
Riley himself resigned at the end of the season, apparently due to work commitments, as did Chairman Roger Finn, although he resurfaced on the board at Trafford.

1994-95
Former Scarborough centre half Richard Dawson was a surprise appointment to the by now legendary Mossley 'hot-seat' but he fared no better than a few, and much worse than most, of his recent predecessors. A shocking 9-2 defeat at Worksop in only the second game of the season was a sign of things to come. After eight League games Mossley had just one point and were out of the FA Cup, FA Trophy and NPL Cup. Dawson had signed a host of Yorkshire based players but in honesty none of them were good enough and it was no surprise when he departed following a 1-0 home defeat by Radcliffe Borough.
Ex Caernarfon Town boss Roy Soule was given the job of lifting Mossley off the bottom and once he had rid himself of the Yorkshiremen, retaining only Rod Bates, Mickey Boyle, Phil Hulme, Dave Blow and Tony Jarvis, things started to gradually improve. He brought in Warren Jones, Dave Ashton and Simon Heaton (Caernarfon), Mark Walsh and Mark Aitken (Hyde United), Darren Davies and Steve Orrell (Glossop), Paul Uttley (Chadderton) and re-signed Wayne Joynes (Oldham Town).
A good run through December and January saw Mossley out of the relegation places for the first time with wins over Ashton United 2-0 away, Goole Town 3-1, Atherton LR 3-2 away and Workington 2-1 away. Unfortunately for Soule the goals dried up and recently appointed Chairman Frank Whelan had his own ideas and used the excuse to sack Soule following an unlucky last minute defeat at Radcliffe Borough. The players were up in arms and revolted with only three players turning up for the next match at Caernarfon which was unavoidably postponed costing Mossley a one point deduction. Whelan appointed former Altrincham & England semi pro star Paul Cuddy but he had the unenviable task of rebuilding the team as Boyle, Hulme, Blow, Jones, Davies, Joynes, Orrell, Heaton and Ashton had all walked out on the club.
The next home game saw eight players make their debuts, among them Cuddy, Neil McKay, Paul Hanvey, Danny Kent, Lee Cunliffe and Keith Johnson and amazingly Mossley won 3-1 against Farsley Celtic. This initial impetus couldn't be maintained however, and only three more wins were achieved before the season's close, and it was on the day of the return game, a 3-1 defeat at Farsley on 25th April that Mossley were relegated from the NPL (UniBond League).
After 23 years in the the North's top non-league, two titles, three runners-ups, one Wembley appearance and countless other trophies it was all over. Mossley would have to face the following season playing in the North West Counties League and faced with the incredibly difficult task of climbing back out of a League that promotes only one club.
Top scorer was Tony Jarvis with just 9 goals while goalkeeper Rod Bates won the Supporters Player of the Year award for the second time.