Mugged!!!
Mossley 0 Ossett Albion 1


UniBond League Division One

Monday 30th August 2004 - 3.00 pm @ Seel Park, Mossley

Referee P C Walker

Attendance 286





18°C - wind W/SW 10mph
Mossley
1. Lee Bracey (7)
2. Matty Taylor (7)
3. Steve Sheil (cptn) (6)
4. Gavinlee Ellison (4)
5. Paul Taylor (7)
6. Carl Rezai (5)
7. Jordan Goodeve (6)
8. Tony Coyne (8*)
9. Mario Daniel (4)
10. Rhodri Giggs (6)
11. Chris Downey (6)
12. Leon Mike (7) (for Daniel 45 mins)
14. Josh Howard (7) (for Ellison 45 mins)
15. Adam Morning (5) (for Downey 61 mins)

Ossett Albion
1. Carney
2. Riordan
3. G.Dodd Y
4. Ingall
5. Wordsworth
6. Stack
7. Downes
8. Fretwell
9. Norbury
10. Toronczak
11. Duffty
12. Dickenson
14. Hazelden
15. D.Dodd

Mossley manager Jason Beckford mysteriously left key players out of the starting line up against Northern Counties East League champions Ossett Albion and inevitably paid the price for a terrible first half performance. To say Mossley were off the pace in the opening 45 minutes would be an understatement as the visitors were allowed time and room to expose Mossley with a string of through balls played particularly down the channels where Ellison and Sheil found themselves exposed by the pace and strength of Toronczak and the silky skills of diminutive winger Downes. The visitors attacked at will from the off with clearance after clearance merely finding an Ossett player waiting to knock the next ball upfield. Fortunately for Mossley Ossett failed to carve any real openings and never really tested Bracey. However, it was no great surprise when the Yorkshiremen opened the scoring just a minute before the break when experienced centre forward Mick Norbury was allowed a free header from 10 yards that looped into the top corner. Mossley's reply was immediate and with their first flowing move of the match Carney made a fine save to keep out Goodeve's 25 yard piledriver that was bound for the top corner.
The glaringly obvious frailties in the Mossley side were dealt with at half time and Ellison and Daniel were replaced by Mike and Howard and Mossley were transformed back into the team that Mossley fans expect, as wave after wave of Lilywhite attacks put the visitors now massed defence under much pressure. The final ball into the box was then the problem and was very poor on this occasion. Ossett removed both their central strikers and clung on desperately with a 10 man defence to earn the 1-0 win that their first half display merited. For Mossley, it was a defeat from which they will hopefully learn much from.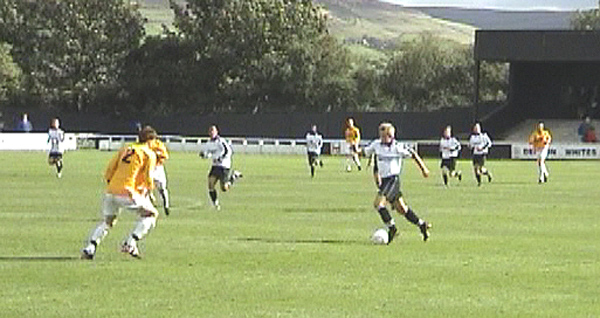 Chris Downey takes on the Ossett Albion defence
pic courtesy of www.mossleymania.co.uk
Mossleyweb Man of the Match: Tony Coyne...100% involved!
Mossleyweb Verdict: Hopefully a lesson learned!