Browny is villain then hero!
Mossley 2 Bridlington Town 2
FA Challenge Trophy 1st Round
Saturday 6th November 2004 - 3.00 pm
@ Seel Park, Mossley
Referee K W Haycock
Attendance 240


7°C - wind W/NW 12mph
Mossley
1. Ashley Timms (8)
2. Tony Coyne (7)
3. John Hore (8*)
4. Steve Sheil (8)
5. Dave Brown (cptn) (7)
6. Jordan Goodeve (6)
7. Leyton Slack (7)
8. Shaun Dootson (7) Y
9. Rhodri Giggs (7)
10. Chris Downey (7)
11. Adam Morning (7)
12. Mario Daniel (7) (for Coyne 80 mins)
14. Phil Melville (not used)
15. -
16. -
17. -

Bridlington Town
1. Baxter
2. Giblin
3. Robinson
4. Tomlinson
5. Harper (cptn)
6. Heath
7. Cooper
8. Thacker
9. Fell
10. Burdick
11. Ingram
12. Fisher
14. Baker
15. Lewis
16. Kelly
17. Suddaby
Mossley went into their return to the FA Trophy with only 13 fit and available players against UniBond Premier side Bridlington Town.
The Lilywhites injury ravaged side struggled to find their form in the early stages as Bridlington tested Mossley's debutant keeper Ashley Timms with a string of high balls into the box which the former Manchester City shot stopper dealt with admirably.
Timms long range distribution by both hand and foot became a feature as Mossley finally settled into the flow and started to get behind the visitors defence. Adam Morning and Leyton Slack both enjoying some success down the flanks, but chances for either side were limited as the rain soaked pitch started to take it's toll.
After a goalless first half Mossley began to exert some pressure after the break and were finally rewarded in the 57th minutes when Bridlington failed to clear John Hore's cross from deep on the left and the ball broke to Chris Downey who confidently netted his 13th goal of the season from the edge of the box.
Bridlington appeared to be there for the taking and never looked like scoring until the referee took a hand in the 66th minute. A sky-high up and under into the six yard box by Burdick saw two Bridlington forwards climb all over Timms and visitors captain Lee Harper forced the ball over the line for a hotly contested goal that looked more like something Nat Lofthouse might have got away with in the 1950's.
Bridlington's Martin Thacker then received a straight red card for a two footed lunge at Tony Coyne. Then, in the 78th minute Mossley's agony was doubled when Mossley skipper Dave Brown inexplicably drove a 25 yard back pass over Timms while under pressure from Fell to give the visitors an unexpected and thoroughly undeserved lead!
Mossley piled forward and substitute Mario Daniel looked a certain scorer before ending up on his backside five yards out and hopes of a positive result were fading.
In the very last minute of the game Adam Morning crossed from the left, the ball broke to Dave Brown at the far post and as he turned past the last defender he appeared to be running out of pitch at the by-line when Mossley's villain turned hero somehow squeezed the ball past Baxter's inside post and over the line from a seemingly impossible angle and Mossley live to fight another day.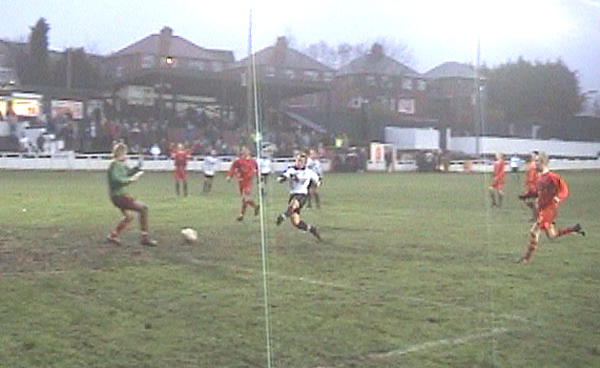 Chris Downey gives Mossley the lead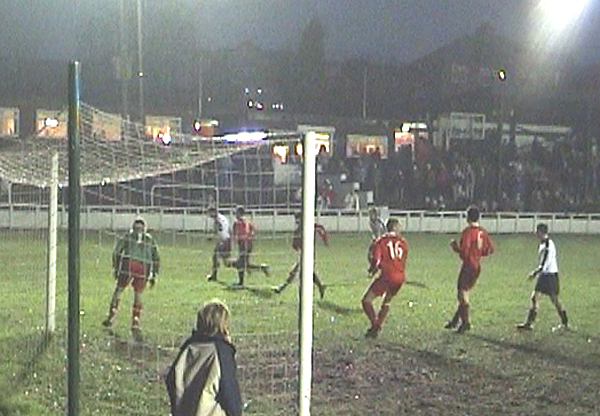 Dave Brown turns past the last defender before firing home the last minute equaliser
pics courtesy of www.mossleymania.co.uk
Mossleyweb Man of the Match: John Hore...a class act when others flailed in the mud!
Mossleyweb Verdict: Relief!