Poor show at Chorley!
Chorley 1 Mossley 0


UniBond League Division One

Tuesday 12th October 2004 - 7.45 pm

@ Victory Park, Chorley

Referee H.Yamauchi

Attendance 237





9°C - wind S/SE 9mph

Chorley
1. Gillies
2. Fogarty
3. Carville
4. Callaghan
5. Smith
6. Price
7. Jones
8. Vermiglio
9. Horrocks
10. Eatough
11. Hutchinson
12. Queeley
14. Howarth
15. Wells


Mossley
1. Lee Bracey (7) Y
2. Carl Rezai (8)
3. Steve Sheil (6)
4. Paul Murphy (7) Y
5. Danny Meadowcroft (8)
6. Dave Brown (cptn) (5)
7. Matty Taylor (7)
8. Shaun Dootson (7)
9. Leon Mike (5)
10. Chris Downey (6)
11. Jordan Goodeve (6)
12. Adam Morning (7) (for Mike 45 mins)
14. Tony Coyne (7) (for Brown 62 mins)
15. Rhodri Giggs (6) (for Murphy 69 mins)

Mossley gave a very poor performance against a limited but extremely hard working Chorley side at Victory Park on Tuesday night.
The game began at a high tempo with both sides looking to move the ball around at speed but with the final ball letting both sides down. A trend that was to continue all night.
Chorley grabbed the only goal of the game in the 14th minute. Mossley lost possession in midfield, Jones broke down the right and played a great ball in to Horrocks who was pulled down by Bracey as he attempted to go round him on the outside, earning Chorley a penalty and Bracey a yellow card. Jamie Vermiglio fired home the spot kick.
Chorley's long ball game and very quick closing down made it impossible for Mossley to find any room as an attacking force while the defence trying to push up were constantly turned around by balls down the channels.
Leon Mike, returning after injury, was heavily shackled and didn't appear after the break, while Chris Downey's contribution was not to his usual high standard and Goodeve and Matty Taylor got little service from a static midfield.
Mossley's best chance of a frustrating first half fell to Paul Murphy, who's header from a corner was cleared off the line with Gillies well beaten.
The second half so very little improvement as Chorley continued to frustrate the visitors and pass after pass went astray. Mossley created nothing until the final few minutes when Tony Coyne fired wide when well placed and then in the dying seconds Adam Morning curled a shot that skimnmed the bar.
It was a performance Mossley will need to quickly put behind them if they are to make further progress in the FA Cup on Saturday!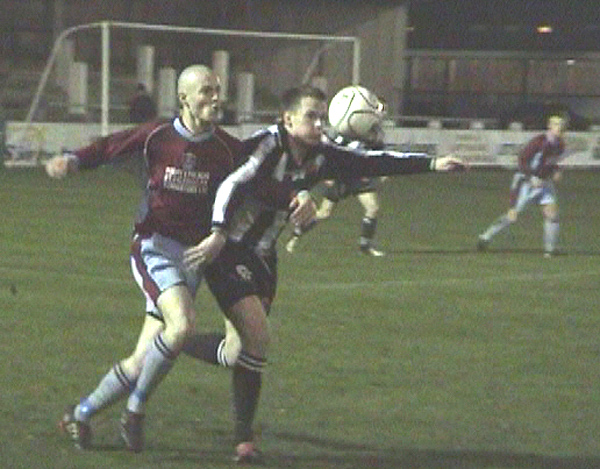 Adam Morning challenges for the ball!
pic courtesy of www.mossleymania.co.uk
Mossleyweb Man of the Match: Danny Meadowcroft...one of very few who played well on the night!
Mossleyweb Verdict: Well below the required standard!