Mossley thrash old rivals . . . again!
Clitheroe 2 Mossley 4


UniBond League Division One

Easter Monday 28th March 2005 - 3.00 pm

@ Shawbridge, Clitheroe

Referee C.Bainbridge

Attendance 337





15°C - wind W 4mph

Clitheroe
1. Woodhead
2. Curwen
3. Todhunter
4. Parr
5. Reynolds (cptn)
6. Jones
7. Whittingham
8. Stansfield Y
9. Cryer
10. Jackson
11. Sargeson
12. Gardner
14. Nestor
15. Walsh


Mossley
1. Ian Willcock (7)
2. Andy Thackeray (6)
3. Steve Sheil (7)
4. Paul Challinor (cptn) (7)
5. Danny Meadowcroft (7)
6. Melford Knight (7) Y
7. Rhodri Giggs (8)
8. Josh Howard (8)
9. Leon Mike (8)
10. Chris Downey (9*)
11. Adam Morning (8) Y
12. Matty Taylor (6) (for Knight 74 mins)
14. Jordan Goodeve (not used)
15. Gavin Salmon (6) Y (for Mike 70 mins)


Mossley again proved to be too strong for last season's NWCL champions with an emphatic 4-2 victory that was far more one sided than the result suggests.
After a shaky opening Mossley took the lead with their very first attack in the 8th minute Mossley. Clitheroe keeper Woodhead turned Leon Mike's goal-bound effort away for a corner. Adam Morning and Josh Howard worked a short corner on the left and the latter's low near post cross was turned in by Chris Downey.
Clitheroe were struggling to cope with Mossley's superior skill and drive and the only real surprise was that it took the Lilywhites a further eight minutes to double their lead. Melford Knight, Morning and Downey opened the home defence again and Josh Howard found himself in acres of space and was able to pick his spot with a crisp volley.
Leon Mike was then the victim of a bobble when he looked a certain scorer and his effort bounced back to safety off the bar.
On 31 minutes, after being totally outplayed Clitheroe somehow managed to find a foothold in the game when a defensive lapse allowed Gary Jackson too much room and he found the bottom corner from 15 yards.
Mossley stepped up a gear again and regained the two goal cushion five minutes later. Steve Sheil's long throw from the left was dummied by Leon Mike and Rhodri Giggs had time and pace to bury his shot past the helpless Woodhead.
The second half began with Mossley's foot off the pedal and paid the price for their new found lack of ambition when a long through ball pierced the Mossley back line and a terrible bounce outside the box left Willcock flailing and Gary Jackson was able to roll the ball into an empty net despite Danny Meadowcroft's best efforts to keep the ball from crossing the line.
Mossley could at that stage have pressed the panic buttons but instead set about the home side with renewed vigour and forced a number of corners that saw Woodhead flapping hands and the home defence desperately clearing their lines.
The inevitable match clinching goal came in the 70th minute. The rampaging Adam Morning whipped in yet another dangerous cross, Downey blocked the keeper and Rhodri Giggs had the simplest of tasks to place the ball into the empty half of the net.
Substitute Gavin Salmon had two good chances to add to Mossley's tally late in the game, first when played in by Downey's great through ball but he pulled his shot just wide of the far post and Salmon then blazed over the bar from the edge of the box after fellow sub Matty Taylor had set him up.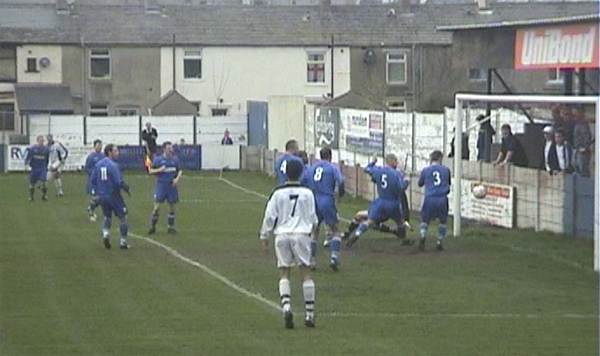 Chris Downey (hidden behind Clitheroe's no 5 Reynolds) turns home the opening goal.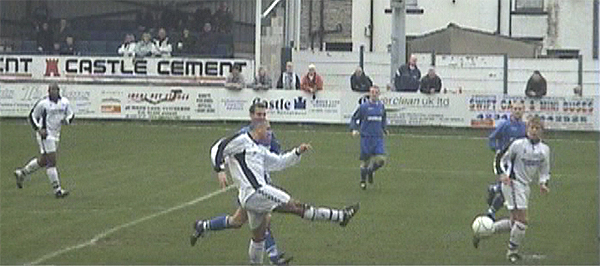 Josh Howard volleys home the second goal

Rhodri Giggs fires home the 3rd goal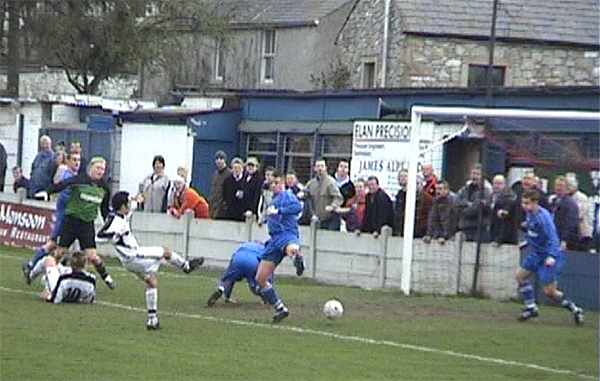 Rhodri Giggs completes the scoring
pics courtesy of www.mossleymania.co.uk

Mossleyweb Man of the Match: Chris Downey . . . a goal and back to his best!
Mossleyweb Verdict: We always enjoy beating Clitheroe