Cup of woe!
Hinckley United 6 Mossley 1
FA Cup 3rd Qualifying Round
Saturday 16th October 2004 - 3.00 pm
@ Middlefield Lane, Hinckley
Referee S.G.Cooke
Attendance 507


12°C - wind NW 8mph
Hinckley United
1. Whittle
2. Cartwright
3. Lenton
4. Lavery
5. Willis
6. Stone
7. Storer (cptn)
8. McMahon
9. Lewis
10. Barnes
11. Dyer
12. Lamey
14. Burns
15. Jackson
16. Smith
17. Pitham

Mossley
1. Lee Bracey (5)
2. Carl Rezai (5)
3. Steve Sheil (5)
4. Dave Brown (cptn) (-)
5. Paul Taylor (5)
6. Danny Meadowcroft (7*)
7. Rhodri Giggs (7)
8. Shaun Dootson (6)
9. Leon Mike (7)
10. Josh Howard (-)
11. Jordan Goodeve (6)
12. Adam Morning (not used)
14. Tony Coyne (7) (for Howard 11 mins)
15. Mario Daniel (6) (for Mike 80 mins)
15. Chris Downey (7) (for Brown 26 mins)
16. Phil Melville (not used)


Mossley crashed out of the FA Cup at Conference North high flyers Hinckley United with a disastrous first half display that saw the Lilywhites four goals down and out of the competition within 30 minutes.
Mossley went into the game without the injured Matty Taylor and John Hore and went with a 4-3-3 formation with leading scorer Chris Downey surprisingly relegated to the bench.
The game couldn't have started worse for Mossley when straight from the kick off Montserrat International Wayne Dyer weaved a path through a static Mossley defence and his mis-hit shot was turned home by Matt Lewis with under 10 seconds on the clock. Mossley then struggled to get the ball as Hinckley carved openings at will and it was no surprise when Richard Lavery headed Hinckley two goals to the good in only the 10th minute. Mossley's large support stared in disbelief as the Lilywhites capitulated completely in what looked like a match between Arsenal and Rochdale, such was the gulf in class and desire.
Josh Howard left the field with a dislocated shoulder in trying to prevent Lavery getting in his scoring header and Tony Coyne replaced him.
Former Conference 'golden boot' winner Paul Barnes made it 3-0 in the 22nd minute as Mossley's shell-shocked defence crumbled again and when Matt Lewis scored his second on the half hour, this minutes after the totally ineffective Dave Brown had been replaced by Chris Downey.
Mossley barely kept the ball for two passes in a half that was possibly the worst I have ever seen Mossley perform in my 38 years supporting the club.
Mossley fans were dreading a double figure hiding but reverting to 4-4-2 after the break saw Mossley finally come into the game and amazingly when Leon Mike reduced the arrears with a well taken goal it was deserved as Mossley looked nothing like the side that had been battered out of sight in the first half. Rhodri Giggs then somehow struck an effort off both posts, Paul Taylor hit the woodwork with a powerful header and Chris Downey saw his chance skim the outside of the post as Mossley looked for five minutes like they might stage a remarkable comeback. It was not to be though and when man of the match Wayne Dyer headed home to make it 5-1 on 73 minutes any feint hopes of a Mossley revival were gone. Neil Cartwright scored with a great curling shot six minutes from time and left Mossley to lick their wounds and hopefully recover in time for Tuesday's League game against Rossendale.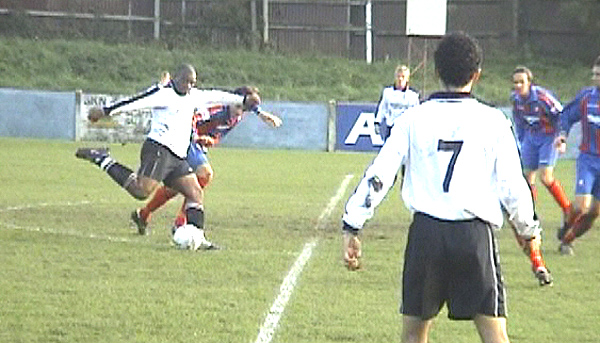 Leon Mike rattles home Mossley's consolation goal!
pic courtesy of www.mossleymania.co.uk
Mossleyweb Man of the Match: Danny Meadowcroft...took over the captains armband and played with pride!
Mossleyweb Verdict: First half from hell proved costly!