Mossley dig deep!
Mossley 1 Kendal Town 1


UniBond League Division One

Tuesday 14th November 2004 - 7.45 pm

@ Seel Park, Mossley

Referee J.Waring

Attendance

176





7°C - wind SW 19mph
Mossley
1. Phil Melville (8)
2. Matty Taylor (8)
3. Steve Sheil (cptn) (8)
4. Paul Challinor (9*)
5. Danny Meadowcroft (8)
6. Tony Coyne (7)
7. Jordan Goodeve (7)
8. Shaun Dootson (7)
9. Anthony Johnson (7)
10. Chris Downey (7)
11. Adam Morning (7)
12. Leyton Slack (not used)
14. Mario Daniel (7) (for Johnson 55 mins)
15. Paul Armstrong (-) (for Coyne 80 mins)

Kendal Town
1. Thornley
2. Rigby
3. McMenemy
4. Whital-Williams
5. Taylor
6. Mercer
7. Smith
8. Jack
9. Foster
10. Mayers (cptn)
11. Ashcroft
12. Barrow
14. Clitheroe
15. Woodruffe

Highly fancied Kendal Town arrived at Seel Park expecting to take three points against an injury plagued Mossley side that has been in freefall for several weeks. It wasn't pretty, but, the Lilywhites to their credit put in a strong backs to the wall challenge that was well worth the point they took from a keenly contested end-to-end game.
Kendal opened well and tried to force the pace of the game and after surviving an early flurry that saw new signing Paul Challinor and the returning from injury Danny Meadowcroft commanding at the back. Mossley finally responded to Kendal's early pressure with Goodeve and Morning proving a handful for the visitors defence and fellow new boy Anthony Johnson chasing down everything.
The game flowed from end to end as an unfamiliar Mossley line up started to come to terms with itself and showed a much more 'up and at them' approach than for some weeks.
Melville made a fantastic block to prevent Jack opening the scoring for Kendal with the visitors best opportunity of the first half and it was Mossley who finally broke the deadlock in the 35th minute.
Goodeve won a corner on the right, Adam Morning's pin point corner kick found Steve Sheil who crashed through a crowded box to score at the far post.
In form Kendal were now on the back foot as Mossley dominated up to the break but were unable to find what would have probably been a killer second goal.
Now facing a strong headwind Mossley struggled to find cohesion after the break and weren't aided by Johnson injuring a shoulder on 55 minutes. Mario Daniel was a lively replacement and gave Kendal a new set of problems to worry about as Thornley made a flying save to keep out Goodeve's piledriver free kick and Matty Taylor was unlucky when his cross shot fizzed accross the face of goal.
With the wind increasing in strength Mossley were finding it difficult to make headway as the game wore on and Kendal were taking regular pot shots from distance but had troubled Melville very little. That was until snatching an equaliser ten minutes from time. Dootson appeared to be fouled as he challenged for the ball and when it broke to Lee Ashcroft the experienced striker fired an unstoppable 25 yarder into the top corner.
Kendal finished in the ascendancy but were unable to make anything more of their wind assisted territorial advantage and Mossley remained a threat on the break to the final whistle.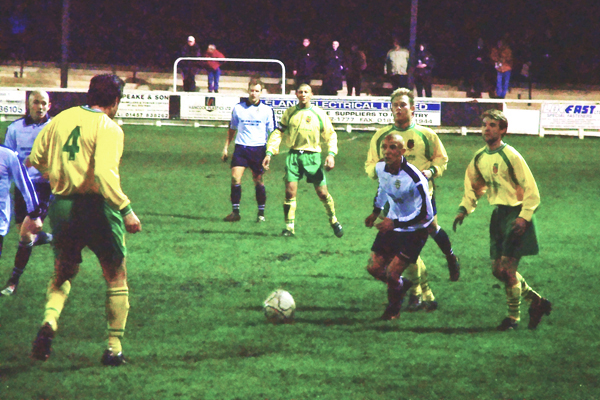 New signing Anthony Johnson takes on the Kendal defence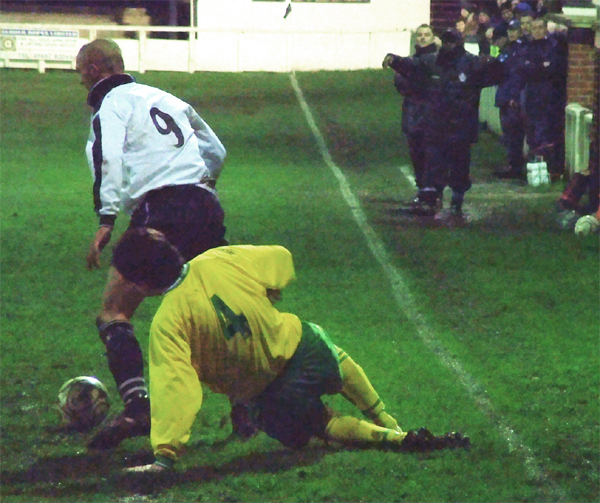 ...and leaves Dene Whittal-Williams in his wake
Chris Downey dummies the ball past Kendal's keeper for Steve Sheil's (out of picture) goal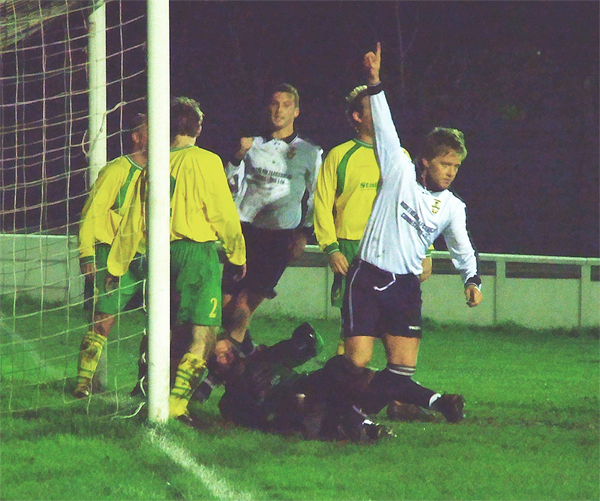 Chris Downey and Danny Meadowcroft celebrate the goal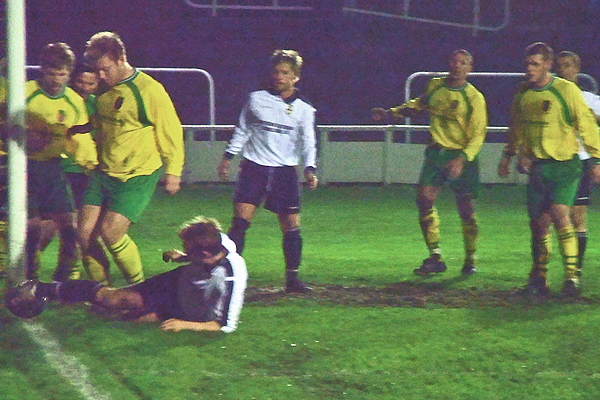 Debutant Paul Challinor is denied by a massed Kendal defence
pics courtesy of John Mortimer
Mossleyweb Man of the Match: Paul Challinor...outstanding at the back on his debut!
Mossleyweb Verdict: A massive improvement and something to build on!