Mossley see off strugglers!
Rocester 0 Mossley 4
UniBond League Division One
Saturday 2nd April 2005 - 3.00 pm
@ The Hillsfield, Rocester
Referee D.P.Morrison
Attendance 126





18°C - wind S 15mph
Rocester
1. Richards
2. McCarron
3. AllenY
4. Carter
5. Watson (cptn)
6. Bushell
7. Bourne Y
8. Carson
9. Barnes
10. BestwickY
11. Walker
12. Ridley
14. Oakley
15. Sowter


Mossley
1. Ian Willcock (7)
2. Jordan Goodeve (7)
3. Andy Thackeray (cptn) (7)
4. Steve Sheil (7)
5. Danny Meadowcroft (7) Y
6. Shaun Dootson (6)
7. Rhodri Giggs (6) Y
8. Josh Howard (8)
9. Leon Mike (7)
10. Chris Downey (7)
11. Adam Morning (8*)
12. Melford Knight (not used)
14. Gavin Salmon (6) (for Mike 69 mins)
15. Mario Daniel (7) (for Giggs 66 mins)

Mossley made hard work of seeing off relegated Rocester in sunny Staffordshire on Saturday but four goals in a 15 minute spell early in the second half saw off the spirited but limited challenge of the home side who have infamously failed to win any of their 37 League fixtures thus far.
Rocester's attempts at one touch football were easily stifled by Mossley who looked capable of running up a big score from early on but as chance after chance went begging against a desperate home defence it started to look like it might be 'one of those days' . Leon Mike in particular could have had a first half hat-trick but for the intervention of the post and some desperate defending, though at the other end Rocester's Carson brought a great save out of Ian Willcock in a rare home raid
The second half saw Mossley take complete control. The floodgates opened in the 52nd minute. Mossley won a left wing corner and Adam Morning's cross was headed bravely home by Jordan Goodeve amongst flailing legs at the near post.
The second goal arrived eight minutes later. Andy Thackeray crossed from the left, Leon Mike controlled the ball with his back to goal, turned and forced his way past a couple of desperate tackles and crashed the ball into the top corner.
Goal number three came just 3 minutes later when Morning's right wing corner was headed home by Steve Sheil.
The fourth and final goal in the 67th minute was the best of the bunch. Mike controlled the ball in midfield, fed Morning on the left who in turn slipped the ball between full back and central defender to Chris Downey who thundered a terrific 20 yard shot into the top corner.
Mossley eased off the gas and Rocester almost scored from a corner but Willcock made another superb save to deny Bourne.
Mario Daniel and Gavin Salmon replaced Rhodri Giggs and Leon Mike and the Mossley subs were involved in a peculiar moment in the 81st minute. Daniel raced past a couple of defenders in the box only to be brought down for a penalty. A ridiculous debate then ensued between Downey, Daniel, Salmon and captain Andy Thackeray as to who should take the penalty. Salmon finally won the vote, and after crashing home several spot kicks in the half time warm ups fired the one that mattered over the bar.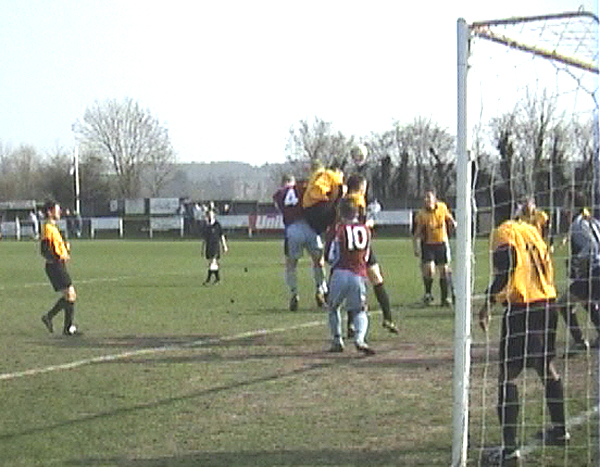 Jordan Goodeve (hidden) heads Mossley's opener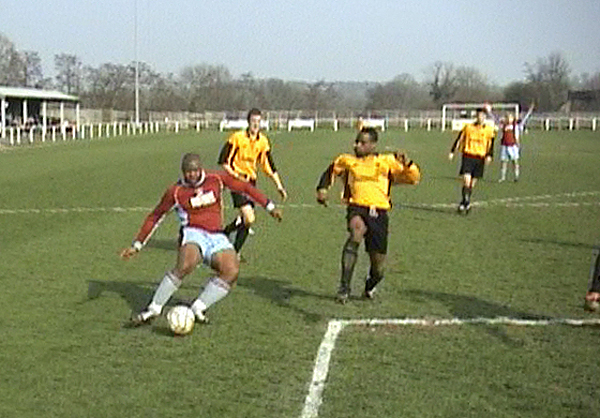 Leon Mike crashes home number 2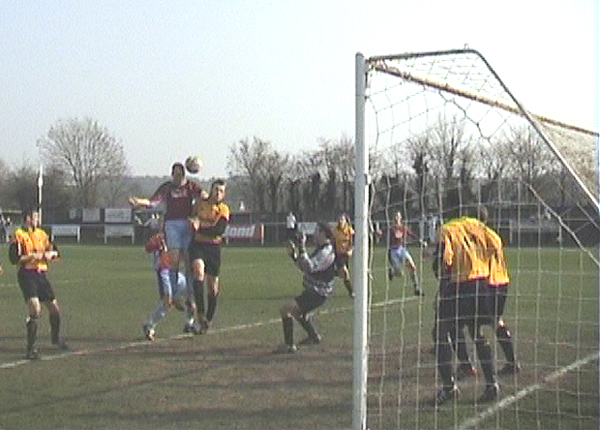 Steve Sheil heads Mossley's third goal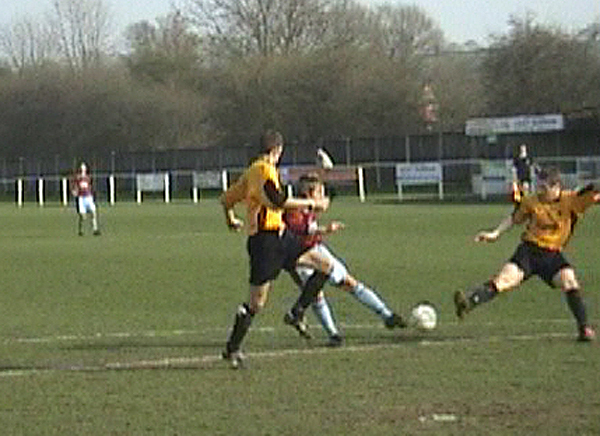 Chris Downey blasts home number four
pics courtesy of www.mossleymania.co.uk
Mossleyweb Man of the Match: Adam Morning...terrorised his markers all day
Mossleyweb Verdict: Almost too easy!