Own goal is enough!
Mossley 1 Trafford 0
Manchester FA Premier Cup 1st Round
Tuesday 26th October 2004 - 7.45 pm
@ Seel Park, Mossley
Referee G.Ogden
Attendance 185


7°C - wind SE 5mph
Mossley
1. Matthew Taylor (7)
2. Matty Taylor (7)
3. John Hore (8)
4. Dave Brown (cptn) (8)
5. Danny Meadowcroft (8)
6. Paul Murphy (7) Y
7. Rhodri Giggs (6)
8. Shaun Dootson (7) Y
9. Leon Mike (6)
10. Chris Downey (6)
11. Jordan Goodeve (8)
12. Adam Morning (8) (for Mike 43 mins)
14. Steve Sheil (-) (for Giggs 86 mins)
15. Tony Coyne (-) (for Dootson 83 mins)

Trafford
1. Cummins
2. Woodford
3. Cross
4. Bulwich
5. Southwood
6. Dickinson
7. Fitton
8. Ogden
9. Carratt
10. Porter
11. Fielding
12. Nelson
14. Lundy
15. F.Vaughan

Mossley's currently wafer thin squad was barely put to the test by North West Counties Leaguers Trafford in Tuesday night's Manchester Premier Cup tie at Seel Park with the Lilywhites winning through by the only goal of a game that never really got going!
There was more discussion about inconsistent refereeing than about the game at half time after a thoroughly boring first half. Fitton's fierce cross shot accross Matthew Taylor's goal being the closest Trafford came throughout a 90 minutes that saw Mossley's defence totally in control. At the other end Mossley themselves were a little shot shy with Trafford keeper Cummins barely troubled.
After the break with Leon Mike having limped out of the action and Jordan Goodeve moved to a central role Mossley became more threatening and both Goodeve and Downey had efforts charged down before Mossley finally broke the deadlock in somewhat fortuitous circumstances on 60 minutes.
Rhodri Giggs was on the end of substitute Adam Morning's left wing cross to the far post but Giggs shot was going well wide when the unfortunate Lee Southwood turned the ball into his own net from five yards while attempting to clear.
Mossley finally stepped up a gear and Goodeve brought a flying save from Cummins who did well to turn away the impressive ex Macclesfield teenager's rasping drive.
Trafford forced some late pressure but teenage keeper Taylor wasn't tested with Brown and Meadowcroft mopping up confidently at the back and Mossley strolled through to a quarter final home tie against Radcliffe Borough!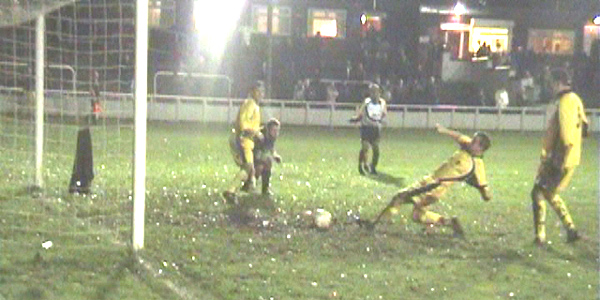 Trafford defender Lee Southwood turns the ball into his own net for Mossley's winning goal
Mossleyweb Man of the Match: Jordan Goodeve...outstanding workrate!
Mossleyweb Verdict: Comfortable!