Mario hat-trick is not enough!
Warrington Town 4 Mossley 3


UniBond League Presidents Cup 1st Round

Saturday 18th December 2004 - 3.00 pm

@ Cantilever Park, Warrington

Referee J.Higgins

Attendance

115







7°C - wind W 8mph
Warrington Town
1. Flood
2. Dyson
3. Smith
4. Nestor
5. Webster (cptn) Y
6. Clarke
7. Tickle
8. Latham
9. Heverin
10. G.Mitchell
11. Bermingham
12. Canning
14. Reilly
15. Tague


Mossley
1. Phil Melville (7)
2. Matty Taylor (8)
3. Steve Sheil (cptn) (6)
4. Paul Challinor (6)
5. Danny Meadowcroft (6)
6. Tony Coyne (7)
7. Paul Armstrong (7)
8. Jordan Goodeve (7)
9. Mario Daniel (9*)
10. Rhodri Giggs (7)
11. Adam Morning (5) R
12. Anthony Johnson (for Armstrong 68 mins)
14. Leon Mike (not used)
15. Shaun Dootson (for Sheil 52 mins) Y

When things are going against you sometimes it feels like an infection and so it seemed at Warrington today in the first round of the Presidents Cup. The day started with a near full strength squad to select from. By lunchtime it was apparent that Chris Downey would be absent through illness and new signing Barrie Hart's registration wasn't confirmed in time.
Shaun Dootson was involved in a thankfully minor car crash on his way to the game and his arrival was delayed until near half time, by five minutes into the second half Mossley had lost the entire left wing with Steve Sheil leaving the field injured and Adam Morning ridiculously sent off for an insignificant and trivial offence and finally Mario Daniel, without a goal since the season's opening day, scored a hat-trick and still finished on the losing side.
The game itself began well for Mossley and the Lilywhites aquited themselves well on what was a quagmire of a pitch. The Cantilever Park surface was in poor condition at kick off and by early in the game had turned from mostly grass and sand to a dark brown colour more suited to the much maligned sport of mud wrestling.
Mario Daniel and Rhodri Giggs movement up front caused Warrington's central defence much consternation while Adam Morning and Paul Armstrong were doing well on the wings. The defence looked secure and Warrington were limited to hopeful long range shots throughout the half. Mossley went close when Armstrong had an effort cleared off the line and then the same player headed narrowly over. Mossley then took the lead on 16 minutes. Matty Taylor's through ball was missed completely by Warrington centre half Webster and keeper Flood leaving the chasing Mario Daniel the easiest task of rolling the ball into an empty net. Rhodri Giggs had a 20 yard drive tipped onto the bar by Flood and Jordan Goodeve shot narrowly wide as Mossley finished the half in control.
The second half started badly however, when Graeme Mitchell scored with a tap in after the Mossley defence were momentarily static. Worse was to follow for Mossley as Sheil left the field injured and then Morning was dismissed for swearing at no-one in particular and Mossley were suddenly down to ten men and on the back foot for the first time in the game with Tony Coyne and Rhodri Giggs as the new left side pairing. Even worse was to follow as Paul Latham put Warrington ahead on 62 minutes with a fine 25 yard drive and four minutes later the same player scored a well worked second.
Mossley didn't give up the ghost though and Mario Daniel reduced the arrears nine minutes from time when he drove home through a crowded box. But, as Mossley pushed forward in an attempt to force an equaliser Warrington broke away down the understrength right wing and Graeme Mitchell chipped Melville to give the home side a highly flattering 4-2 lead.
Mario Daniel then completed his unlikely hat-trick when Flood allowed his shot from 18 yards to slip under his body and give Mossley renewed hope, but, with only 4 minutes remaining.
In the very next attack Matty Taylor made a great mazy run down the right and his cross was perfect for Giggs to score but unfortunately Daniel came accross in front of him and headed wide from a more difficult position.
The game ended with the referee, who had been poor all afternoon, being surrounded by Mossley players and management at what felt like a great injustice!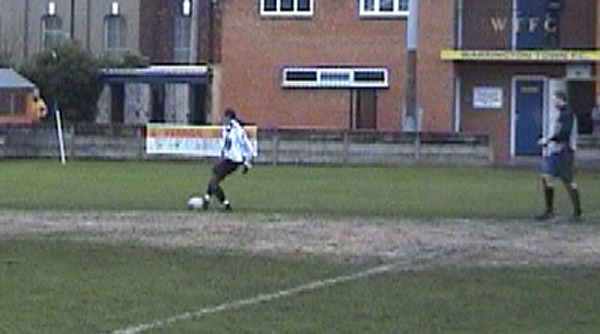 Mario Daniel rolls the ball into an empty net after Warrington keeper Flood missed the ball...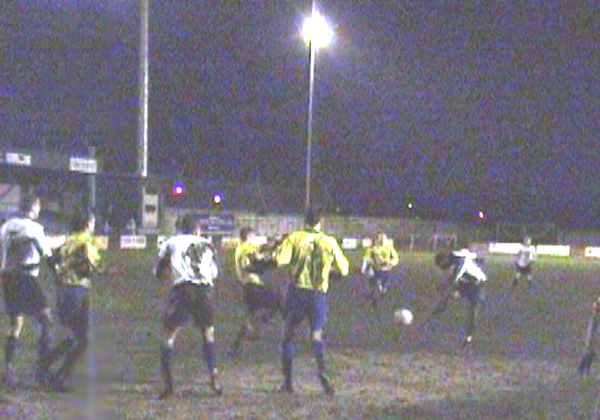 then rifles home his second...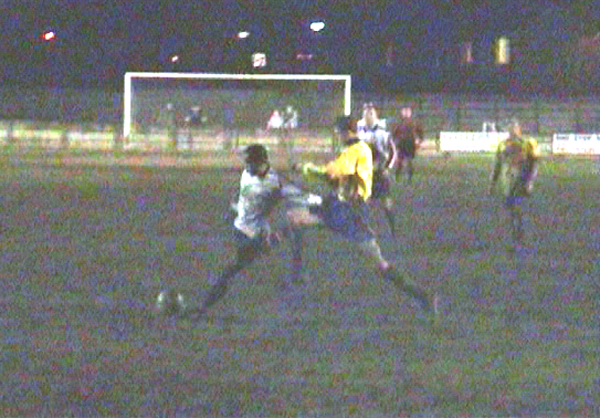 ...and completes his hat-trick
pics courtesy of www.mossleymania.co.uk
Mossleyweb Man of the Match: Mario Daniel...deserved his treble for all the hard work!
Mossleyweb Verdict: Poor refereeing changed the game!