Four goal first half salvo!
Mossley 4 Warrington Town 1
UniBond League Division One
Tuesday 5th April 2005 - 7.45 pm
@ Seel Park, Mossley
Referee J.Tyas
Attendance 169





6°C - wind S 15mph
Mossley
1. Ian Willcock (6)
2. Jordan Goodeve (7)
3. Andy Thackeray (cptn) (7)
4. Steve Sheil (8*)
5. Danny Meadowcroft (7)
6. Melford Knight (7)
7. Rhodri Giggs (7) Y
8. Josh Howard (7)
9. Leon Mike (7)
10. Chris Downey (7)
11. Adam Morning (7)
12. Shaun Dootson (6) (for Howard 45 mins)
14. Gavin Salmon (6) (for Mike 45 mins)
15. Mario Daniel (6) (for Thackeray 71 mins)


Warrington Town
1. Tyrer
2. Farrell Y
3. Smith
4. Molyneaux
5. Webster
6. Clarke
7. Tickle
8. Latham
9. Burton
10. G.Mitchell
11. P.Mitchell
12. Bird
14. Tague
15. Langley

Mossley gave a clinical first half attacking performance to take maximum points for the fourth successive game against their former NWCL rivals Warrington Town at Seel Park last night.
Warrington attacked from the off but Mossley scored with their very first attack in the 4th minute. Josh Howard's through ball was controlled and finished with aplomb by Leon Mike from the edge of the box.
Within five minutes Mossley had doubled their advantage. Melford Knight, Josh Howard and Mike combined in midfield to release Adam Morning who raced clear of the last line of defence and fired into the top corner for a rare goal from the livewire winger.
Warrington were restricted to long disance shots as Mossley easily controlled the game and an inevitable third goal arrived in the 28th minute but this time thanks to a defensive mistake. Warrington keeper Tyrer threw the ball to left back Smith who mis-controlled and Leon Mike was able to roll the ball into an empty net from 25 yards out on the wing.
The fourth goal came in the 41st minute. Adam Morning's free kick on the right was flicked over the head of the keeper from the edge of the box by Rhodri Giggs for a typically cheeky goal.
Mossley lost the inflential Mike and Howard at half time and lost their way thereafter as Warrington fought hard to salvage some pride from the game and they were rewarded just four minutes into the half when Phil Mitchell fired home what proved to be a mere consolation.
Mossley's best chances fell thereafter to substitute Gavin Salmon who first elected to pass to the marked Chris Downey when it looked easier to shoot and then he fired over after a speedy burst down the left but it was a generally poor second half performance that verged on the tedious. Fortunately for Mossley the damage had already been done in a one sided first half.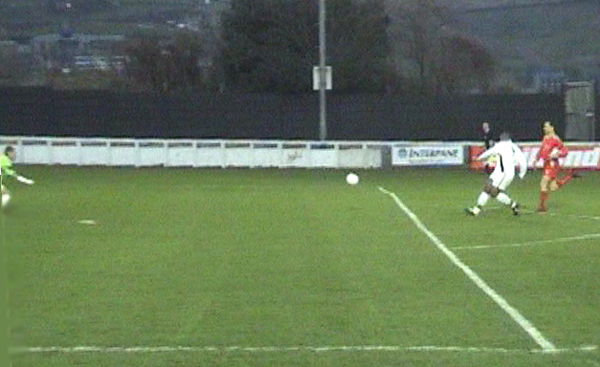 Leon Mike strokes home the opening goal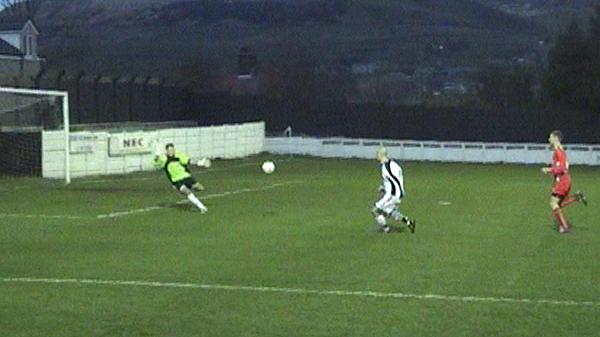 Adam Morning fires home the second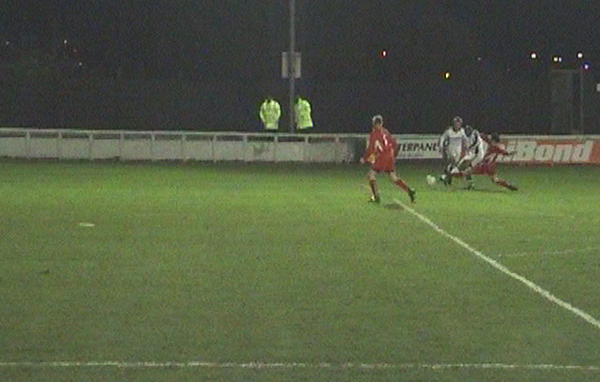 Leon Mike fires into an empty net for the third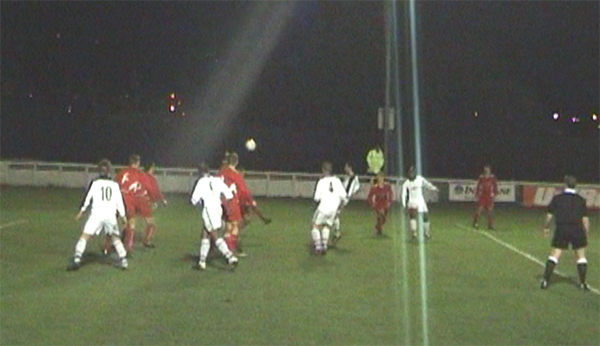 Rhodri Giggs flicks home the fourth goal
pics courtesy of www.mossleymania.co.uk
Mossleyweb Man of the Match: Steve Sheil...solid as a rock
Mossleyweb Verdict: All over by half time!