Mossley survive aerial assault!
Mossley 2 Willenhall Town 2
UniBond League Division One
Saturday 5th February 2005 - 3.00 pm
@ Seel Park, Mossley
Referee D.Mawson
Attendance 280





8°C - wind S 3mph
Mossley
1. Lee Barcey (8)
2. Matty Taylor (7)
3. Barrie Hart (8) Y
4. Paul Challinor (8)
5. Danny Meadowcroft (8)
6. Jordan Goodeve (7)
7. Rhodri Giggs (9*) Y
8. Shaun Dootson (7) Y
9. Leon Mike (7)
10. Chris Downey (8)
11. Adam Morning (6)
12. Mario Daniel (7) (for Morning 71 mins)
14. Gavin Salmon (not used)
15. Steve Sheil (for Taylor 75 mins)


Willenhall Town
1. Vaughan
2. Colwell
3. Whitcombe
4. Slater
5. Creighton
6. Thomas
7. Myers
8. Webb
9. Quilt
10. Hay
11. Field
12. McGhee
14. Smith
15. Rowe


Mossley came face to face with an aerial bombardment of extreme proportions as Willenhall Town came with the crudest tactics seen at Seel Park this season, including long ball teams like Ossett and Brigg.
Long ball after long ball dropped into Mossley's penalty area as Willenhall hoofed the ball upfield with total abandon while their front two of Quilt and Hay made a huge nuisance of themselves as the Lilywhites manfully fought off their greatest physical challenge to date. Willenhall keeper Nathan Vaughan, who hardly endeared himself to Mossley's fans in the game at Willenhall, was key to most Willenhall attacks as his huge kicks put Challinor and Meadowcroft under pressure.
Mossley had struck first though. Chris Downey escaping his marker and crossing for Leon Mike to score with a back header that looped over Vaughan from 10 yards. Mossley looked the more dangerous side for the next 20 minutes. Rhodri Giggs almost scored a second following a flowing move involving Mike and Downey but his effort hit the right hand post. Vaughan then did well to hold on to Barrie Hart's fierce free kick.
Willenhall's equaliser came in the 38th minute. A corner from the right was somehow squeezed home by Gary Hay as several Willenhall players converged on Bracey as the ball came across.
The second half saw WIllenhall take their aeriel bombardment to new extremes making it difficult for Mossley to get the ball down and play. The visitors took the lead following another right wing set piece as Mossley failed to clear their lines and Gary Hay scored his second as he drove through a crowded area in the 54th minute.
Lee Bracey made a fantastic save to deny Quilt's header but Mossley were still very much in the hunt as play switched from end to end at speed, becoming more stretched and deserved the equaliser in the 64th minute. Substitute Mario Daniel made a typically tricky run down the right leaving two attempted tacklers on the floor and fired in a dangerous cross that Vaughan couldn't hold and Chris Downey was first to react to score a poacher's goal! Downey was then blown off-side as he hit the net a second time although Daniel's cross appeared to have been pulled back.
The more notable thing about the 2nd half was the 23 fouls awarded. 20 of them in Willenhall's favour despite the fact that the visitors were by far the more physical side! The referee left the field a less than popular figure but in the end both sides would probably be fairly happy with a draw!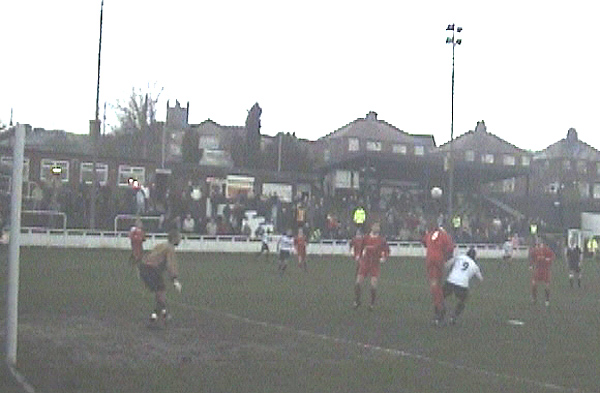 Leon Mike's back header gives Mossley the early lead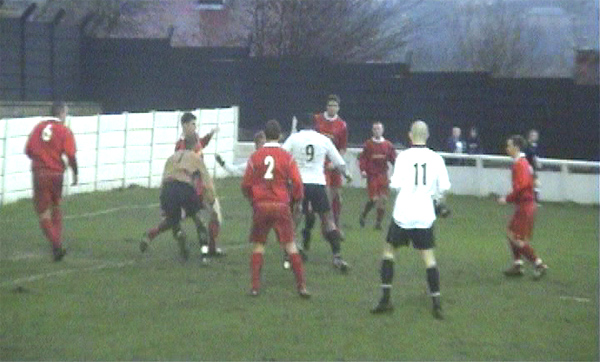 Chris Downey (partially hidden) volleys home the equaliser
Mossleyweb Man of the Match: Rhodri Giggs...another outstanding performance!
Mossleyweb Verdict: X rated!