Mossley slip to 12th!
Willenhall Town 1 Mossley 0


UniBond League Division One

Saturday 30th October 2004 - 3.00 pm

@ Noose Lane, Willenhall

Referee N. Day

Attendance 156





7°C - wind N 5mph

Willenhall Town
1. Vaughan
2. Webb
3. Whitcombe
4. Curran
5. Creighton
6. Slater
7. Myers
8. Colcombe
9. Hay
10. Edwards
11. Field
12. Jones
14. Colwell
15. McGee


Mossley
1. Phil Melville (8)
2. Matty Taylor (7)
3. Steve Sheil (7)
4. Dave Brown (cptn) (8)
5. Danny Meadowcroft (9*)
6. Tony Coyne (6)
7. Rhodri Giggs (6)
8. Shaun Dootson (7)
9. Leon Mike (6)
10. Jordan Goodeve (7)
11. John Hore (6)
12. Adam Morning (6) (for Hore 65 mins)
14. Chris Downey (6) (for Coyne 70 mins)
15. Leyton Slack (7) (for Taylor 81 mins)

A direct and spoiling Willenhall team edged Mossley out at Noose Lane this afternoon as last season's Midland Alliance runners up gained a 1-0 success to climb above Mossley in the table, and leave the Lilywhites languishing in a disappointing 12th position!
Willenhall's attempt to stifle Mossley with a barrage of long balls and zealous tackling worked to perfection for the home side as they dominated territorially in a first half where Mossley failed to get a grip of the game. Phil Melville, recalled for his first game of the season, made two smart saves in the first ten minutes to deny Hay and Edwards but was finally beaten by a lucky goal on 24 minutes.
Matty Taylor's tackle ricocheted into the path of Martin Myers who placed his shot just inside the right hand post and although Melville got a hand to it he couldn't keep it out. Mossley were reduced to half chances throughout as Willenhall's central defenders harassed Mike and Goodeve out of the game while Dootson and Coyne in midfield struggled to get the ball and Giggs and Hore in the wide slots also failed to make an impression. Hore came closest for Mossley when his acrobatic volley flew wide.
After the break Mossley got on top and controlled most of the half, but were constantly thwarted by persistent fouling and some over-the-top time wasting by Willenhall's 'we hold what we have' approach.
Mike had a couple of shots from distance as did Goodeve but Willenhall keeper Vaughan was barely troubled. The Lilywhites almost snatched an equaliser when Leyton Slack, re-signed on the day, hammered a great volley from 18 yards that fizzed into the side netting with Vaughan well beaten with his first touch after coming on as a substitute.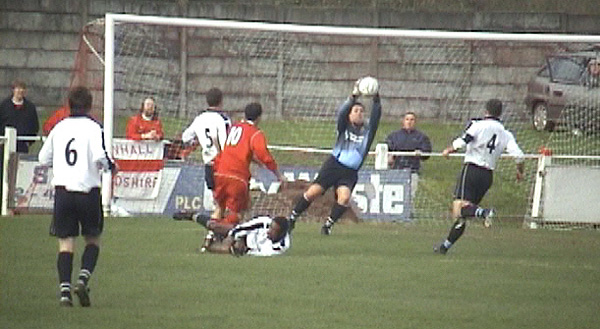 Phil Melville makes a save
pics courtesy of www.mossleymania.co.uk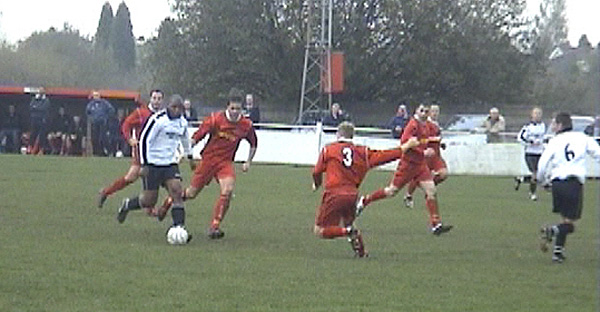 Leon Mike takes on the Willenhall defence
pics courtesy of www.mossleymania.co.uk
Mossleyweb Man of the Match: Danny Meadowcroft...outstanding yet again!
Mossleyweb Verdict: Disappointing performance and result!