Muck and mettle!
Mossley 1 Woodley Sports 0


UniBond League Division One

Saturday 8th January 2005 - 3.00 pm

@ Seel Park, Mossley

Referee P.Bennett

Attendance 240





6°C - wind W/SW 20mph

Mossley
1. Phil Melville (8)
2. Matty Taylor (9*)
3. Barrie Hart (8) Y
4. Paul Challinor (cptn) (8)
5. Danny Meadowcroft (8)
6. Jordan Goodeve (8)
7. Mario Daniel (8) Y
8. Shaun Dootson (8) Y
9. Gavin Salmon (8)
10. Chris Downey (-) R
11. Paul Armstrong (8)
12. Rhodri Giggs (8) (for Armstrong 65 mins)
14. Anthony Johnson (8) (for Salmon 80 mins)
15. Steve Sheil (8) (for Hart 78 mins)


Woodley Sports
1. Scargill
2. Thomas
3. Lomax Y
4. Phillips Y
5. Dempsey
6. Pavey Y
7. Meakin
8. Knight
9. Campbell
10. Norton
11. Hackney
12. Morrison
14. Headley
15. McDonagh

Mossley took the spoils in this hard fought local derby with a 'muck and mettle' performance against neighbours Woodley Sports.
Apart from spells at the beginning and the end of the game Mossley were in complete control despite having Chris Downey dismissed for the first time in his career after only 25 minutes. Downey was the victim of some over zealous refereeing by Mr Bennett of Bradford who set his stall out for a very poor display by booking Shaun Dootson for an innocuous challenge in only the second minute. Mossley had the first chance in the opening minute when Danny Meadowcroft was denied by a last gasp challenge by Dempsey then at the other end ex Mossley player Mark Phillips fired over the bar from a good position. Mossley were having difficulty clearing their lines as Woodley attempted to bomb Mossley with high crosses as the wind swirled in Mossley's faces.
Woodley's Callum Demsey, who had niggled at Downey from the off, pushed his head into Downey's face and the Mossley striker was sent off when it was Demsey who should have incurred the referee's wrath.
As the half wore on Mossley's ten men began to dominate but it was Woodley who came closest to scoring when Knight's effort came back off the bar.
After the interval Mossley took almost total control without being able to make the breakthrough their dominance deserved as debutant Gavin Salmon headed over and Goodeve shot narrowly wide.
The Lilywhites finally broke the deadlock with a high quality goal on 73 minutes. Matty Talor fed Jordan Goodeve on the right, his powerful run and pass found Mario Daniel who took the ball on a few yards before planting a crisp angled drive beyond the considerable bulk of Woodley keeper Scargill and into the far bottom corner. Mossley's celebration was a joy to behold but it meant that the ten men had 17 minutes to hang on to the points.
Woodley threw everything at Mossley including sending Scargill up for a late corner. Daniel had a chance to double Mossley's lead with a breakaway while Norton's effort flew past the Mossley post as Woodley were awarded a series of dubious free kick's to increase the pressure. But, it was Mossley's determination that saw them through and the Lilywhites continued their 100% start to the new year with a hard earned and well deserved victory.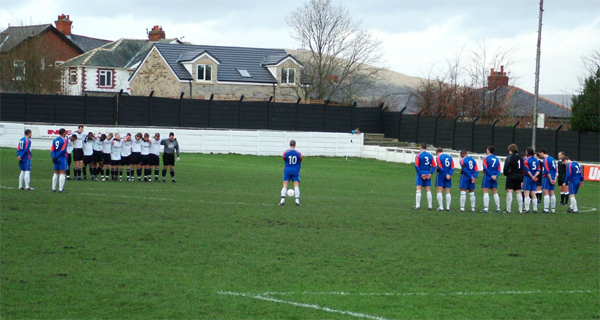 The players observe a minutes silence for my dad Denis Cawthorne
picture courtesy of John Mortimer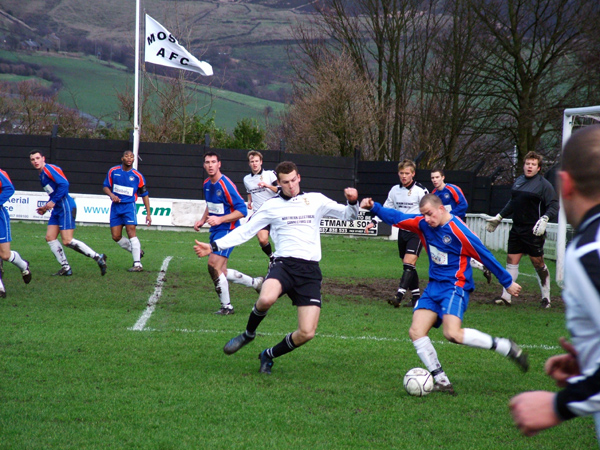 Danny Meadowcroft keeps the pressure on as Woodley clear their lines
picture courtesy of John Mortimer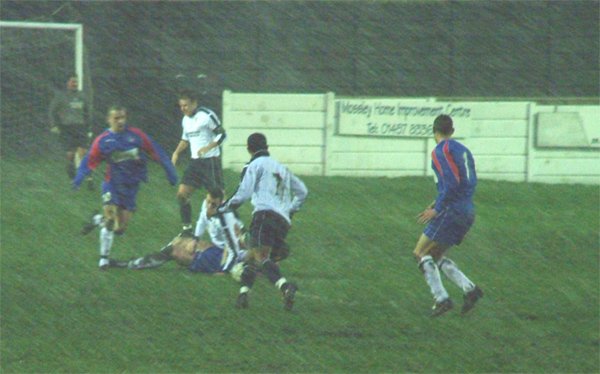 Midfield action as the wind and sleet blew hard
picture courtesy of John Mortimer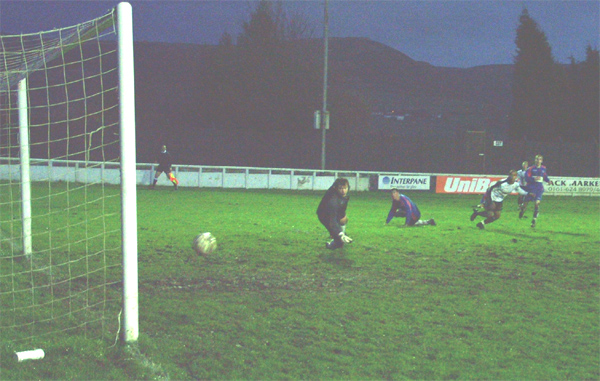 Mario Daniel drives home the winner

picture courtesy of John Mortimer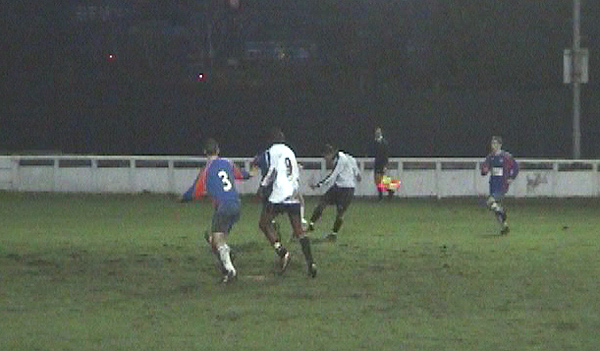 same goal different angle
picture courtesy of http://www.mossleymania.co.uk
Mossleyweb Man of the Match: Matty Taylor...marked Woodley's 'star' player completely out of the game!
Mossleyweb Verdict: 'ten men 1 twelve men 0'